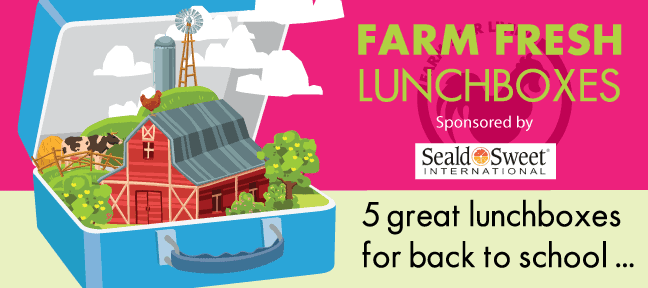 It's back to school time, and both Farm Star Living and Seald Sweet are helping you get ready for it! We've packaged some excellent choices of favorite standards and have slipped in what is sure to be some new ones. Result? We think that combining them together is going to be a sure-fire, healthy hit with your schoolkids!
One thing that's never difficult to 'sell' to your kids is the idea of eating something sweet. That's why we're recommending sweet citrus, from Seald Sweet. They've been able to produce some of the most amazing varieties of clementines, navel oranges, mandarins, and more. The Mandarina's™ sweet mandarins are called "easy peelers" because, just as the name implies, they are easy to peel! Navel oranges can be cut in advance for the kids.
Seald Sweet grows and ships some of the tastiest citrus year round. For their summer citrus program, Seald Sweet has partnered with growers from the finest farms around the world, including places like South Africa, to deliver these juicy, delicious fruits to stores across the US. This keeps farming families in South Africa in business and keeps delicious fruits on our tables. Seald Sweet's navel oranges from South Africa are in their peak season in late July, August, and through September, so they make the perfect back-to-school, lunchbox snack!
As the week begins, let's start with prepping – and planning for the week ahead.
Monday – LUNCHBOX #1:
Cook chicken on Sunday and save a little extra to throw in some teriyaki sauce to marinate over night – your kids will love it! Make the chicken utensil-free for the kids by putting it in a quesadilla! Serve this with edamame (forget the shells, let them eat em' like popcorn), cucumber sticks, and an Mandarina's™ sweet mandarin for a delightful sweet taste that will have them fully satisfied and ready for the school day ahead.
TIP:
Try drawing on the Mandarina with a marker and put a big smile on it, or a big heart!
Tuesday - LUNCHBOX #2:
Again, save some extra penne pasta over from dinner the night before or you could even make it ahead on the weekend. Grab a jar of your favorite marinara and heat it with some finely shredded zucchini (trust us, your kids will never know it's in there). Put the pasta, warm sauce, and a little Parmesan in a thermos, and it will be the perfect temperature when the kids sit down for lunch! Serve some bell pepper sticks – orange and yellow are the sweetest – with creamy ranch dressing, some red or green grapes, and a mozzarella stick to round out a perfect Italian lunch!
Tip: Yellow peppers have a fruity taste but are not as commonly found in local markets as green and red bell peppers. Red peppers have a sweet, almost fruity taste. Green peppers have a slightly bitter flavor and will never have the sweet taste of their red, yellow and orange counterparts.
Wednesday - LUNCHBOX #3:
In a whole-wheat pita, add hummus, turkey, and finely chopped spinach and tomatoes that have been tossed in vinaigrette. Tip: Finely chopping the spinach and mixing it with dressing makes it harder and less likely that the kiddos with try to remove it! Serve with carrots and a little more hummus for dipping, and also with navel orange wedges along with a side of your kid's favorite yogurt for even more dipping action!
Thursday - LUNCHBOX #4:
Roll up a slice of cheese in some roast beef or ham for the perfect breadless sandwich. Depending on the size of the roll-ups, 3-5 roll-ups should suffice. Serve with celery and apple sticks, aka "French fries", with peanut butter and some whole-wheat crackers for a yummy protein-packed lunch!
Friday - LUNCHBOX #5:
Cook an extra turkey burger for "Turkey Thursday" and chop it up for a turkey and black bean burrito using a whole-wheat tortilla, of course. Serve with blue corn chips and some mashed avocado. Tip: To sweeten up the avocado you can add pomegranate seeds or dried cranberries!
For a special end-of-the-week Friday treat, dip some Seald Sweet clementine segments in CHOCOLATE! Have the kids help you make these – it's a great way to get them in the kitchen!
We hope this has alleviated some of the pressure of creating new lunchboxes for your precious little ones, and we would love to hear from you! Please visit us on our Facebook page and let us see some of your own lunchboxes, too! And don't forget to visit our friends at Seald Sweet for more information on their sweet citrus products. Your kids are going to love them, and you will, too!
---