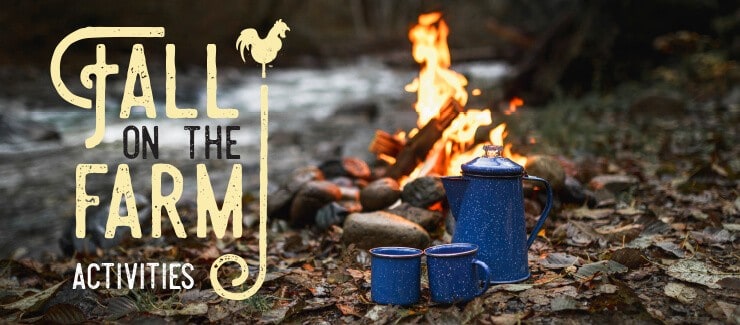 Farm, fun, and adventure aren't three words that are often seen side-by-side. Thankfully, farms all over the country are making their agricultural space an outdoorsman's paradise. We at Farm Star want you and your family to enjoy fall by immersing yourself outdoors in nature with some uniquely memorable activities offered by some scenic farms and ranches.
OUTDOOR TIPS: Dress comfy, wear sneakers that you don't mind getting dirty (or muddy), and bring sunscreen.
Apple Picking
The next best thing to apple pie might just be apple picking. Get your baskets ready for a day filled with sunshine, crisp air, and one of our favorite fruits!
B.J. Reece Orchards— Georgia
These orchards has become a popular weekend getaway for visitors year round. Enjoy fun and unique activities like zip lining, petting zoo, train rides, cow milking, and apple cannons!
706.267.3048 / 9131 HIghway 52 East Ellijay, GA 30536
Barton Orchard Farms— New York
When you visit Barton Orchards, plan for a full day of fun and excitement. They have endless family entertainment. Barton Orchards has so much to offer such as a: petting zoo, fun park, corn maze, and haunted house!
471.2879 / 63 Apple Tree Ln Poughquag, NY 12570
Arbor Day Farms— Nebraska
Whether you decide to lodge at the farm or not, join a tour on Tree Adventure and enjoy their beautiful trails or maybe even join in on apple picking from August to October. No matter what you decide to do, there is something for everyone!
402.873.8717 / 2611 Arbor Avenue Nebraska City, NE 68410
Bonfires & Campfires
An activity, some would say, as old as time. Make sure to have your marshmallows in hand, ready to roast! Accompany chilly nights with the warmth and crackle of an open fire.
Berry Fields Farm— Pennsylvania
A diversified, integrated, organic, and therefore sustainable small family-worked farm in Northeastern PA, they produce most of their own food including meats, fruits, and vegetables, and they share the abundance with their guests. Guests are encouraged to participate in farm chores to get a true farm experience.
570.924.3019 / 138 Berry Lane New Albany, PA 18833
Covered Bridge Ranch— Colorado
You can enjoy picking out the perfect tree, climb a giant haystack, hop on the hayride, warm up by the campfire with roasted marshmallows, sip on apple cider, decorate your own wreath at the barn, check out the farm animals, and buy some presents at the gift shop!
970.240.0106 / 17249 6250 Rd. Montrose, Co 81403
Lillian Farms Bed & Breakfast— Texas
A beautiful Victorian-style mansion with a charming atmosphere allows for a perfect vacation spot. Their packages include a romantic getaway, a culinary weekend, destination wellness, and a wine tasting weekend. This place is full of adventure and relaxing options for you to explore!
979.421.6332 / 12570 Farm to Market 1155 Washington, TX 77880
Camping
Whether you prefer the rugged simplicity of a tent or glamping with amenities, you'll want to take advantage of cool fall nights and discover the grandeur of a night full of stars that you can see.
320 Guest Ranch— Montana
Stay in the comfort of a log cabin and gain some new insight on the effort that is involved in running a ranch. Depending on the season, you'll have the opportunity to go and enjoy sleigh rides, take a trail ride via horseback, or even go fly fishing!
800.243.0320 / HWY 191 Mile Marker 36 Big Sky, MT 59730
Blackberry Farm— Tennessee
The perfect combination of luxury and farm living. Touring the gardens, taking part in the farm activities, relaxing in the spa, and feasting on top notch cuisine are just a few of the things you will enjoy on Blackberry Farm.
800.577.8864 / 1471 West Millers Cove Road Walland, TN 37886
Fairhill Farm— Virginia
"Whether a romantic weekend getaway, a gathering of family and friends, an anniversary or a personal retreat, we invite you to experience the luxury of our unique vacation rental properties on two large farms in the foothills of the Blue Ridge mountains in Central Virginia." There is no better way to describe what this farm has to offer, they really offer a lavish and beautiful farm experience for a romantic getaway or a whole family vacation.
434.990.9504 / 2891 South River Road Stanardsville, VA 22973
Hiking
Escape your normal routine and experience the relaxation powers of a walk amid creation.
Buttermilk Falls Inn— New York
A perfect getaway for the day, an evening, the weekend, or for your very own special event. They have only the best to offer, such as a farm-to-table restaurant, an organic garden, an orchard a world class spa, gardens, trails, and even an animal sanctuary.
845.795.1310 / 220 North Road. Milton, NY 12547
Caledonia Farm 1812— Virginia
Converted to an inn 30 years ago, Caledonia Farm offers numerous local attractions to complement its rich surroundings, including fishing, birdwatching, hiking, wineries, horseback riding, canoeing, climbing, and caving. Caledonia Farm is also the first stop on Virginia's statewide Birding & Wildlife Trail. So be sure not to miss out on this one-of-a-kind farm destination.
540.675.3693 / 47 Dearing Road Flint Hill, VA 22627
Huckleberry Tent & Breakfast— Idaho
Who needs traditional cabins? At Huckleberry Tent and Breakfast, you get a secluded stay in the woods but with everything you need to make your trip an unforgettable and amazing experience. With canvas walled tent cabins, screened in camp kitchens, outdoor showers (with heated water!), a fully furnished campsite (complete with candles to keep bugs away), and a homemade breakfast every morning, Huckleberry's promises to make your stay one of a kind.
208.266.0155 / Clark Fork Clark Fork, ID 83811
FARM TOURS
Learn the clock work of different types of farms by exploring the inner workings of a day in the life of.
Ad Astra Alpacas— Kansas
Exactly how valuable is an alpaca's fur? Come tour this farm and find out! Learn how the farm works, and you'll gain new appreciation for the farmers.
785.594.6767 / 168 E. 1700 Rd. Baldwin City, KS 66006
All-A-Flutter Butterfly Farm— North Carolina
They have eggs, caterpillars, and cocoons to look at up close, and if you're lucky, you'll see butterflies hatch from them! As you walk around the butterfly garden, you're given a sugar pad to hand feed the moths and butterflies with, so you will definitely have them land on you and give you some of those sweet butterfly kisses!
336.454.5651 / 7850-B Clinard Farms Road High Point, NC 27265
Carman Brook Maple and Dairy Farm— Vermont
This farm is a maple lover's paradise! Tour the dairy farm and the sugar house, where the syrup is made. On the tours, you'll be led by an experienced farmer who can answer all your questions.
802.868.2347 / 1275 Fortin Road Swanton, VT 05488
Don't forget that we feature more than thirty great farm fun adventures you can take all over the USA! Looking for a farm in your state? Check out our extensive lists in our exclusive Farm Finder!
---