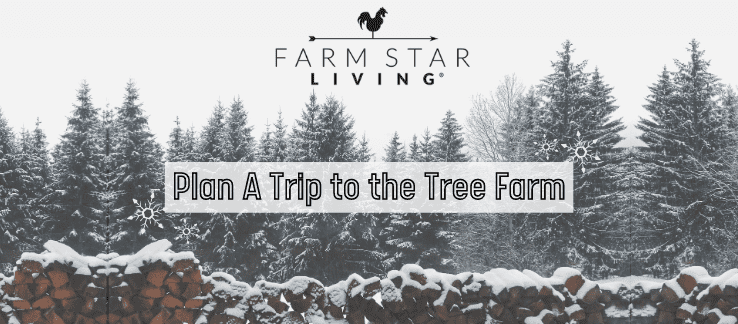 Tis the season for feeling festive, and we all know that we could use more good vibes right now. With the stresses and fears that 2020 has added to us all, a little extra cheer is what the holiday season needs!
We think the best way to lift the spirits and ring in the holiday season is by adding some farm-fresh evergreens to your home. And, it starts with the front door! A beautiful wreath is just the trick and one way you can do this is by having a farming family ship one right to your door. Lynch Creek Farm began as a hobby farm in 1980 and has blossomed into a successful small family business that is driven by previous generations of hard work and a deep love for handmade evergreen products. They initially started with an organic vegetable farm and sold produce at the Shelton Farmers' Market. In 1984, they started selling goods at the Olympia Farmers' Market, the 2nd largest farmers' market in Washington State, where they continue to sell today. Today, they are helping us all feel the joys of the season by directing the business into creating handcrafts – fresh evergreen wreaths, garlands, centerpieces, and other Christmas decor sustainably. Lucky for us, they can ship it to any of us - anywhere in the USA!
If you're feeling like you'd like to pop into a farm yourself and pick out your own tree, well, we have that for you, too! Here are some terrific family-owned Tree Farms that are ready for you, awaiting your visit to pick out the perfect tree for your home. A lot of my family has gone to the artificial trees, and I understand the ease of it, but I still attest that there's nothing better than a real, fresh, aromatic Christmas tree to bring joy into our hearts, and into our homes.
MIDWEST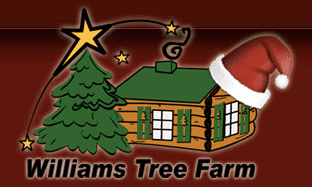 Williams Tree Farm | 4661 Yale Bridge Rd Rockton, Illinois 61072 | (815) 624-7579
Helping make holiday memories for over 60 years, Williams Tree Farm is one of the biggest tree farms in the Illinois. Along with over 350 acres of trees to choose for the perfect tree, they also offer winter activities such as hayrides, a kiddie train and a children's farm. Even Santa pops by this farm to say hello and pet the animals!
Activities: U-Cut/Fresh Cut Trees Pre-Cut Trees Gift Shop Gift Shop Candy Corner (complete with homemade fudge), Kiddie Train Santa VisitsMaze
Trees: Pines, Firs, Spruce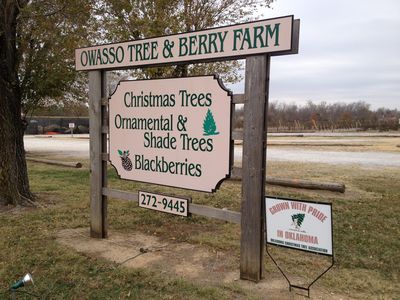 Owasso Christmas Tree & Berry Farm | 11039 N 129th E Ave Owasso, OK 74055 | (918) 272-9445
For over 20 years, Paula and Bill Jacobs have been providing the community with quality Christmas trees. Known as the perfect farm to find your special holiday tree, Owasso offers a cornucopia of Christmas trees to ensure that your holidays are enjoyable as well as a memory to be treasured. After you have selected your perfect tree, Owasso offers a hayride back to the cabin where you can warm up with delicious cider and browse around for ornaments for your tree. Cozy!
Activities: U-Cut/Fresh Cut Trees Hayrides Refreshments Fresh Wreaths Gift Shop
Tree Types: Virginia Pine, Grand Noble Fir, Douglas Fir, Frasier, Fir.
NORTHEAST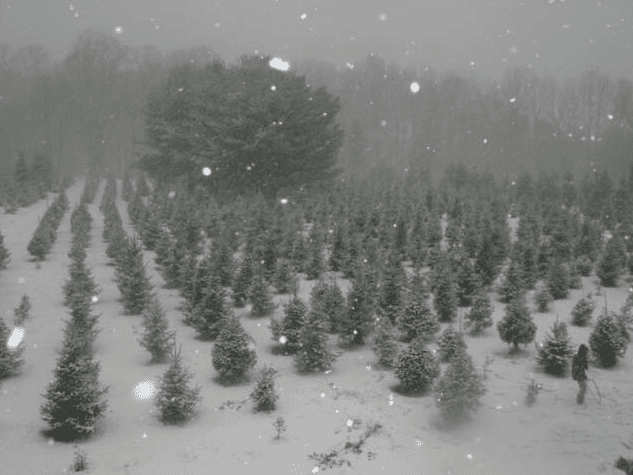 McCarthy Tree Farm | 1061 Dutch Neck Rd Middletown, DE 19709 | (302) 836-3171
At McCarthy Tree Farm, the spirit of Christmas is tradition, family, and friends. Stop on by and enjoy the campfire while sipping warm cider and listening to Christmas music. Make cutting a live Christmas tree a holiday tradition for you and your family at McCarthy Tree Farm.
Activities: Campfire Beverages Petting zoo Playground Gift shop
Tree Types: White Pine, Douglas Fir, Fraser Fir, Canaan Fir.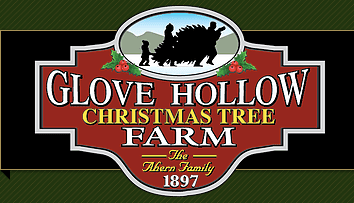 Glove Hollow: A New Hampshire Christmas Tree Farm | 395 Daniel Webster Hwy Plymouth, NH 03264 | (603) 520-9096
With a rich history, Glove Hollow has been owned and operated by the Ahern Family since 1897. With over 75,000 trees on 435 acres, Glove Hollow Christmas Tree Farm is a wholesale and cut your own Christmas Tree establishment. Their fertile river-bottom land along the Pemigewasset grows some of the finest Fraser and Balsam Fir anywhere. The hand-shearing techniques paired with the fertilizer program are used to produces a natural looking tree with good color.
Activities: U-Cut/Fresh Cut Trees Tours Horse Drawn Hayride Farm Animals Gift shop
Tree Types: Fraser Fir, Balsam Fir.

Perfect Christmas Tree Farm | 999 U.S. 22 Phillipsburg, NJ 08865 | (908) 387-1225Owners
John & Cynthia Curtis have a big love for trees. With their 40 acre farm, they grow over 42 different varieties of trees to choose from. Perfect Christmas Tree Farm offers you the perfect tree for your space, the look you want, and at a price you can afford. You can choose and cut your Christmas tree or select a pre-cut tree or a tree grown in pot to plant out door after the season ends. For those who like classic, traditional trees, or rare exotic Christmas trees, you will be able to find the perfect Christmas Tree for you and your family!
Activities: U-Cut/Fresh Cut Trees Hayrides Story time with Mrs. Claus Christmas Shop Concessions Crafts Petting zoo Tea party Wreaths
Tree Types: Balsam Fir, Fraser Fir, Concolor, Canaan, Douglas Fir, Blue Spruce, Scotch Pine, Grand, Turkish, Korean, Nordman, Nikko Fir, and many more.
NORTHWEST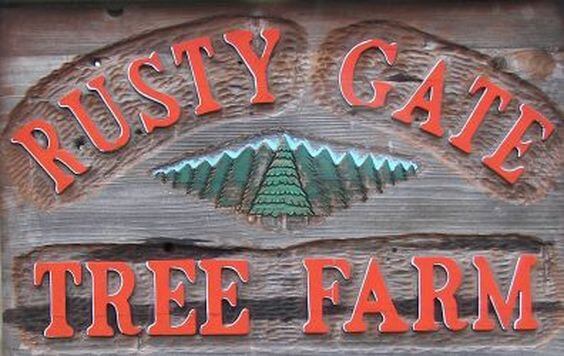 Rusty Gate Tree Farm | 12000 E. Ogara Rd Harrison, ID 83833 | (208) 689-9868
Located just an hour away from Idaho's Coeur d'Alene, Rusty Gate Tree Farm is giving you the opportunity to find your perfect tree for the holidays! Officially opening its doors the day after Thanksgiving the Idaho farm will allow you to choose from a large variety of firs and Colorado blue spruces - all at reasonable prices! They will even shake the old needles out of your tree and wrap it up, free of charge!
Activities: Pre-Cut/U-Cut/We-Cut Trees
Tree Types: Balsam Firs, Colorado Blue Spruces, Concolor Firs, Corkbark Firs, Fraser Firs, Grand Firs, Nordman Firs, Turkish Firs.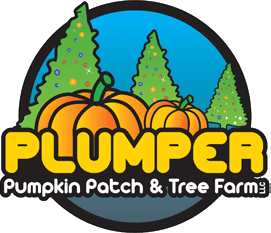 Plumper Trees | 11435 NW Old Cornelius Pass Rd Portland, OR 97231 | (503) 645-9561
Choose from a wide selection of fir and noble trees, pick your favorite holly, evergreen, and eucalyptus wreaths, or purchase garlands, kissing balls, and mistletoe - this Portland destination has everything and more to offer! Not to mention snow-filled slides, Santa visits to the farm, hot and appetizing refreshments, and friendly farm animals! You can also head over to their 100 year old milk barn and check out the Farm store, where you'll find fresh produce, baked goods, homemade jams, kettle corn, and other festive items.
Activities: Pre-Cut/U-Cut/We-Cut Trees Concessions Farm Animals Gift Store Santa Visits Snow-filled Slides
Tree Types: Douglas Firs, Grand Firs, Nobles.
SOUTHEAST

Yule Forest | 3565 North Hwy 155 Stockbridge, GA 30281 | (770) 954-9356
Located in Stockbridge, Georgia, Yule Forest has been in operation for over 35 years and serving up a wide variety of Christmas trees and wreaths. This season, head to the fabulous farm and pick out the perfect Christmas tree, all the while sipping on delicious apple cider and listening to festive music. But wait, there's more! Jump on the hay rides, take a tour of the farm, meet Santa Claus, make candy canes, explore the trails, see the agricultural exhibits, or run through the obstacle course! If you adore the holiday season, then this is certainly a great stop for you!
Activities: Cannon Shooter Concessions Exhibits Films Giant slides Hay Rides Obstacle Course Petting Zoo Pre-Cut/U-Cut Trees Santa Visits Tours Trails
Tree Types: Blue Ice Cypress', Burkii Cedars, Fraser Firs, Green Giant Arborvitaes, Leyland Cypress', Snow Flocked Trees, Virginia Pines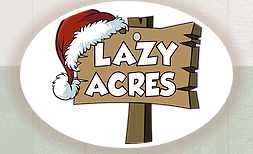 Lazy Acres | 596 Lazy Acres Rd Chunky, MS 39323 | (601) 655-8264Since 1980
Lazy Acres has been playing a big role in family traditions, opening up its 120-acre farm to create incredible holiday memories. Continuing with that same enthusiasm, this Mississippi farm is hosting a number of activities to delight you throughout the festive season. This winter, get your family and friends together, find the perfect Christmas tree, meet with Santa & Rudolph at his workshop, then enjoy a hayride during an all-new, interactive outdoor light show! Celebrate this special time of the year with Lazy Acres.
Activities: Concessions Gift Shop Hay Rides Holiday Lights Pre-Cut/U-Cut Trees Santa Visits
Tree Types: Carolina Sapphires, Fraser Firs, Leyland Cypress'
SOUTHWEST

Elgin Christmas Tree Farm | 120 Natures Way Elgin, TX 78621 | (512) 281-5016
Come experience some holiday farm fun at Elgin Christmas Tree Farm. So much to enjoy, where to begin? Take your time finding the perfect tree, select your perfect, freshly made wreaths, embark on a scenic hayride, spend some ooh'ing and aaah'ing time with the farm animals, get lost in a crazy maze and more! Too much adventure for you? Then take a moment to shop – decorations and gifts at the Christmas Cottage are perfect for the home and stockings!
Activities: U-Cut/Fresh Cut Trees Fresh Wreaths Hayrides Petting Zoo Playground Crazy Maze Christmas Cottage
Tree Types: Virginia Pine, Leyland Cypress, Fraser Fir
---