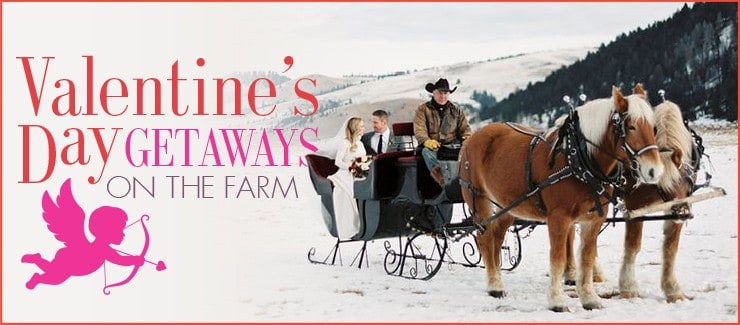 This Valentine's Day, don't get stuck in the same routine of red roses and boxes of milk chocolate truffles. Let your heart lead you to more adventurous routes of love and affection. Give the gift of experience using our list of eight romantic farm getaways that will kindle the flames of passion and awaken a joie de vivre.
Riley's Farm: Oak Glen, California
Celebrate this tradition of romance on Riley's Farm this year, with great Italian food, love songs by the Harmony Sisters, and dancing! Share a sonnet for your loved one, or test your skill as Cupid in our archery contest for a chance to win a delicious prize from our bakery. With a candle-lit tavern, a mouth-watering meal, fine wine, and a sweetheart by your side, you can't go wrong!
Nostrano Vineyards: Milton, New York
Bring your Valentine for a Savory & Sweet Wine Pairing at The Tasting Room! Enjoy three local cheese selections alongside 3 petite dessert selections from Frida's Bakery & Cafe: Classic French Macaron, Mini Red Velvet Cheesecake, and Petite Chocolate Mousse. Pair with three Estate Wine tastings of your choice or a glass of Wine. A special gift from SOS Skin Nourishment Co. to share with your Valentine will be offered with the purchase of each ticket!
Triple Creek Ranch: Darby, Montana
Create your own ideal romantic getaway from a variety of fun and exciting options and let Triple Creek Ranch cater to you and your sweetheart. Imagine relaxing in a hot tub after a long day on the slopes, or cuddling up beside a roaring fire with blankets and wine. There are lots of activities to choose from, none of which will disappoint!
Maple Hill Manor: Springfield, Kentucky
Maple Hill Manor is a historical B&B located in the heart of Kentucky bluegrass. Seek refuge and enjoy the relaxing country fresh air! Not only is it historical and romantic, but it's a working farm. The Alpaca & Llama Farm features a Roadside Farm Market filled with garments and gift items made from the Alpaca and Llama Fur. Come see for yourself why readers of Kentucky Monthly Magazine voted Maple Hill Manor Bed and Breakfast as "Kentucky's Best Bed and Breakfast."
Blackberry Farm: Walland, Tennessee
Indulge in the captivating ambiance of the Great Smokey Mountains this Valentine's Day and visit Blackberry Farm. You and your sweetheart could be celebrating your love with a couple's massage or cozily curled up together by a fire, relaxing and enjoying a romantic getaway planned just for you. With activities ranging from carriage rides, to chocolates and a candlelit dinner, you'll make unforgettable memories throughout your stay.
The Farm at South Mountain: Phoenix, Arizona
Named one of the most romantic spots in Phoenix, The Farm at South Mountain presents its annual Valentine Picnic in The Grove. Grab a blanket and your Valentine for a simple and sweet picnic in the pecan grove. The Farm Kitchen will pack up your farm fresh "Sweetheart" picnic basket to share. Wine, beer and mimosas will be available for purchase in addition at The Farm Kitchen. The Valentine Picnic in the Grove will be available on Saturday, February 9 through Sunday, February 17th. The Farm Kitchen will be accepting 35 reservations each hour between 10 AM – 2 PM on each day.
Thanksgiving Point: Lehi, Utah
With Valentine's Day just around the corner, now is the time to plan that special evening with your sweetheart. Join Thanksgiving Point on February 14 & 15 for an evening of live music by The Roadside Ramblers, exceptional dinner, dancing, and more. While you enjoy the Valentine Dinner Dance, they'll take care of the kids! Bring the family along to enjoy a Valentine Day STEM Night all at Thanksgiving Point!
The Inn at Serenbe - Georgia The Inn at Serenbe is nestled in the rolling countryside of Georgia, right on the edge of Atlanta. The Farm includes 900 acres of preserved forestland, wildflower meadows, 15 miles of trails that go by two waterfalls and a large granite outcropping, an animal village, swings and rocking chairs, two pools and a cabana, two hot tubs, croquet lawn, and endless opportunities for relaxing and connecting with nature. A perfect backdrop for a romantic rendezvous.
---