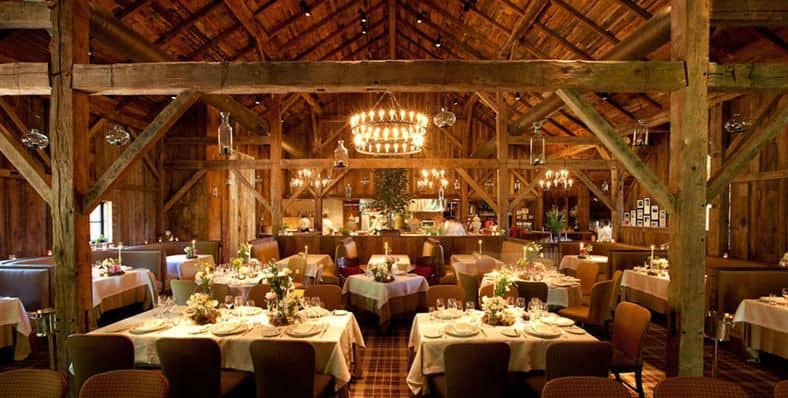 Who knew a farm could be a backdrop for a special romantic celebration? Whether you're looking for a Valentine's Day getaway or just a way to spend some quality time in an out-of-the-box romantic way – farm to table dinners, dances and even train rides, we have some suggestions for you!
Pack Your Bags – Three Weekend Romantic Getaways
Brambleberry Farm Bed & Breakfast 3684 Claire Rd, Taylor, WI 54659 (608) 525-8001
This quaint bed and breakfast is tucked away in the quiet countryside of Wisconsin. They offer a romantic getaway package or you can build one to your specifications. You and your sweetie can enjoy champagne by the fire and chocolates from a local ice cream parlor, have a picnic for two in the sweet silence of nature or even have silk rose petals laid across the bed. You can also take a hike on the nature trails, spend a day skiing and visit the winery located right there at the Inn.
The Farmhouse Bed & Breakfast 2740 Sunshine Lane, Clinton WA 98236 (360) 321-6288
If you wind up at this enchanting bed and breakfast you'll have plenty of chances to enjoy quiet time with your Valentine. Breathe in the views of the Olympic Mountains from your suite with a fireplace or stargaze during a late night dip in the outdoor hot tub. The Farmhouse also provides a lovely country flower garden for strolls and an orchard where you can pick pears, apples, plums, gooseberries and figs. This really is the place for you and your special someone to escape from the world and have a romantic time together.
Lillian Farms Country Estate 12570 Farm to Market, Washington TX 1155 (979) 421-6332
When you arrive at this perfectly appointed Victorian Bed & Breakfast, check your cares along with your bags. Located on 230 picturesque acres in historic Washington, TX near Brenham, Lillian Farms is the perfect place for a weekend getaway. Your room will be ready with fresh flowers, chocolate covered strawberries, a meat & cheese tray and a choice of wine or champagne. Talk about a friendly welcome! Fancy some breakfast in bed? Done! When you've finished your coffee, head to the private massage room or cottage for a double one-hour rubdown. If you don't need a nap afterwards, you can spend the rest of the day enjoying the surrounding countryside. Lillian Farms is located in Bluebonnet Country between Houston and Austin and is home to several wineries as well as the Blue Bell Creameries. Dinner at Volare's in downtown Brenham is a tasty way to spend a special Saturday night. Wrap up this fabulous weekend with a country breakfast in the main dining room of Lillian Farms. Don't forget to book your next stay on the way out.
Three Romantic Dinners and Dances - For a Night Out On the Town If you don't want or need a night away - how about a great night out? Here are some farm hot spots serving up a fun and romance!
Napa Valley Wine Train Napa Valley, CA (800) 427-4124
Combine the romance of luxury train travel with stunning vistas of the Napa Valley, winery tours and gourmet dining and you have a trip on the Wine Train. The three hour, thirty-six mile round trip from the town of Napa to the quaint village of St. Helena runs on rails from the 1860's and guests dine in fully restored Pullman Dining and Vista Dome cars. Sweethearts can choose a romantic lunch or dinner and have the option of scheduling wine tours at any of the several vineyards on the route.
Heritage Prairie Farm 2N308 Brundige Road Elburn, Illinois 60119 (630) 443-5989
Bring your sweetheart to this sustainable farm west of Chicago for a special romantic menu inspired by cinematic favorites like Casablanca, The Notebook, Fifty Shades of Grey and When Harry Met Sally. Each of the two seatings starts with passed appetizers and live acoustic music followed by the gourmet dinner introduced by the chef.
Tara Firma Farms 3796 I St. Petaluma, CA 94952 (707) 765-1202
This sustainable, completely organic farm specializes in producing food raised in a stress-free, healthy environment. Their Valentine's Day Dinner and Barn Dance will take the stress out of making the day truly special for you and your love. Make reservations now for their organic farm to table dinner then kick back and enjoy live music and dancing in their beautiful barn.
Special Savings with these Sweet Valentine's Deals
McKenzie Orchards – Bed and Breakfast Inn 34694 McKenzie View Dr, Springfield, OR 97478 (541) 515-8153
Extend Valentine's Day at McKenzie Orchards Bed and Breakfast with this Saturday night special. This modern, luxury getaway in the middle of the country but just eight miles from Eugene. Check in on the 14th and enjoy an afternoon cooking demo and hang out in front of a roaring fire while sipping champagne and nibbling appetizers. Follow that with a gourmet meal with wine pairings and a night of cuddling in a cozy guest room with a fireplace. Sunday morning comes complete with a Valentine's breakfast of homemade buttermilk waffles.
Apple Farm 2015 Monterey Street, San Luis Obispo, CA 93401 (800) 255-2040 / (805) 544-2040
Give your love a special treat with this Valentine's Winemaker Dinner Package. It includes two nights at the Apple Farm Inn, an al fresco four-course farm to table dinner with wine pairings on February 14th, a daily wine tasting reception, two wine tastings at local wineries and a discount on any spa service during your stay.
Blackberry Farm 1471 W Millers Cove Rd, Walland, TN 37886 (865) 984-8166
Tennessee's fabled Blackberry Farm isn't celebrating just Valentine's Day. They're feeling the love the entire month of February by offering three nights for the price of two. Who couldn't use more time to enjoy this incredible place and all it offers like roaring fires, cozy carriage rides, champagne and Smoky Mountain beauty? Take in the scenery or a cooking class from one of the FarmStead's many artisans and then savor a candlelit dinner featuring a special aphrodisiac tasting menu in The Barn. Perfection!
---