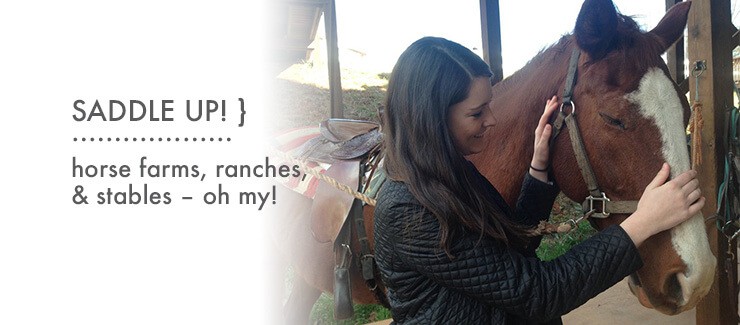 Giddyup y'all! It's time to take on adventure in a whole new way by getting outside and saddling up! Horse farms all over the US are offering rides as a way to get people out on the farm and, I can tell you from experience, it is exhilarating and so much fun! Whether you've grown up riding horses or are just a beginner, there's a farm offering horse back rides just for you.
These are just a few of the farms that offer horse back riding as a fun option, so make sure you check out all of the farms offering horse back riding in our FREE Farm Fun Day Trip Directory.
If you've ever wondered what life is like on a ranch, you need to make a visit to at 320 Guest Ranch! Stay in the comfort of a log cabin and gain some new insight on the effort that is involved in running a ranch. Depending on the season, you'll have the opportunity to go and enjoy sleigh rides, take a trail ride via horseback, or even go fly fishing! Wednesday evenings during the summer (June 16th 2022 – August 31st 2022), the ranch offers 2-hour horseback rides to dinner! On the menu is your choice of N.Y. strip steak or barbecued chicken, prepared on an open grill along the banks of the Gallatin River, complete with all the fixin's. Finish the evening with s'mores around the campfire listening to the acoustic melodies of a cowboy singer.
(800) 243-0320 | Big Sky, MT
Get ready for a rowdy, great time! Choose this ranch to hold a special occasion, have a relaxing vacation, or just come for a tour. Summer horseback riding is offered by the 4 Eagle Stables, for that perfect outdoor adventure on your Vail or Beaver Creek vacation. Each horseback ride starts with an informational safety and demonstration talk to help riders feel comfortable while out on a ride. This unique ranch setting offers breathtaking views of the Sawatch Range, Castle Peak, and Red and White Mountain. All of this is located just 23 miles from Vail and 16 miles from Beaver Creek. The stables are open 7 days a week and offer 1-hour and 2-hour guided tours and pony rides for children 7 and under.
(970) 926-3372 | Wolcott, CO
Have you ever gone on a horseback ride though the Grand Canyon? How about an ATV ride, or even a helicopter ride?! All of this is possible at this unique Utah ranch. Come and see the beauty of the land and experience the cowboy culture. With the Grand Canyon as your backdrop, the ranch provides miles of scenic horseback riding. The ranch has many well-trained horses, and this activity provides a great way to experience the true Old West! Enjoy short trail rides near the lodge, or experience extended trail rides which take you to secluded, remote, rarely visited areas. Lengths vary from 30 minutes to half day rides, and you can stay multiple days at the ranch.
(800) 582-4139 | South St. George, UT 84790
Eden farms is a beautiful horse ranch that offers riding tours, lessons, and camps. Perfect for first-timers, guides offer riding tours of the trails in which you can see the beautiful scenery and enjoy the fresh air. This one-hour guided walking trail rides pass through Eden Farms' 160 acres of open pasture and hardwood forests. You will pass by beautiful vistas of 3 nearby state parks: Caesar's Head, Table Rock, and Paris Mountain as you walk along well groomed old logging trails. This outdoor experience is not to be missed!
(864) 898- 0043 | Marietta, SC 29661
Be a cowboy for a day or a week at this ranch! During your stay you can go on horseback rides though the gorgeous landscape, tour the ranch itself and local attractions, take part in the ranch activities, go stargazing, and many, many more fun activities. This is a great vacation location!
(307) 733-7010 | Buffalo, WY 82834
---