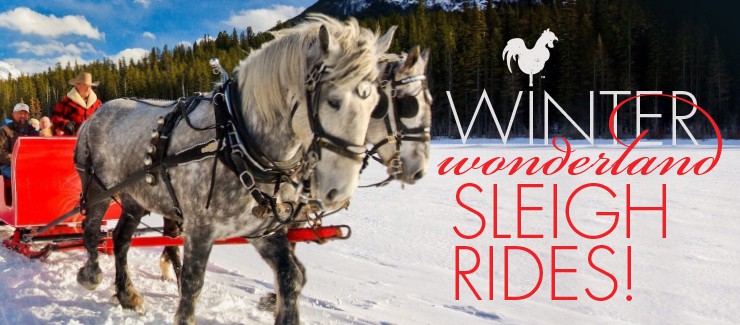 You know what they say, "If you can't beat 'em, join 'em!" And we say, "If you can't escape the snow, enjoy it!" Sleigh rides are the perfect way to spend this winter season – horse drawn carriages, breath-taking views, and hot cocoa to warm you up. What could be better? Here are 7 Winter Wonderland Farms that you should visit for your sleigh ride adventure!
Talk about a Winter Wonderland! Chepachet Farms has so many activities for the whole family to enjoy during the holiday season. With an offering of sleigh rides, bobsledding, cookie decorating, hot cocoa by the campfire, petting zoo, and a visit to see Santa during the holidays. Ho ho ho!
Coppal House Farm is a must-visit farm located in New Hampshire. From the scenic views to a variety of fun activities, there's a little something for everyone. Let the sleigh bells and muffled hoof beats bring a little something special to your day as you're guided through the snowy valleys of New Hampshire. Whether you book your own private ride or enjoy with new friends, you are sure to enjoy the horse drawn sleigh rides on the farm. After your ride, sit by the bonfire and warm up with a cup of cocoa. Sleigh Rides run every Thursday through Sunday starting December 14th until February 28th/29th (exceptions made around the Christmas & New Year's holidays). These are just a couple of the fun things they offer so make sure you check out their website for more activities and events!
Stop by and relax among 70 acres of beautiful scenery and mountain view at Farm By The River Bed & Breakfast. Enjoy a scenic sleigh ride in the White Mountains of New Hampshire, a complimentary Champagne or sparkling cider with chocolates, and fleece/ faux fur blankets during a private horse-drawn Victorian sleigh or carriage ride. Each ride accommodates 2-4 people per sleigh. There are so many unique fun activities on-site or nearby and is the perfect place for a vacation!
Palmquist Farm is sure to provide you with a one-of-a-kind experience! This all-inclusive farm resort has exciting activities for every season. In winter, they offer fun activities like sleigh rides, bobsledding, and even Cross Country skiing. If you're looking for something more intimate the small sleigh ride is your best. But, if you're looking for a journey accompanied by others through the snowy fields, the big sleigh ride is for you. At the end of each ride you can enjoy hot apple cider, Russian tea, or hot chocolate.
Ragged View Farm is located in Andover, NH, looking out to the Ragged Mountain to the North (hence its name). If you plan on visiting a farm in the winter, Ragged View Farms is the place to go. Come enjoy a sleigh ride at the farm seven days a week! Each ride lasts about 30-40 minutes which is just enough time to see all the beautiful scenery as you are pulled through the snowy woods and fields.
Red Tail Canyon Farm is a year-round destination farm that offers weddings, events, and sleigh rides in the winter time. Located in the scenic Red Tail Canyon, you're sure to see many breathtaking views during your visit. If you just can't get enough of this location, stay over night in their lodges. Red tail Canyon promises to treat you just like family!
Seeking a new destination for some family fun? Then, Apple Holler is your place. It is a family farm and farm-to-table restaurant located in the heart of Wisconsin. They have year round fun with activities like wonderland sleigh rides in the Winter, pick your own through all seasons, festivals and more. Apple Holler has even been voted one of the Top 25 places to go for Apple Picking in America. So, if you are looking for the best of the best apple picking farms, this is the place to go. This is just one of the few things that makes Apple Holler so special!
---