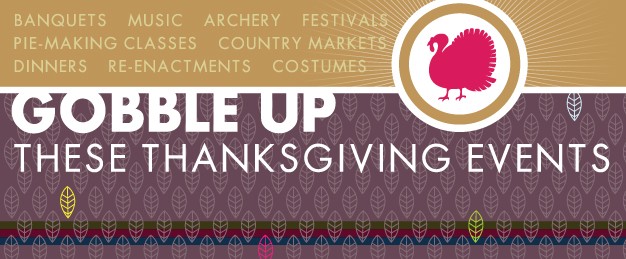 Woodstock, VT
Based in Woodstock, Vermont, Billings Farm & Museum is one of America's finest dairy operations! Highlighting many characteristics from Vermont's rural heritage, the farm provides many interactive activities - both educational and recreational. This November, Billings will host a number of farm fun activities to get you in the mood for the Thanksgiving holiday! Every weekend, you'll be able to take horse-drawn wagon rides, learning about 19th century customs and practices. After that, stop by the farmhouse where costumed guides will demonstrate traditional cooking and help you milk the herd! Thanksgiving weekend will be a little different from the others, though, providing lessons on the evolution of American Thanksgiving traditions, rest and relaxation in the Victorian parlor, seminars on pie crust-making and apple peeling, guided farm tours, and much more. This is definitely a great place to spend time with your family and friends!
Walland, TN
Looking for an unforgettable holiday experience, hassle-free? Well, we found a wonderful farm for you! Located near the beautiful foothills of Walland, TN, Blackberry Farm is the ideal spot to spend your Thanksgiving holidays. Featuring festive, classic traditions, a farm-fresh, Thanksgiving feast, and a friendly community, what more could you want? Don't forget about the annual turkey fry lunch of peanut soup and angel biscuits - served right on the big lawn! So, prepare to immerse yourself in this remarkable environment, which you'll be sure to cherish for many years to come.
Healdburg, CA
Selected as the best producer of Tuscan Olive Oil by Italy's Gambero Rosso, DaVero Farms & Winery is a high quality producer of well-crafted wines, award-winning olive oils, remarkable jams, and other products! Focusing on hand-crafted goods of Mediterranean origin, DaVero emphasizes the importance of sustainable farming, environmental conservation, and locally grown ingredients. This November, the California Estate is hosting their 5th Annual TDAT (The Day After Thanksgiving) Party, which will be great for the entire family! Rosso Pizzeria will be assisting the farm with their holiday festivities, serving up freshly-made, crispy pizzas and more! Don't miss out on this fantastic event!
Cooperstown, NY
This New York destination is the perfect place to spend the holiday season with your family and friends! Nestled in the small city of Cooperstown, NY, the Farmer's Museum presents the rich and comprehensive history of rural New York that played a vital role in molding our nation, communities, and culture. This November, take a look into the past and experience Thanksgiving with the NY museum, discovering 170 year old traditions, learning about heritage-breed turkeys, and celebrating the rustic lifestyle! If that doesn't interest you, take a ride on the Empire State Carousel, prepare food at the Lippitt Farmhouse, learn about 19th century medicines at Dr. Thrall's Pharmacy, or head over to Todd's General Store to find ceramics, glassware, toys, soaps, and much more! And don't forget about Crossroads Cafй - they make the best homemade soups, chili, baked goods, and hot beverages in town!
Richmond, TX
Originating from the four generational storyline of an incredible Texas family, George Ranch Historical Park has been educating people about Texas history and its distinct heritage for over 100 years. With Thanksgiving right around the corner, the Richmond farm has several events planned, delving deep into 19th century history, flavor, and fun! Join them and Chef Castelberg in reliving 1860s wood-burning stove cooking, fireside - the menu features Baked Oysters а la Galveston, Sweet Potato Soup, Beef Tenderloin with Cognac Cream Sauce, Wild Rice Pilaf, and Blackberry Cobbler. If that doesn't suit you, make your way to the park as it comes alive in the early morning! There, you'll experience a genuine, Chuckwagon breakfast, where you can spoil yourself with Cowboy Beans, Biscuits, Fatback & Bacon, Brown Gravy, Eggs, Cowboy Fry Bread, Cowboy Coffee, Tea, and Hot Cocoa. Finally, fall back in time and take part in the 1830's style "Before Thanksgiving Was Thanksgiving" Lunch. Though we know of Thanksgiving as a more contemporary holiday, its origins lay in our ancestor's harvest festival traditions!
Elburn, IL
Heritage Prairie Farm's roots were planted in 2006, opening up new opportunities to raise vegetables, nurture bees, provide farm-fresh dinners, and host exceptional events on the farm. Because of the talented, dedicated staff at this Illinois farm, Heritage has been able to succeed at small-scale, sustainable farming! In November, the farm will be putting on their "Friendsgiving Farm Dinner," where you, your family, and friends can all come together to celebrate the upcoming Thanksgiving holiday! With an excellent array of chef-prepared dishes, inspired by the farm, you won't want to miss out on this. And don't forget about the fantastic music entertainment, provided by Dennis O'Brien!
Joe Huber's Family Farm & Restaurant
Starlight, IN
Since its inception in 1998, Joe Huber's Family Farm has consistently maintained a family-friendly atmosphere. Situated in western Indiana, the Starlight farm will offer up a number of opportunities to revel in the Thanksgiving spirit! Starting November 1st, Joe Huber's Family Farm & Restaurant will serve Thanksgiving Dinner every day for an entire month. Don't miss out on the Oven Roasted Turkey, Waldorf Salad, Fruit Cobblers, Real Mashed Potatoes with Gravy, Chicken & Dumplings, and much more! Did we mention that it's all you can eat? That's right! This is one occasion you won't want to pass up.
Platteville, CO
Working with thousands of individuals and school children, Miller Farms is hosting a fabulous Fall Harvest Festival to shed light on the inner workings of farming. Providing everyone with the chance to explore the entire farm, the Colorado estate is going one step further, allowing you to harvest your own vegetables! After that, make your way to the petting zoo, navigate through the corn maze, play in the giant jumping balloon, climb on the fire truck, or slide down the giant hill. Then, the real fun begins! Grab lunch in the picnic area, then take a hayride through 180 acres of fields, where you can pick vegetables of all sorts - potatoes, carrots, onions, beets, Indian corn, squash, peppers, and more! So, join Miller Farms and celebrate the Thanksgiving season with this one-of-a-kind experience!
Floresville, TX
Located in the wonderful countryside of Floresville, Texas, Peeler Farms is a family-run, warmhearted affair, known for their compassionate and tender care of farm animals. To celebrate the season of giving, the Peeler family is bringing in John Russ, Executive Chef at Lьke San Antonio, and Chef Tim McDiarmid of Tim The Girl, to create a Sunday afternoon feast at their fabulous farm! Expect to be delighted and entertained as the Texas farm offers up farm tours, crafts cocktails (courtesy of Jeret Pena), and a lavish dinner - followed by mouthwatering desserts from Elise Broz! Partial proceeds from the event will be given to The Raul Jimenez Dinner, a community that provides senior citizens and the less fortunate with a place to indulge in a hot, Thanksgiving dinner.
Dacula, GA
Situated across 15 beautiful acres of Georgia farmland, Rancho Alegre Farm is the perfect place for your next gathering. Whether you're looking for a wedding reception or birthday party venue, exploring farming & farm life, or familiarizing yourself with the outdoors, the Dacula farm has everything you need to create wonderful memories! To honor the Thanksgiving holiday, Rancho Alegre is hosting a fantastic Family Fall Festival, featuring hay rides, live music, face painting, arts & crafts, a bounce house, petting zoo, and more! Did we mention that the event is free? That's right. So, head on over to Rancho Alegre - it will surely be an unforgettable experience!
Phillipston, MA
Owned and cultivated by the Rose family for four generations, Red Apple Farm is a hub for unique, New England farm experiences! This month, get a taste of New England's bounty and make your way to their Annual Harvest Festival and Harvest X-Games, where you'll indulge in scrumptious foods, participate in spectacular events, listen to great music, and much more. The Harvest Festival is full of enjoyment - farm animals, pony rides, live blacksmithing, raffles, and a historical encampment of the Civil War! On top of that, there are over 30 types of foods and beverages to choose from, ranging from Apple Sausage, Smoked Turkey Legs, and Baked Potatoes to Cider Slushies, Smith's Country Cheese, and Sweet Corn. Wait, there's more! For the energetic types, join in on the Harvest X-Games. Compete against others in the Pole Toss Competition, Archery Turkey Shoot, Hay Bale Tossing Championship, Homebrew and Cider Competition, and Field, Forest, and Orchard 5K Run/Walk. All in all, there's something for everyone, so tell your friends, bring your family, and head over to Red Apple Farm!
Dayton, OR
For almost 40 years, Red Ridge Farms has grown and cultivated wine grapes, stewarding the soil on its Oregon hillside! This Dayton estate has expanded well over the years, too, adding a specialty nursery, olive grove, lavender field, and other great farm features. This November, join in the farm fun and stop by Red Ridge's Olio Nuovo Festa, where you'll be able to celebrate the completion of the year's olive milling season! It'll be the first chance to both taste and purchase their brand new olive oil. While taking your tour of their Oregon Olive Mill, a delectable selection of appetizers and wine will be served too! And don't forget about their Thanksgiving weekend event - head over to Red Ridge's Durant Vineyards for tastings of four estate wines, including library selections, wine pairings (paired with their new Olive Oil, Olio Nuovo), and much more. This is definitely an opportunity you won't want to miss out on!
Canterbury, NH
Purchased in 1993 as a semi-functional, out of commission farm, Someday Farm was soon renovated and refurbished to house chickens, bunnies, horses, and other animals. Several years later, one of the owners, Barbie Tilton, decided to make a "huggable investment" and add alpacas to the group! As Thanksgiving approaches, Someday Farm Alpacas encourages you to join in on the festivities and visit their farm - they'll be hosting a number activities to get you in the holiday spirit! Sip on hot cider and indulge in homemade goodies, while listening to delightful music. Or, head to the barn, where you can feed dwarf goats, visit the alpacas, and check out the Barn Store! There, you'll find Peruvian-Handmade Hats, Socks, Gloves, Fleeces, Yarns, farm products, and other seasonal gifts. It's the perfect destination for all of your holiday shopping!
Keene, NH
For over 250 years, Stonewall Farm has been connecting people to the land and the role of local agriculture in their lives. Set in a beautiful valley in southwestern New Hampshire, this nonprofit working farm and educational center is offering up two fantastic events to celebrate the Thanksgiving holiday! On November 20th, head over to the farm to take part in "Farming to Fine Dining: An Evening of Fine Food from the Farm," which will honor the 25th year of the Stonewall name! The anniversary celebration will feature a delectable selection of farm-fresh foods from local chefs, including wine, beer, and cheese pairings, dinner (which will remain a surprise until the event!), specialty ice creams, and much more. If you can't make it to this event, Stonewall Farm will be also hosting its 14th Annual Farm Fare on November 21st and 22nd! There, you'll find tons of farm-fresh products from over 30 vendors - organic meats, vegetables, jams, jellies, coffee, cheeses, herbs, honey, and more! And don't forget about the local artisans, as they'll be selling their wares, such as centerpieces, pottery, soap, wool, woodenware, and wreaths. All to add to your collection!
Concord, MA
Verrill Farm is operated as a partnership between Stephen and Joan Verrill and daughter Jennifer Verrill-Faddoul. Their farm consists of about 200 acres in Concord and Sudbury. One hundred acres are prime farmland and 100 acres are wildlife habitats, woodlands, and wetlands. Along with the selling of produce, they also offer recipes directly from their farm such as: shepherd's pie, rigatoni and a multitude of pies. During Thanksgiving, Verrill Farms sells premium quality turkeys raised in open sided barns free of antibiotics, hormones and animal bi-products for a juicy, flavorful Thanksgiving bird along with a cornucopia of savory sides. The next time you are looking for fresh produce or looking for some new recipes, come to Verrill Farms, and open your eyes to something new!
---