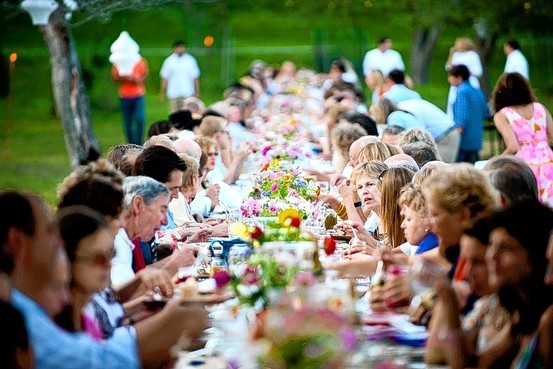 Address: 10790 North 49th Street, Longmont, CO 80503
Phone: (303) 776-8458
Ever since its opening in 1975, Lone Hawk Farm's mission has been to develop the land into a productive, diverse farm to provide the community with fresh, organic produce. They've succeeded flawlessly, and now they offer delicious dinners. Their passion for cooking is evident in all of their seasonal and fresh dishes, so grab your family and friends and have a delicious dinner, straight from the farm!
Address: 912 Flat Branch Road, Ellijay, GA 30540
Phone: (706) 635-4759
Nestled at the gateway to the Blue Ridge Mountains of Georgia lies a tranquil farm with sweeping pastures, abundant wildlife, and nature trails. While the farm offers excellent activities like rafting, tubing, and fly-fishing, their best attraction is their Farm To Table Dinners. A few times a year, they set up a beautiful and glorious dinner on the farm to celebrate Mother Nature's culinary gifts. Seats at the table are reservation only, but it's bound to be one of the most unforgettable meals of your life.
Address: 1005 Airport Blvd, Columbia, SC 29205
Phone: (803) 254-2302
The vision at City Roots is to provide the community with clean, healthy, sustainably grown products, all while enhancing and educating the community's healthy lifestyle. This beautiful farm hosts a Farm to Table Dinner once a month, featuring locals of all kinds – chefs, musicians, farmers, and artisans – for your viewing, listening, and tasting pleasure! Look on their calendar to find the next event and enjoy an amazing night out.
Address: 1639 Little Sleeping Child Road, Hamilton, MT 59840
Phone: (406) 375-8765
Located in the beautiful Bitterroot Valley, Sleeping Child Farms is a sustainable, one of a kind farm, which features its own Farm Table Restaurant. While the hours vary by season, the restaurant is open year round and uses produce grown on the farm – right outside. The chef and the farmer coordinate to create the best local, tasty dishes possible for guests, using ingredients that couldn't be fresher! Sit outside and enjoy the peaceful beauty of Montana while savoring a creative and delicious meal.
Address: 1964 13th Street, Boulder, CO 80302
Phone: (303) 444-5500
Black Cat Farm sits on 130 beautiful acres right outside the city. Its produce supports the absolutely amazing restaurant at the farm, with a huge variety of flavors, colors, and textures. Chef Skokan uses all of the senses to create award winning dishes, sure to pique your culinary interest.
Address: 141 Petaluma Blvd, North Petaluma, CA 94952
Phone: (707) 763-0161
Enjoy a star-filled summer night having dinner at Della Fattoria-Weber Ranch! Take a tour and watch the magic happen as bakers make artisanal breads using ancient methods and the finest ingredients. In the gardens, enjoy the view of the organic vegetables before they're put right on your plate. This delicious dinner is served family style on a handmade 25-foot table, because our friends at the Ranch know that the best place to be is around the dinner table.
Address: 150 Wyebrook Road, HoneyBrook, PA 19344
Phone: (610) 942-7480
The Cafй at WyeBrook Farm is our last restaurant on the list, but you know what they say – last but not least! This cafй offers meats and vegetables which are mostly produced on the farm itself, with some of its produce sourced from other local farms as well. Each stunning dish is made in the kitchen of their rebuilt stone barn, which is already a beautiful sight by itself. The menu features weekly specials to highlight seasonal ingredients, but also contains many permanent favorites, because sometimes you just can't get enough of some of those dishes!
There you have it! Seven amazing farms, each with their own delicious dishes to leave you in awe of what our USA farmers and chefs can do! If you're not near a farm (which would mean you'll have to make a road trip soon!), you can always use our Farm to Table finder for the next best thing!
---