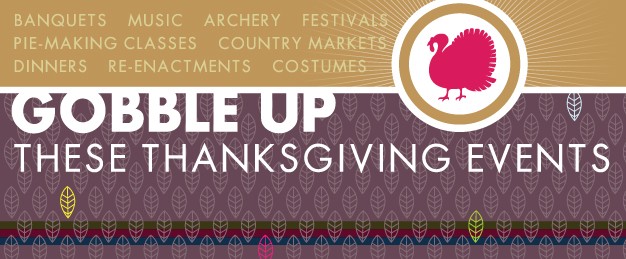 These seven farms have something unique to offer during November, and you'll have quite the story to tell at the next holiday cocktail party. So, put on your pilgrim hat and let's gobble up some of the goods at these amazing farms!
Billings Farm & Museum Woodstock, VT
Based in Woodstock, Vermont, Billings Farm & Museum is one of America's finest dairy operations! Highlighting many characteristics from Vermont's rural heritage, the farm provides many interactive activities - both educational and recreational. This November, Billings will host a number of farm fun activities to get you in the mood for the Thanksgiving holiday! Every weekend, you'll be able to take horse-drawn wagon rides, learning about 19th-century customs and practices. After that, stop by the farmhouse where costumed guides will demonstrate traditional cooking and help you milk the herd! Thanksgiving weekend will be a little different from the others, though, providing lessons on the evolution of American Thanksgiving traditions, rest and relaxation in the Victorian parlor, seminars on pie crust-making and apple peeling, guided farm tours, and much more. This is definitely a great place to spend time with your family and friends!
Highlights: Costumed guides, Traditional Cooking Demonstrations, Milk the herd of cows, Pie-Crust Cooking, Guided Farm Tours
Looking for an unforgettable holiday experience, hassle-free? Well, we found a wonderful farm for you! Located near the beautiful foothills of Walland, TN, Blackberry Farm is the ideal spot to spend your Thanksgiving holidays. Featuring festive, classic traditions, a farm-fresh, Thanksgiving feast, and a friendly community, what more could you want? Don't forget about the annual turkey fry lunch of peanut soup and angel biscuits - served right on the big lawn! So, prepare to immerse yourself in this remarkable environment, which you'll be sure to cherish for many years to come.
Highlights: Festive, Classic Traditions, a Farm-Fresh Feast, Friendly Community, Annual Turkey Fry Lunch
This New York destination is the perfect place to spend the holiday season with your family and friends! Nestled in the small city of Cooperstown, NY, the Farmer's Museum presents the rich and comprehensive history of rural New York that played a vital role in molding our nation, communities, and culture. This November, take a look into the past and experience Thanksgiving with the NY museum, discovering 170 year old traditions, learning about heritage-breed turkeys, and celebrating the rustic lifestyle! If that doesn't interest you, take a ride on the Empire State Carousel, prepare food at the Lippitt Farmhouse, learn about 19th century medicines at Dr. Thrall's Pharmacy, or head over to Todd's General Store to find ceramics, glassware, toys, soaps, and much more! And don't forget about Crossroads Cafй - they make the best homemade soups, chili, baked goods, and hot beverages in town!
Highlights: Best Homemade Meal, Learning about Heritage Breed Turkeys & Rustic Lifestyles, Todd's General Store
Heritage Prairie Farm's roots were planted in 2006, opening up new opportunities to raise vegetables, nurture bees, provide farm-fresh dinners, and host exceptional events on the farm. Because of the talented, dedicated staff at this Illinois farm, Heritage has been able to succeed at small-scale, sustainable farming! In November, the farm will be putting on their "Friendsgiving Farm Dinner," where you, your family, and friends can all come together to celebrate the upcoming Thanksgiving holiday! With an excellent array of chef-prepared dishes, inspired by the farm, you won't want to miss out on this.
Highlights: Friendsgiving Farm Dinner, Chef-prepared dishes, fresh raised vegetables, farm-fresh dinners
Since its inception in 1998, Joe Huber's Family Farm has consistently maintained a family-friendly atmosphere. Situated in western Indiana, the Starlight farm will offer up a number of opportunities to revel in the Thanksgiving spirit! Starting November 1st, Joe Huber's Family Farm & Restaurant will serve Thanksgiving Dinner every day for an entire month. Don't miss out on the Oven Roasted Turkey, Waldorf Salad, Fruit Cobblers, Real Mashed Potatoes with Gravy, Chicken & Dumplings, and much more! Did we mention that it's all you can eat? That's right! This is one occasion you won't want to pass up.
Highlights: Serves Thanksgiving Dinner every day for the entire month, All you can eat, family-friendly atmosphere
Owned and cultivated by the Rose family for four generations, Red Apple Farm is a hub for unique, New England farm experiences! This month, get a taste of New England's bounty and make your way to their Annual Harvest Festival and Harvest X-Games, where you'll indulge in scrumptious foods, participate in spectacular events, listen to great music, and much more. The Harvest Festival is full of enjoyment - farm animals, pony rides, live blacksmithing, raffles, and a historical encampment of the Civil War! On top of that, there are over 30 types of foods and beverages to choose from, ranging from Apple Sausage, Smoked Turkey Legs, and Baked Potatoes to Cider Slushies, Smith's Country Cheese, and Sweet Corn. Wait, there's more! For the energetic types, join in on the Harvest X-Games. Compete against others in the Pole Toss Competition, Archery Turkey Shoot, Hay Bale Tossing Championship, Homebrew and Cider Competition, and Field, Forest, and Orchard 5K Run/Walk. All in all, there's something for everyone, so tell your friends, bring your family, and head over to Red Apple Farm!
Highlights: Scrumptious foods, Harvest X-Games, Farm Animals, Pony Rides, Live Blacksmithing, Raffles, Historical encampment of the Civil War, over 30 types of foods and beverages
Purchased in 1993 as a semi-functional, out of commission farm, Someday Farm was soon renovated and refurbished to house chickens, bunnies, horses, and other animals. Several years later, one of the owners, Barbie Tilton, decided to make a "huggable investment" and add alpacas to the group! As Thanksgiving approaches, Someday Farm Alpacas encourages you to join in on the festivities and visit their farm - they'll be hosting a number activities to get you in the holiday spirit! Sip on hot cider and indulge in homemade goodies, while listening to delightful music. Or, head to the barn, where you can feed dwarf goats, visit the alpacas, and check out the Barn Store! There, you'll find Peruvian-Handmade Hats, Socks, Gloves, Fleeces, Yarns, farm products, and other seasonal gifts. It's the perfect destination for all of your holiday shopping!
Highlights: Feed dwarf goats, Visit Alpacas, Hot Cider, Homemade Goodies, Peruvian-Handmade products, Barn Store, Delightful Music
Wherever you may be spending the holidays, we sure do hope it's wonderful and meaningful. But don't forget, that's up to us to make it that way!
---