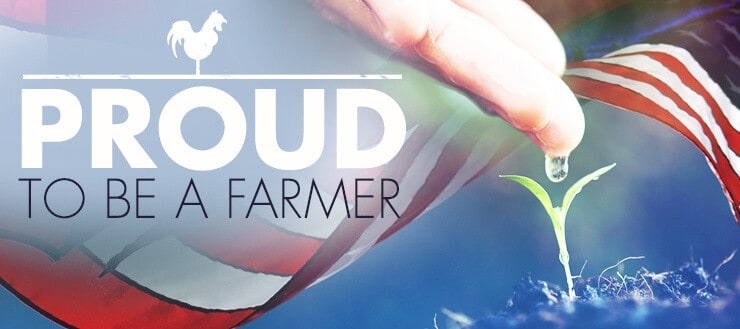 One hundred and sixteen years ago three ambitious and hopeful Italian immigrants chased a dream straight into the harbor of New York City. The New World offered three brothers the simple promise of opportunity -- that with a little luck and a lot of hard work, they could one day farm land of their own.
Standing on that ship the brothers had no idea that in time their humble dream would grow into a thriving legacy. With the third generation, it was David Peri, grandson of Constantino Peri, who would go on to build Peri & Sons Farms?a multi-million-dollar sustainable farming operation. That first generation's faith in America, as the land of opportunity, is still being realized generations later.
My farm is very similar to this, as are so many other farming families that are still hard at work. I've been working with this young farmer's Dad for years, and now we're proud to be working with the next generation, so eager with fresh ideas and innovative new technologies to implement. And I'm so glad to see this next generation wanting to be involved, because many people have moved away from farms to pursue other careers in other fields. Hopefully that will change.
To be frank, farming is often a thankless job that requires courage and persistence, something that can't be faded even with the droughts, hurricanes, tornadoes or other climate challenges that they face yearly. Farmers don't often have the ability to make it this long, as it requires the luck of Mother Nature, the commodity prices to be acceptable that you can actually afford to get the loan to farm – equipment, fuel, fertilizer, seeds, irrigation, labor, etc. These costs can't often outweigh the price of the crops, and throw in bad weather on top of it and often a generation of farmers can be wiped out.
Luckily there's something in the blood of these farmer families that allow them to courageously tackle the challenges passionately, and year after year. The fourth generation of Peri's, David's children, are now hard at work and fully involved in various aspects of the family's farm, which is a far more complex business than anyone could have envisioned back in 1902.
Today, America's farming families, like the Peri's, are using the new technologies that are available now. The fact that this could be so accurate and precise is incredible, truly. So, precision agriculture technologies are now allowing to better manage day-to-day operations and to optimize crop yields, maximize crop quality, and minimize the use of resources such as water and pesticides. Team members, no matter how young or how old, are utilizing advanced computing, mobile technologies, Global Positioning System (GPS) and Geographic Information Systems (GIS), high-tech machinery and automation all around the farm to increase precision and efficiency. Basically, every day everyone on the farm is using good old-fashioned American ingenuity and know-how to grow the best produce possible.
Although the fifth generation of Peri's are still a bit too young to help out on the farm, chances are they've inherited the same love-of-the-land and passion for farming and innovative thinking that motivated the first generation of Peri farmers more than a century ago.
Our country owes a lot to these forefathers of agriculture, as well as those who have stuck with it despite the hard knocks and incessant challenges – new ones at that, which keep arising. There's something about farmers that just make me proud. And proud to be an American, for sure.
---