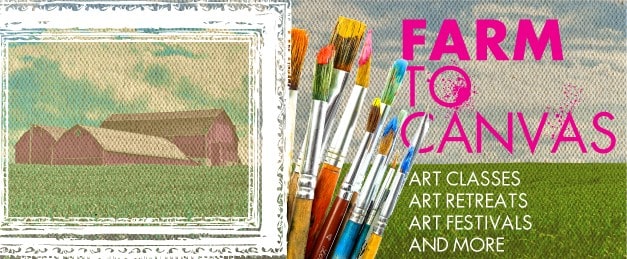 Farms are offering so much more than simply a place to grow vegables these days, as agritourism continues to build momentum here in the USA as it has in Europe. We thought that farms that can offer artistic expression as well would be amazing and inspiring to you, and we have found some breathtaking farms and programs that are certain to inspire your creative flair. Yes, YOU could be the composer of your own masterpiece or even be immersed in an environment to enjoy others original, artistic gems! They may even call you the next Farmer Van Gogh, become a grower of art! So take out that sketchpad, or just go buy one, and draw your way to one of these fabulous farm destinations!
It seems that you're not the only one in the creative mood! Our Farm Star Living mascot is also ready to design his own treasure of art!
ART CLASSES/PROGRAMS/WORKSHOPS/PARTIES:
Here on these farms, creativity is more than just a hobby, but a way-of-life that they want to share with everyone! You can let the magic of art happen by taking an art class, program or workshop. The magnificent thing about these specific farms is that they offer an escape from your everyday life into a peaceful destination where you can dive into your own visionary adventure!
The Art Farm in the City/ The Art Farm Hamptons – New York City & The Hamptons, New York
The Art Farm is an eco-friendly haven where children can gain a unique connection with animals and art. They have two locations, one in the Hamptons and the other in New York City. So whether it's an urban or rural setting you desire, the kids will have the opportunity to allow their artistic souls to shine! The children really bloom at The Art Farm by learning how to take care of the planet, animals, create art, cook and so much more!
They offer fun hands-on classes and opportunities for the creative mind, and even have somewhere the parents can participate! Some of the options offered also incorporate music, plus education such as learning to take care of animals. That's not all. There's also a farm foodies cooking class, camps, outreach field trips, and an afternoon kids club with tons of aesthetic activities. You can even have your child's birthday party there! The Art Farm allows all the colors hidden inside you to flourish.
Fletcher Farm School – Ludlow, Vermont
Just as one might witness the metamorphosis of a seedling, Fletcher Farm School plants ideas to make growing minds transform into a creation of art! The Society of Vermont Artists and Craftsman, Inc. operates the school. They have a team of talented teachers to advise participants in a variety of pursuits, perfect for the one who's interested in exploring many different artisitic paths! They offer classes in basketry, fiber arts or those who are interested in more textile works. There are also fine arts classes, photography, and even glass and stained glass – how cool is that! That's not all, there is jewelry and lapidary and specific special interests. They offer The Nest and The Roost, their room and board, situated on campus. So after a day of inventing all of the fantastic artwork of your imagination, you can reflect and relax in a charming environment and dream of your next day of artistic, stimulating adventure!
Carlsbad Art Farm at Sunny Creek – Carlsbad, California
Two-time winner of the Red Tricycle Award for Most Awesome Camp for Kids in Southern California, Carlsbad Art Farm supplies an exclusive fusion of outdoor art guidance and animal engagements. Nestled on a beautiful 10-acres of woodland groves and waterside terrain, Carlsbad Art Farm is a place of magic, envisioned by Perrin Weston and Chase Coman. They have cultivated a dwelling that provides prolific synergy between people and the natural world. There is so much more to experience than just their award-winning summer camps! Besides the Art Farm providing outdoor studio art workshops, farm animal encounters, and earthly, organic science enhancement. They also host Saturday art classes, field trips, scout outings and birthday parties. So no matter what you are experiencing at Carlsbad Art Farm, you will find your soul blooming through the combination of essences of art and nature!
Whitehall Farm Art Studios – Hopkinton, Massachusetts
Flourish and create at Whitehall Farm Art Studios! They offer the opportunity for all ages to produce their imagination with their fine-art training and advancement programs. You can explore the Garden of Art through the variety of classes taught at the studio. From techniques such as drawing, painting, mixed media, to sculpture, printmaking and even animation. It's the perfect place to unwind and allow for your creation to grow.
The amazing, unique quality about Whitehall Farm Art Studios is there is room for every age to experiment with their artistic side. For example, the adults can enjoy creating with Art Therapy Sessions and Art Parties. Art Therapy Sessions are offered weekly and allow you to recharge and repose through the act of being creative. The time spent during these sessions is committed to those busy people who need an escape or porthole from everyday life. At Whitehall they have that support system to channel one's energy into art projects, or, if preferred, just enjoy a great night away. Another fun adult artistic gathering is their Art Parties, which are hosted on the 3rd and 4th Thursday of every month. The theme of the activity is always changing so that allows each party to be different and exciting!
So many options to choose from to allow your artistic personality to thrive!
Three Creeks Farm – Charlotte, Tennessee
Settled not far from Nashville, Tennessee, Three Creeks Farm invites anyone to come endure in an artistic farm lifestyle. They have developed the perfect rural homestead growing dye plants, garlic and flowers. Also besides being home to Icelandic and Shetland sheep, Angora goats, Tennessee Fainting Goats, Dwarf Nigerian goats, Pygmy goats and various breeds of Bantam chickens, they have a rare, extraordinary set of classes to take. They have classes and workshops in blacksmithing, spinning, felting and more! Three Creeks Farms is the perfect place to learn and travel back in time to practice arts from ancient ages.
Keys Creek Lavender Farm: Soap Making Class – Valley Center, California
Breathe in the creation of art and all the vivid aromas during a hands-on soap making class with Sarah Jones at Keys Creek Lavender Farm. The glorious aspect about art is that it comes in so many different, radiant forms! This is one example of that. You're not just learning the procedure of making soap but creating one for your very own skin type! It's 100% you. Held in the rustic atmosphere of the farm's barn, these classes offer the chance for you to really understand the whole soap making process. Sarah will guide you through this artsy task by demonstrating how you will blend herbs from the wild – and perhaps your own garden – to make that specific soap that is perfect for your skin type. You will also learn how to cut, dry and make herbal oils. That's what we call body art! At the end of each class, share in a divine potluck meal, all in the celebration of art, food for the soul.
ART FESTIVALS/MARKETS/ART PRODUCTS:
You don't have to be a painter to enjoy or appreciate art. There are other ways to paint your way into the creative scene. These farms and farmers markets that have combined their joy of food and art together. They have intertwined the two to bring you great markets to buy, browse and get lost amongst extraordinary, miraculous talent. Feed your soul – and appetite!
Colorado Farm & Art Market – Colorado Springs, Colorado
A mixture of artisans, crafters, gourmet food, farmers, ranchers and urban gardeners are brought together to create a paragon of success and beauty. Colorado Farm & Market gathers many vendors to entertain and delight. A year round market where you can enjoy a morning, afternoon or day browsing the wonderful selection of gifted artistry, enjoy delicious, decadent edibles and stock up on goodies brought straight from the farm to you! It won't be hard to disappear into this sanctuary of decorations made for the body, mind and soul.
Fermentation Fest at Workfarm Institute: Farm/Art Dtour – Reedsburg, Wisconsin
Art is an adventure within itself. A piloted journey to the center of your being, creating colors to brighten up your world. Workfarm Institute brings to you Fermentation Fest's very own Farm/Art Dtour, a voyage to destinations of created bliss. Hosted every year in October so mark your calenders! During the festival hit the back roads by car, bike or buggy (all options guides by the spirit of art, farm and love) through the exquisite rolling hills and valleys of Sauk County to begin a 50-mile self-guided tour.
Keep your eyes alert as you travel from stop to stop for you will see the beauty of imagination come alive. The Farm/Art Dtour is made up of art installations and Roadside Culture Stands, made by the artists themselves, which are selling fresh, locally grown produce from participant farms! Given a map of the pit stops along the way, make sure to fill up with some fun at the Field Notes (rural culture education sites), Farm Forms (creations made by farmers, local businesses and the community) and Pasture Performances (groovy tunes to dance all around to!). Who knows what you will find, see and encounter on this great rendezvous! Whatever it may be, it's guaranteed to will nurture you with creative enlightenment.
Harley Farms: Farm Paint – Pescadero, California
There are so many artistic farmers out there that want to bring you farm to canvas activities, experiences and products, and Harley Farms is one of them! They make and sell their very own Farm Paint, with the help of their friendly goats! It's made freshly from the goat's milk, how neat? So you can bring a piece of the farm and art home with you to be able to make your very own lively creations to brighten up your home.
The paint is ready to use straight out of the jar and to be made into a masterpiece. It is all natural and nontoxic so you don't have to worry about gloves or being cautious.. They also give you the choice of nine, vivid colors to choose from that are suitable for all kinds of surfaces. So put on your artsy hat and let your imagination run wild as you paint your dreams into a piece of reality!
Countryside Artisans: Alden Farms – Beallsville, Maryland
Countryside Artisans can be found throughout the majestic foothills of Sugarloaf Mountain. It is a chain of artists and craftsman who sell original prints, paintings, hand-blown glass, pottery, hand-spun yarns, knitted apparel, wine, jewelry, wood work, home and garden furniture, sculptures, flowers and more! Whew! One of them is Alden Farms, which is an alluring, unique garden shop. You'll get enraptured in their 2-acre sculpture garden, greenhouses and gift shop where you will find fantasy and mystical illusion come alive! Let the artsy trip begin!
ART RETREATS:
There are times when you need to escape and go do what makes you happy with the tranquility of a beautiful place. A farm's rustic and down-to-earth essence can truly spark your spirit with inspiration. The peaceful aura of the simplicity a farm can create the perfect atmosphere for an artist's creativity. There are many farms that host
art retreats
and
long-term residencies for artists
. They have opened their hearts and homes to the creators of art to give them a haven of growth and awakening in visionary, creative truth. It's the perfect place to wander in your imagination and compose it into a reality. So take a look at some of the farms we've found who can entertain the artist in you, and maybe you will soon be sketching out your trip to one of these amazing places!
SPACE on Ryder Farm – Brewster, New York
Are you an artist looking for that space to unleash your artistic desires in? Well, SPACE on Ryder Farm is the perfect place to captivate your spirit into motivation. It is a non-profit artist residency providing workshop space to artists so they can create their visions. They believe what they have created with SPACE is the answer to living creativity. It gives these creators time and space to do what they do best in a place of inspiration that allows the artists to create meaningful work that feeds other's souls in return. Ah. This just benefits all who yearns for the realm of creativity.
BetterArts – Redwood, New York
Home to the Better Farm's sustainable atmosphere, BetterArts is a non-profit organization offering artists of all forms a place of creative refuge. They are dedicated to co-creating an environment of culture and creative opportunities for the community. They do this by having a residency for these visionary spirits to come and make their illusions of beauty in an uplifting, inspiring environment. At this farm there is more than just food growing, but an artistic lifestyle and way of life. They have devoted their lives to living locally and providing a haven of artistic vision to the community.
Hameau Farm Studio Art Retreat –Belleville Pennsylvania
Art escapes don't always have to be long-term. They can be just a quick, inspirational refreshment to remind your artistic side how to embrace creativity, if even for a short while. At Hameau Farm Studio they offer an art retreat that sprouts your inner creativity. Just the beauty of the location can captivate your artistic vision. It has become a gathering location for artists to share, create, learn, grow – and have a wonderful time. It is open to amateurs or professionals, anyone who bears the artistic soul. Take a trip to a beautiful, positive, uplifting atmosphere that allows you to create. Not to mention the scenery of the panoramic views of the valley, farms and fields will inspire! Your artistic soul will thank you.
So whatever it might be that paints your soul's fancy and fills it up with creative happiness, DO IT! Enjoy making your very own masterpieces or observing someone else's. No matter what form of art you take pleasure in, just the art of doing it will sustain and nourish your artistic soul. So what are you waiting for? Living imagination and intoxicating creations awaits.
– Farm Star Living
---