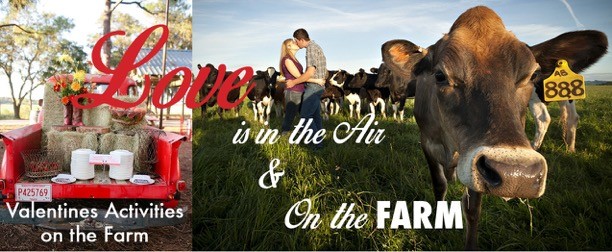 It's that special time of year when love is in the air and all around, and we just know that you are looking for something unique and special for you and your sweetheart. So, just like our roosters, take a peck at love and see what these 10 farms have in store for you!
Caledonia, Illinois
This Valentine's Day cook up some love at
Angelic Organics Learning Center
, it's going to get really hot in this kitchen! On February 13
th
and 14
th
they will be hosting their
Farm to Table Cooking Class for Sweethearts.
This is the perfect and a unique way to celebrate the holiday with your special someone. So, you two lovebirds just come on down to the farm for a charming, down-to-earth date. You'll spend the evening making dinner together, from scratch and with ingredients from the farm. Then enjoy a romantic table set up outside with beautiful scenery – and the meal you just made with love!
Sylacauga, Alabama
Looking for something extraordinary and memorable for you and your lover to do on Valentine's Day?
Pursell Farms
is hosting at their exclusive
Parker lodge
a
Chocolate Romance,
and it's going to be a night you won't forget! On Valentine's evening, melt away in love with a
gourmet chocolate-making class,
pre-dinner drinks and canapйs. Then, for the grand finale, a beautiful
farm to table dinner
! Let the magic fill the air and the romance begin!
Oak Glen, California
Celebrate a romantic tradition that has dated back ages ago, in ancient times, which honors the bond of two people's love for one another. At
Riley's Farm
treat your sweetheart to a breathtaking evening at their
Hawk's Head Tavern
. Spend a night filled with what is known to be the food of love,
Italian
, by enjoying an
erotic 5 course meal
and the soft flickering of candle light that will set this intimate, mood pleasing atmosphere. Take your date by the hand and hold them tight as you sway around the dance floor and enjoy love songs performed by the
Harmony Sisters
. You even have the chance to express your affection for your one true love by sharing a sonnet or testing your skills as Cupid in their
archery contest.
If you're a great shot, you may even win a decadent prize from their bakery. At
Riley's Farm
indulge in a true-life fairytale evening where there is nothing but only a happy ending.
Media, Pennsylvania
It's the perfect "
Bee Mine
" romantic holiday event to have your sweetie buzzin' over you all night long! Come spend a dreamy evening experiencing and tasting fascinating honey with your honey at
Hildacy Farm Preserve's
Valentine's Day Honey, Wine & Cheese Pairing.
Soak up the beautiful tones of the combination of love and nature as you luxuriate in a
sit-down sampling of five wines paired with local cheeses and honey
from
Swarmbustin' Honey
. The night could only be filled with delightful enchantment as you partake in this fun activity of trying decadent cheeses with a drizzle of local honeys that include raw honey, comb honey, berry honey and a spicy honey. Mmmm. Then to add to the mix, you get to taste complimentary wines that will leave you and your lover with a purring of satisfaction and dripping with that sticky feeling of romance. An evening like this couldn't be any sweeter!
Darby, Montana
Let the mountains whisper sweet lullabies into your ears and rock you and your sweetie into a trance of tender, passionate love. Let the open skies and star filled nights create the most splendid atmosphere for your Valentine's Day getaway or evening.
Triple Creek Ranch
is always the perfect place for a romantic excursion but witness an elevated meaning for the holiday of love when you come here.
The best part about spending your Valentine's here is the glamour of creating your own vision of this sensual holiday with a handful of exciting options to choose from. Just imagine unwinding after a long day on the slopes getting to relax in a hot tub beneath the blanket of the evening sky or cuddling up beside a warm, roasting fire with wine and nothing but the beloved presence of your one and only. Or the two of you can take a gourmet cooking class together in the ranch's own personal cooking school. Just think of how steamy that kitchen is going to get as you both savor and take pleasure in the creations you made as a team! Flying solo? You can even just take it by yourself so you can then later woo a future loved one with a flavorful meal that will excite more than just their taste buds! Oh, we digress. Some people do say food is love, and the way into someone's heart is through their stomach. Care to test that theory?
On the night of the 14th have a whimsical, entranced rondevu in their rustic, exquisite dining room where you are satisfied with gourmet meals, a selection of chocolate desserts and wines paired perfectly with your food. You can even treat yourselves to the overnight Valentine's Day Package, which includes a three-night stay in the Luxury Cabin. No matter what you do, whether it is relaxing in the cozy indoors or adventuring out into the mystic, wildness beauty of Montana's strikingly, radiant winter scenery, you will be in the spellbound, magnetic, wonderful world of love!
Paonia, Colorado
Float away to a magical valley tucked beneath snow-capped mountains and rich, blue Colorado skies. You'll feel as if you have just stepped into a painting – the breathtaking beauty of the scenery makes you feel as if you are in a dream. Just like the magnificent landscape and setting can turn you on and render you speechless with such natural beauty, so can the very things we put into our mouths!
Fresh & Wyld
invites you to their
Sexy Valentines Dinner
and is sharing the love with their Valentine's weekend room specials. They are excited to bring to you a seductive, sizzling
Farm to Table Aphrodisiac Dinner
and will be arranging private tables for all of their "two-somes".
CAUTION: This isn't any ordinary dinner. This is a true dinner of love! A side effect can be a desire for good lovin'. Be prepared to experience what Valentine's Day is all about because their Chef Dava says they wouldn't have it any other way!
Lehi, Utah
Think of you and your sweetheart groovin' and jivin' all night long, holding each other close while swaying to the music. Well, this boat never stops rocking! At
Thanksgiving Point
you can be entertained at their
Show Barn
where they will host their
Valentine's Dinner Dance
so you better have your dancing shoes on and be ready to boogie to the live band. That's not all, have both your hearts melted as you share a
phenomenal
dinner together, but remember to save room for dessert! This is the perfect way to spend the holiday as you float around in this dreamlike setting all starry-eyed, especially after tasting the passion of romance and being wooed by the music.
Napa Valley, California
Step on the right track and hop on board the
Napa Valley Wine Train
where every destination is LOVE. Come celebrate Valentine's Day in one of the most romantic destinations in the world and with an extraordinary experience through one of the most prestigious farm wine countrysides. It is undeniably the perfect gift for you and your special someone to share together on this day of romance. Let the roaring hills and the stunning vineyards capture your hearts and set the mood as you bask in one another's affection. They are offering a dinner train on February 13
th
and 14
th
and also a lunch train on the 14
th
. So whether you want to witness this aura of passion either
by night
under the twinkling of stars or
by day
beneath the glistening rays of the sun, either option is the ticket to a poetic adventure.
Don't forget to add a few stops a long the way after you have indulged in your savory meal and your ears have been serenaded by the sweet music of a violin. One of the stops include a special winery tour where you and your sweetheart can share glasses of sparkling wine and special toast. The second stop you won't want to miss is the Love Lock Bridge where more than 2,000 locks have been placed as a token of these visitors' love! You are more than welcome to add yours to the collection! So be a passenger on this train of love and enjoy a ride that you will always remember!
Walland, Tennessee
Prepare yourself for the most magnificent Valentine's Day getaway and indulge in the captivating ambiance of the
Great Smokey Mountains
and the renowned
Blackberry Farm.
Celebrate this romance with
heavenly massages
, curled up together by a cozy fire, and relax with the joyous activities for just the two of you. On Valentine's Day they are offering enchanting
carriage rides, breathtaking roses, blissful chocolates
and, of course,
champagne
. Then after these intimate delights, head over to
The Barn
for a candlelit-dinner with an
aphrodisiac tasting menu
. You will discover memorable moments during the entire stay – whether taking a tranquil hike in the mountains, unwinding with ease in a couple's spa treatment or simply enjoying a hand-crafted cocktail on the porch. Whatever it might be for you and your partner, sparks will fly, passion will arise, and love will be in the air!
Tualatin, Oregon
Are you a couple ready to find something
untraditional
and
uniquely sexy
to do for Valentine's Day? Or are you single and ready to mingle and have some fun? Well, regardless of which description fits you best, everyone is in luck!
My Muddy Valentine
is the answer for you! Go get dirty at
Lee Farms
as they are hosting this
5k mud run
which will be featuring fun obstacles, tasty beers and mimosas, delicious food, music and so much more!! Hot showers, too, for those who've had plenty of mud! Romance doesn't always have to be sweet and tender, and they prove that with this messy yet sizzling, and even dirty event!
What are you waiting for? Tell them Farm Star Living's Cupid sent you! :)
---