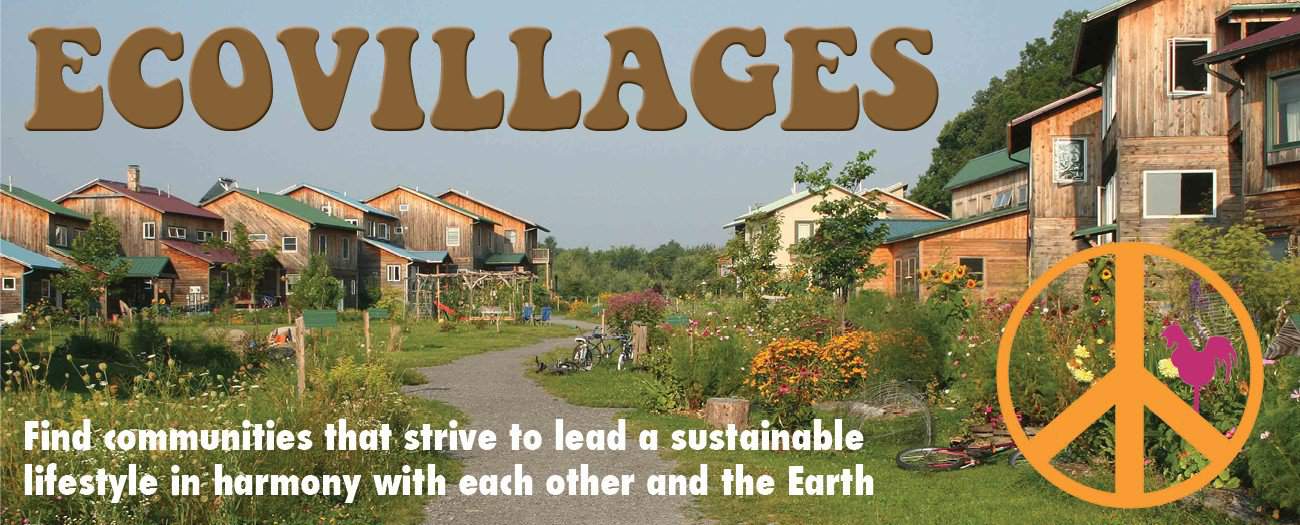 Welcome to the world of Ecovillages.
It seems that we're all dreamers in one way or another and in today's world, more of us share a common dream of an ideal community. With our sped-up, harried lives, many of us yearn for a delightful place where our children can grow up free and yet connected, where we may live a more balanced life that's closer to nature, and eat fresh food from our immediate environment. Ecovillages are the combination of all of these dreams, and they're increasingly becoming a reality across the country.
What is an Ecovillage?
Ecovillage /??k??vilij/: A group of people who have built a community and strive to lead a sustainable lifestyle in harmony with each other, other living species, and the Earth.
There are three dimensions and guidelines that create the structure of an ecovillage:
Ecology
Ecology stablishes the connection between the earth and the residents of the community. A relationship exists between the soil, water, wind, plants and animals. This includes growing organic food, creating homes from natural, sustainable building materials, creating local green businesses, using renewable energy systems and proper waste management, encouraging biodiversity, and protecting/managing wilderness areas.
Community/Social Dimension
The social aspect of ecovillages is associated with the people's natural wish to spend time together. It's about creating a supportive environment – open to all its members. It's where one can thrive and grow, both as an individual and as a member of a group. It allows the people to participate in decisions that not only affect their own lives, but that of their whole community.
Culture/Spirituality
Daily life in an ecovillage is integrated with each community's unqiue traditions, culture, and spiritual principles. These may be expressed through rituals, festivals, and celebrations specifically designed for their village, emphasizing the arts and the act of creativity to express and facilitate personal growth and spirituality.
So allow us introduce you to a few uniquely American ecovillages. You may visit, become inspired, and maybe even join a community. Let's look at a few places where Earth Day is every day.
The Farm – Summertown, Tennessee
In the late sixties and early seventies, rock n' roll wasn't the only thing that was groovy. At that time, Stephen Gatskin was touring the U.S. collecting an ever-growing trail of followers who cheerily tagged along from their painted buses hoping to learn from him. In 1971, the buses finally stopped roaming the country and found a new home in this quaint Tennessee town. Here, Gatskin founded an ecovillage simply and aptly named
The Farm.
It began as a psychedelic commune of hopeful believers who shared a faith that they could make a difference. And apparently they were right. The Farm is now the largest commune in the world!
Today The Farm occupies more than 200 villagers and has established many green businesses. The most famous of these businesses are the Spiritual Midwifery Clinic, a line of tofu products, and a variety of mushrooms produced by none other than The Mushroom People. They have also developed the Ecovillage Training Center led by Albert Bates, where anyone can take courses in ecological building and sustainable technology.
The Farm has established a community that opens their hearts to anyone and everyone. You can visit and become immersed in their world, even for a short time. Learn about permaculture and sustainable building, or simply experience what living in an ecovillage really means. You can also take a trip down memory lane to the Hippie Museum and see where The Farm began. Take in hosted events such as yoga or tune in to their Free Speech Radio, WUTZ-FM The Farm 88.3. There is even The Farm disc golf league!
Whatever your interest, The Farm, the largest commune in the world, will guide and show you what it means to live "lightly on the earth."
At
Living Roots Ecovillage
you will find a group of like-minded people who joined together to build a beautiful, uplifting community and to support each other on their individual and collective journeys. Current population of the ecovillage consists of 11 adults, 3 kids, lots of chickens, 10 cows, and one dog. And if you feel like packing your bags, they're open to new members! This ecovillage is located in Indiana on a 75 acre farm with 3 barns, a farmhouse, a community center, more than 10 springs, a U-Pick strawberry patch, stunning rolling pastures, greenhouses, gardens, a building workshop, cabins, a produce shed, an earthen-grow room, and more!
Living Roots has provided a haven of love, light, and growth to anyone who's interested. You can support or become a part of this ecovillage in several ways. Share a delicious meal at their monthly potlucks and experience the open hearts of Living Roots. They also operate a CSA (community supported agriculture) and market farm – so you can support them by purchasing some of their ravishing produce. Living Roots also runs a farming/healing arts center and offers natural building apprenticeships, as well as a variety of workshops where you can learn secrets to creating a sustainable, healthy community.
Breathe in the fresh air of a green lifestyle. Living Roots is there to help you learn to live together with purpose, balanced in life.
"Earthaven is where the human community is bonding with the Earth in a manner capable of healing the devastation of the past and inspiring a new grandeur for the future. At Earthaven, even for a brief while, we experience what it is to return to ourselves." –Thomas Berry, author of The Dream of the Earth.
Earthaven
is a growing ecovillage in the mountains of North Carolina embodying the movement towards a green future. The villagers of
Earthaven
are dedicated to caring for people and the Earth by living and demonstrating a holistic, sustainable culture. The community began in 1995 and has grown to 55 members ranging from twenty-something to wise elders, all apprently living in harmony. Their goal is to grow to 150 members, and they are building homes in 14 neighborhoods and creating on-site businesses for their own village economy.
For anyone interested in taking a walk on the green side, there are tours throughout the month where you can share in what's being created. Check their calendar for upcoming events, workshops, and programs in a wide range of natural living skills. Classes include a permaculture gardening series, a shoe-making workshop, "The Art of Intimacy," and farm and ecovillage experience. There are also opportunities to immerse yourself at Earthaven by living and working there. A wide range of work exchange and apprentice opportunities are offered where you can become a part of the village's daily life. Visit and find yourself immersed in their culture as you learn about ecological farming and gardening or natural building.
Amid the hills and prairies in this rural Missouri town, you'll discover
Dancing Rabbit Ecovillage
– a community living an ecological, sustainable lifestyle while sharing the skills and ideas behind their way of life. Anyone can join and help create a harmonious life at Dancing Rabbit. Build your own home from the ground up! Learn and use natural building techniques while accompanied by a group of other progressives, all of whom are supporting each other in a green, sustainable way of life.
Just want to visit?
Whether planning a quick tour or a longer stay, The Milkweed Mercantile Eco Inn welcomes you with open arms! This is Dancing Rabbit's personal, on-site bed and breakfast, created by two long-term members of the ecovillage and created to provide guests with a green, eco-friendly place to stay. The charming, straw-bale building is powered by the sun and wind and offers comfortable accommodations, tasty meals, and workshops taught by members of the ecovillage. Every Thursday, they serve hand-crafted pizza made with mozzarella and feta from their farm, and they tell us that folks love the hands-on Canning Workshop, available throughout the summer.
That's just one of the many options for a visit at Dancing Rabbit Ecovillage. Any visit will be filled with a sustainable experience and a first-hand look into their ecovillage lifestyle. Come share the beauty and a green living dream with a stay, tour, class or workshop.
Since 1991,
EcoVillage at Ithaca
is one of the many communities creating positive solutions for an era of social, environmental, and economic crises. They have invited anyone to come and join them to
live, learn and grow.
Live: When you experience the EcoVillage at Ithaca, you can meet the community and explore the residential way of life by checking out their co-housing neighborhoods.
Learn:
Open your world and take classes in organic farming, green building, sustainable community, and healthy living. They are always offering workshops and will welcome anyone interested. If you want to make a difference in this world, they are here to help.
Grow: Get lost in their gardens and forests and see the ecovillage bloom and come alive.
You can get a sense of this lovely community by reading books they've published: EcoVillage at Ithaca: Pioneering a Sustainable Culture and Choosing a Sustainable Future: Ideas and Inspiration from Ithaca, NY. Purchase online at their website.
Remember: you can make a difference wherever you are...and the EcoVillage at Ithaca is there to remind you of that.
Examples of Natural Building in Ecovillages:
Examples of Gardens in Ecovillages:
Examples of Culture in Ecovillages:
Examples of Businesses in Ecovillages:
Ecovillages are abundant and vibrant, shining light into this world and building a better tomorrow. For them, every day is Earth Day, which is something we all can learn from.
---