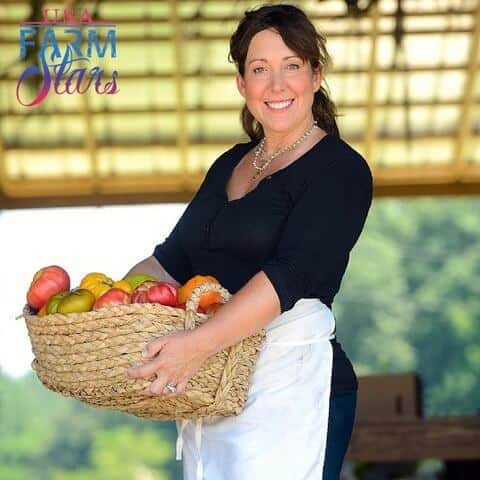 "Start small, don't overwhelm yourself! Do a really good job at that and then grow, once your foundation is set and solid. Do what you say you will do, follow through and be honest."
Name: Elizabeth Heiskell
Age: n/a
Home Town: Cleveland, MS
Currently Lives: Oxford, MS
Farm/Business Name & Location: Woodson Ridge Farms, Oxford, MS
FAVORITES:
Music: Anything and everything, top forty for getting my groove on, country for beer drinking afternoons, and gospel music for Sundays after church Food: Simple Southern, Nothing thrills me like a meat and three sides! Drinks: Beer, Water and Coffee What do you wear the most when you work? Honest Answer yoga pants clothes. They whisk away sweat better than anything else I have found Favorite things to do AFTER work: Hang out with my kids. Mantra: God give me strength
LIFESTYLE QUESTIONS:
What's your relationship status?
Married
Do you have children? Do they work with you? Ages?
3 girls ages 13, 14, 18. Yes, they all work with us.
Where is the farthest you have traveled to? Where would you like to go visit and why? Spain. I am dying to go to South Africa, and to go on a safari. And see the huge expanse of land, camp in the bush, connect with the local people and take in all the wildlife.
CAREER QUESTIONS – AND PERSONAL PERSPECTIVE
How did you get into growing / farming /ranching?
This was my husband's idea. He grew up a commodity farmer and missed farming but it was incredibly expensive to get back into that type of farming. We were approached by our now partners to move to Oxford and farm some land they owned. They already had Covey Rise in Husser, LA and had a tremendous knowledge of growing vegetables. I was the head chef at Viking Range Corporation at the time and knew many of the chefs that would become our clients. It was a perfect match. Luke grew the vegetables and I sold them.
How many acres are on the farm?
43 acres
What was the hardest part getting started in this career?
Getting the chefs to trust us and balancing how much we grow and how much our chefs needs.
What surprised you about this career choice?
How hard it was going to be.
Tell us about a typical day for you. What time you start, what goes on typically, what time the day ends for you, etc.
No day is typical, but I can tell you it always starts early and ends late.
What makes you happy in a day working?
Happy – the beauty of growing is that you see results of your hard work very quickly. It is not like a project that you may work at for years before it comes to fruition. We plant and in generally 30 to 45 days we have vegetables.
What makes you frustrated?
It's very frustrating not being able to control the farm. Ultimately mother nature is in control. This is also the beauty of the farm because it is a constant reminder that we are truly in control of any aspect of our lives.
What do you think a big misconception about growing?
Biggest misconception – When vegetables are in season as soon as spring comes. People are clamming for tomatoes and squash. It is so hard for me to explain that just because Food and Wine has a front cover with tomatoes doesn't mean we have tomatoes ready.
Any advice to other growers or "want-to-be" growers?
Start small, don't overwhelm yourself do a really good job at that and then grow once your foundation is set and solid. Do what you say you will do, follow through and be honest.
Any lessons learned through working as a grower?
Life Lessons – supplied by the farm are constant and an every day occurrence. The one that appears the most is that I am not in control and all the worry in the world will not change that. I must trust in something bigger than myself in order for all this to work.
Anything to say to consumers, i.e. people who aren't into farming or growing?
Come to our farm and visit! It is truly life changing.
Where do you think you'll be in five or 10 years?
5 to 10 years – right here on this farm doing exactly what I am doing now.
WEBSITE URL: www.debutatnefarmer.com


---