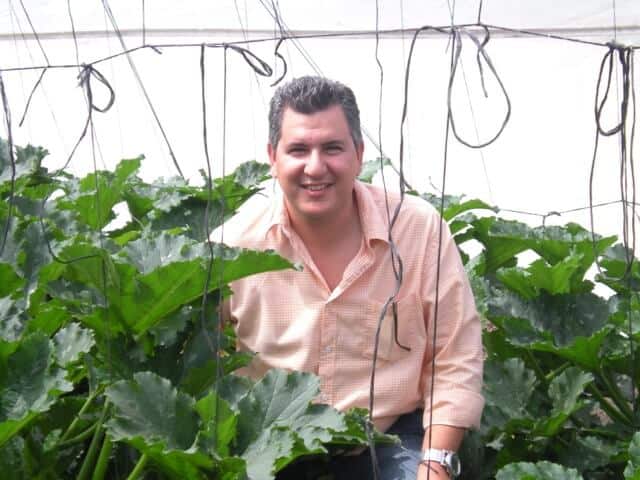 "All produce comes from a farm, and there's always a story behind any produce item you pick up. Be it a tomato, potato, cucumber - there's always a story behind it."
Name:  Ricardo Crisantes

AGE:  41

HOME TOWN:  Mexico

Currently Lives:  Nogales, AZ – since '99 for 15 years, part of Southern AZ

FARM NAME & LOCATION:  Wholesum Harvest – Amado, AZ (25 mins from Nogales) Sonora, Mexico of the border … 40 mins. And one in Culucon, Mexico
FAVORITE:
Music: Heavy Metal, '80's music, loud music from Iron Maiden, Metallica but my interests have grown – jazz, kids have listening to all sorts of 80s.
Food: Greek food – My Grandfather from Greece so I loved it, reminds me of family get togethers, happy memories.
Drinks: Tequila, straight, Silver, 100% Blue Agave tequila, something very simple. Also, red wine from Spain, Portugal, Napa.
Blue Jeans: Lucky Brand.
Thing to do after work: I like to go home and be involved with my children's days as much as I can, talk to them, spend time w/them. And I love reading history, all sorts of history – war, ancient civilization history, etc.
Mantra: I'm working on bettering myself everyday, and I kind of feel that I want to find the best version of myself. So everyday I want to feel that I'm getting to the best version of myself at point and time.
What's your relationship status?
Married for 17 years, August 30th
Do you have children? Do they work on the farm with you?
3 children, 15 y.o. son, started high-school, 12 y.o. son middle school and the princess is 9 y.o.
Where is the farthest you have traveled to? Where would you like to go?
Turkey, and my wife and I have been talking for years about taking a trip to Kenya.
What is your attitude about money?
I don't want my possessions to define me – I want my virtue and personality to speak for what and who I am. But I do recognize that it is necessary and money is required to make an enterprise. I have to keep the eye on the ball. I inherited this business from my father who inherited from his father, so I have a sense of pride and obligation to keep the company viable. Previous generations were very generous with us, and I want to be the same for the next generation.
How did you get into farming?
When I was in college, Dad said whatever you want to be is fine. Just love what you do. I started in studying business administration and got a degree in marketing. I wanted to be involved in agriculture, but more on the marketing side, so I asked my Dad for advice. He said talk to these friends of his, and I called Albert Rusk, CEO of Albert's Organics, and said I wanted to work for him. So he said, "Sure! I got a job for you ­– in New Jersey!" I packed my bags and joined them, counting inventory, consolidating trucks, coolers, ripening bananas, learning from ground up in quality control, then I made it to sales! After a few years in that, my Dad was building a farm from greenhouses he found while in Holland. He asked for me to come back and work for him, to sell the product and lead the marketing area for our company. I said I just had gotten a job (laughs)! I was married and had responsibilities, but he said that he'd give me a small piece of the business if I would. So, I said, I'm in!
In fact, he brought in my other brothers at different times in the same way. This was '99 for me, and it's been a great experience! We all came back.
How many acres is the farm?
We have a 12 acre greenhouse – but they don't relate to a normal acre of a field. I'm bad at that math!
Tell us about the greenhouses.
My Dad was an agronomy student in the '60's in UC Davis. He had heard about the book Silence Spring by Rachel Carlson. It discussed a sustainable system, how it would be important, and how we're trapped in a cycle of dog-chasing tail to rid ourselves of pests. He thought it was hard to farm sustainably in an open field process, because it would be cancelled out if your neighbor wasn't following it, too. In '88 his friends traveled to Holland and saw these greenhouses. If he had a controlled environment, then the neighbors wouldn't affect him as much. That's how he started getting into greenhouses.
The first ones were made of wooden poles and cables and I was trying to straighten them out and put them up. The first crop he did failed – all went up in nothing, but that's how he started messing around with greenhouse technology.
If you put more shade, you get more leaf coverage, but too much and the plant doesn't produce enough. He started learning those lessons and that's kind of what led us to focus a lot on protected agriculture strategies. We have all sorts of technology – we have high tech glass, coolers, shade cloths, and everything in the middle. We have understood it depends on
where
you are,
what commodity
you want to grow, and what type of technology you're using. Depends on the area and the commodity we grow.
What was the hardest part getting started?
My dad and two brothers and I worked really closely, with insane hours, and it was great. We weren't successful right away but we were being patient and believing that we would find a way. In the first years, we were trying to get good at what we do. It made us nervous, we had uncertainty, but we started to become successful, and then the nervousness went away. Now that I look back on it, the beginning was great! But as it got bigger, there were more moving parts, and it has gotten more complicated. In fact, to be honest, it's harder now! (laughs) More complex now.
What surprised you about farming?
It is a dynamic system.
Farming isn't like a recipe that you follow. It's that you gotta be in tune with what's happening. You look at a crop and you have to be patient enough to observe the small little changes and differences; and have not only the knowledge, but good common sense to become a good grower!
I thought that science had totally understood the process of growing food, but what I came to realize is that no, we still don't understand everything with these living plants with what is happening with soil, micro-organisms and how they interact with the roots. More and more I'm surprised with what nature has had with, for example, growing cucumbers for thousands and thousands of years. We're cultivateing cucumbers, too, but we need to go back to nature to see how it had solved all the problems, and how we need to solve them, too.
We're not growing just for the season, but for the mext generation 25 -30 years. Our decisinos need to be in the long-term view as well. No one wants to lose the crop, but we need to have the view of long-term.
Still a lot more to learn and to figure out, and we by no means have it all wrapped up and figured out completely.
TELL US ABOUT A DAY ON THE farm.
A 7:30 start time. We start to do the crop work, the harvest as well. We usually also have a meeting with all of the agronomists and the supervisors on Mondays, especially, to think of challenges for the week. We discuss what we have to do and then we meet with bio-control team. Our biggest threat is typically for tomatoes, because we always have to scout for issues like viruses. In organics, you use mechanical traps to get the pests, and it's always going to be present because you're always going to need to have some certain population of them – specifically white flies. White flies need to be present as the food for the good insects. If not, the beneficials would die, too, because they don't have anything to eat (but the white flies). So we just make sure the population is at a level that doesn't make a threat to the crop.
Lunch at 11:30 – days ends at 4:30.
The day is filled with harvest bagging the produce, packing it, going over its quality specs, labeling, prioritizing, and then it's put on our trucks! The trucks need to leave by 6pm for our products to be shipped this same day to Nogales, our central warehouse where all products get consolidated. Then it's sold and out!
How long does that take?
From being sold to the store? As a typical example, we would say that product from Amado would be harvested today, would get here tonight (warehouse), and then arrive in LA or San Diego within 24 hours. If it's going to New Jersey, it's going to take 4 or 5 days before it hits distribution center for Whole Foods, Krogers and others. Then takes 1 or 2 more days to get to the store. If the stores are in Arizona or California, Texas, Colorado – 4 days. If East Coast, 9 days.
How does it stay fresh?
Post – harvest? The most important thing is maintaining the cold chain – we want the produce at 50 or 52 degrees Fahrenheit. Keep temperature constant. If temp goes up to 75 degrees it would ripen a lot faster.
If you lowered it to 42 degrees, it would practically kill the tomatoes, the flavor will just diminish.
So you want nothing lower than 50 degrees
for sure
, otherwise you stop the maturing process too much. Starches transfer to sugars inside the tomato. If it doesn't happen and it's too cold, then that is why it's bland.
What makes you happy in a day on the ranch?
When the day is done, you go out and walk the crop. Feel good about what we did, the crop looks great, healthy. I love that feeling and don't get tired of that.
What makes you frustrated?
What sometimes can be frustrating about growing is when, day by day, you see a crop deteriorating little by little and there's nothing you can do. Just breaks your heart to see that. It doesn't happen frequently but when it does and it's right in front of your eyes, and you know you've done this and that, and you've tried to come up with ideas. But sometimes you know when you've reached that tipping point.
Heartbreaking. Then you gotta say we 're going to lose it, just a matter of when. What do we do now? Clean it up, start all over.
When is the season?
We have production ALL the time, and the cool thing about not having seasons is that we can provide full-time year round employment to our growers and farm workers. People that come and work for us have the security and stability. Nothing makes me prouder than to hear someone has bought a home. That makes me so happy to give people security to take a 25-30 year mortgage. And I think that it provides a model for greater stability and hopefully even upward mobility.
Any lessons learned on the farm.
My Dad said, "Look agriculture is easy. You just have to read a book that's 100 pages long. But you get to learn one page every year – it's just a 100 year book!" Every time is going to be different. The challenges are going to be similar sometimes, but last year problems aren't the same problems you're going to have this year. I learned that from my Dad…. At first I didn't understand what the heck he was talking about. We have to be vigilant because the issues tomorrow will be different. Could be a wet season, cold season, dry season. Something we're going to have to face in a different way, so we have to be vigilant and keep on our toes. Can't rely on last year's success.
What do you think a big misconception is about farming or farmers?
I would say that a misconception is sometimes people look at the practices of an organic farm and people will think we're stuck back in the 1800's! That's a misconception.
As organic farmers we're very dynamic and we need to have a thinking out-of-the-box mentality, and it takes tremendous concentration, talent to grow this food organically. Sometimes our industry is looked upon as not being very sexy, but this world is not for everyone and not everyone can do it. There are not a lot of corporate farms out there growing organic, there's a lot of corporate marketing, but not a lot of corporate
growing.
The model of the big companies is involved in the marketing or genetics, but there are none that are growing or owning the plants because they can't stand the risks involved in the actual farming. Companies that are
family owned
that have a long history and have a longer view of it are the ones that are successful.
You know, 2008 was a scary year, recession had hit, I was going to trade shows and people talking about how we're going into a recession and going back to staple items – meat and potatoes. They said we're going back to basics and all you specialty guys are done for! I was worried about what was going to happen! Are we going to be pushed back? Well, 2008 was the only year that growth was FLAT. But then 2009 started growing and sales went up and up. After 2008, people were vin recession still and voting with their dollars. So the category kept growing even through the recession. This was a customer who truly valued what we were doing. I knew organics was here to stay.
ANY ADVICE TO OTHER ORGANIC FARMERS?
To those who are dabbling in organics or farming, I could tell you we weren't successful right away. It took time to figure out things ourselves, because no one is going to give you the knowledge to grow because the knowledge is so local. Just because you read an article that something in Canada is a very effective practice, just don't think that it will work where you are. It's the variables – the humidity, the heat, the light – all of these things so you're going to have to try it out for yourself . Noone is gonna hand you the knowledge, because knowledge is local. We do lots of little trials, but we won't know if it works until we try it. And it takes time.
Anything to say to people who aren't farmers?
All produce comes from a farm and there's always a story behind any produce item you pick up. Be it a tomato, potato, cucumber, there's always a story behind it.
What concerns you the most about the future of farming?
The weather patterns we used to rely on are changing. We've been mortified about the weather and it makes growing much more challenging. Growers adapt to it, and will continue to do so, but once you start seeing extremes, like what's happening here in CA, wow. Thank god we don't have those same issues in AZ. But it could totally happen here. If your livelihood doesn't depend on the weather, you may not be as attuned to it. As growers we are always very sensitive to it.
Where do you think you'll be in 5 or 10 years?
I see myself being here in South Az. hopefully by that time my kids are out I the world, hopefully at least one of them wants to come back and work in the family business. I want to give them the same freedom to go out and explore as I was given. I will be fullly supportive of their decision, but I'm hoping at least one will come back and work here. But I see myself still here, doing other projects but very much involved in agriculture.
---