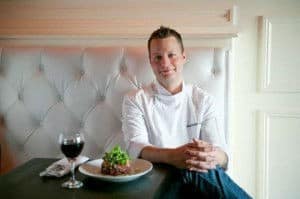 Cooking farm fresh food is all about being flexible. Chefs are happy to change, modify, add, subtract and generally re-work recipes depending on what's at the market or in their own gardens. Here's a seafood recipe that's super-good and super-adaptable. Some of the world's best dishes have come from a "change of plan".
Cast iron seared Mahi-Mahi over black lentils and crispy Brussels sprouts with a carrot-tarragon vinaigrette
Chef Antonio Franco of Cranston, RI's Basta says this healthy dish is a very popular but that it's always changing depending on the seasons and what's available to him at market. He says, "Recipes are a guideline, you change them depending on your ideas and inspirations. Maybe grilling the fish instead of searing? Or using beans instead of lentils? Maybe another green veggie? Or a different type of fish. It's up to you." We say, "Enjoy!"
Mahi mahi filets or steaks - 8oz portion,(swordfish can work as well)
Black lentils -1 cup
Farm fresh carrots with fronds attached, peeled and washed- 4 oz or 2 small pieces
Farm fresh Brussels sprouts, cleaned and cut in quarters- 4oz
Tarragon, picked and rinsed-1/4 cup
Unsalted Vermont creamery butter - 3 tbsp
Carrot juice - 1 cup, you can juice your own carrots if you have a juicer, and strain them or purchase the juice.
Fresh orange juice - 1/2 cup
Farm fresh honey - 1/2 tbsp
Extra virgin olive oil - 3 tbsp
*Coarse Sea salt and fresh cracked black pepper for seasoning.
Wash all veggies.
Cook the lentils first, they will take the longest of all. You can buy great lentils from Whole Foods, I prefer the black because of its color platform for this dish and its earthy flavor. Follow the instructions for the lentils but, instead of water, try using a seafood broth or chicken broth to cook them in.
This will add more depth to the dish. Make sure they still have a good bite when cooking as over cooked lentils can become mushy.
While your lentils are cooking, you can begin composing the vinaigrette.
In a small sauce pan, heat carrot juice, orange juice and tarragon until it simmers, on medium heat.
Cook until it reduces by half.
Remove from heat and let cool for 5 minutes, then transfer to a blender of food processor.
Add honey and blend on high speed until everything is combined well, taste for seasoning and add accordingly.
Transfer to a container and refrigerate until lentils and fish are ready.
Pick and save the fronds from the top of the carrots for a nice garnish.
Dice peeled carrots to make small squares.
Place the carrots in a roasting pan with olive oil and thyme, place in a preheated 350 degree oven for about 25 minutes. Lightly roasting them, a golden brown tone. Set aside for final plating. Now for the fish.
Heat a seasoned cast iron skillet on medium heat.
Season fish with sea salt and black pepper evenly.
Place 2 tbsp. of butter in the pan, let it bubble up for a moment. Then add fish. Let it cook for 3 full minutes on either side, developing a nice sear.
Baste the fish with the butter it's cooking in, using a metal table spoon, constantly pouring the butter over the fish.
Mahi doesn't have a lot of fat in it, and we all know fat equals flavor, that's what the butter is for.
After 3 minutes on either side, remove the fish from the pan, carefully.
Give the pan a good wipe with a clean and dry kitchen towel, turn up the heat slightly higher and add another tbsp. of butter then add Brussels sprouts. Let them get nice and brown in that butter, moving them every 30 seconds or so, until they become nice and golden brown. Season them at the end to taste. Now for assembly.
Use a shallow pasta bowl style plate with a wider rim.
Spoon some of your warm, braised lentils into the bottom of the bowl.
Using a small mixing bowl, toss your Brussels sprouts and roasted carrots together. Spoon those over top of the lentils.
Now gently place your cooked fish on top.
Spoon some of your carrot vinaigrette over the top, only a couple of teaspoons, too much will over power the fish.
Garnish with your carrot fronds.
We hope you enjoy.
---