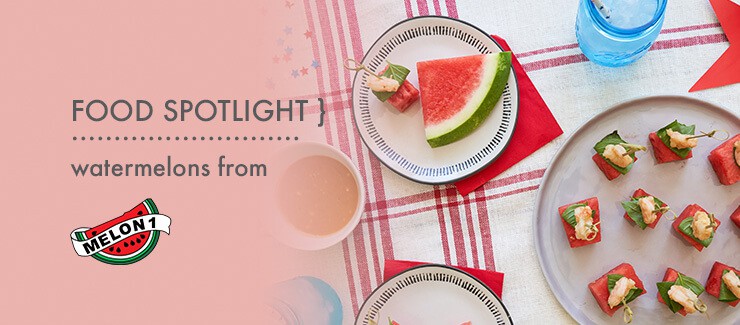 July might officially be National Watermelon Month, but we're celebrating with Melon 1 Watermelons all summer long! There's just something special about enjoying watermelon in the summertime! Whether your like to use watermelon in a hydrating smoothie or salsa, add chopped watermelon to a salad, or even make a luxurious body scrub, we know you're going to love the sweet watermelons grown by Melon 1 and their farmers! Best part of this? They're grown right here in the USA.
Melon 1 is one of the country's oldest and largest watermelon growers and shippers, yet they're still a family business at heart. They've certainly come a long way since 1935. Today Melon 1 ships nationwide from distribution points across the U.S. during the summer, using cutting-edge technology to meet food safety and traceability standards and provide our customers with the freshest, highest quality product possible.
Here are a few farming facts about Melon 1 Watermelons:
Melon 1 watermelons are hand picked in the fields and then sent to a packing facility for sorting, where they are inspected for quality and appearance by their highly trained staff.
Seedless watermelons are not bioengineered (GMO)! They are a hybrid created by the centuries-old farming process of cross-pollination.
Melon 1 uses natural, innovative agricultural practices to control weeds, manage erosion, reduce insects and pathogens, and preserve soil health.
Here's a few tips from
Melon 1
on how pick the best watermelon in the bunch!
Choose firm, symmetrical watermelons

No soft spots or bruises

No cracks or mold

Dull rind (not shiny)

Dried stem

Buttery yellow underside

Has a "melon" scent

Sounds dull and hollow when thumped
Watermelons are the perfect fruit to serve this summer, so we wanted to share some of our favorite recipes with you!
Hot, long summer days demand a relaxed mindset, good vibes, and serious hydration! Which is exactly why we've created this tasty and healthy Watermelon Hydrating Smoothie.
Watermelon Teriyaki Grilled Chicken
Everyone's favorite side dish at the cookout is always the watermelon! This fun new twist on teriyaki sauce makes watermelon part of the main event.
Our Watermelon Salsa recipe is a fun turn on the classic and uses watermelons from Melon 1, one of the oldest and largest watermelon shippers in the United States. Make an already festive condiment into a daring medley of spicy and sweet.
Watermelon & Shrimp Cocktail Skewers
This refreshing, playful combination is sweet, savory, and sure to become your new favorite food combo.
If you try and of these recipes, please tag us and our friends at Melon 1 when you share on social media! Have a happy, healthy summer friends.
---