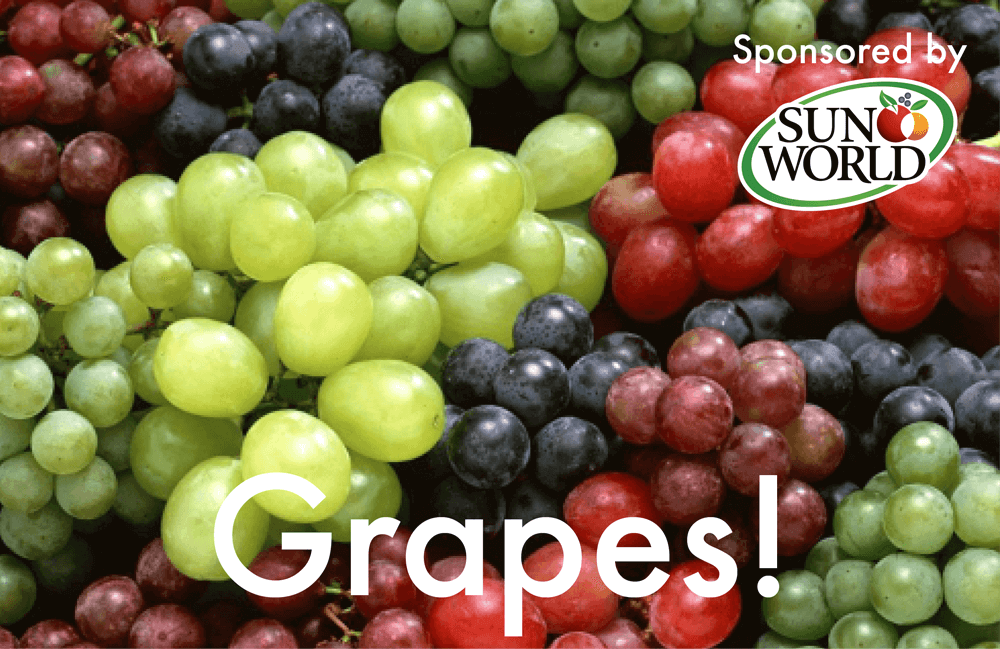 Can you think of a better summer snack than grapes? We sure can't! They're the perfect snack for the beach, lake, long car rides, or just the good ole' backyard! Whether you like em' green, red, or yes even black they are always sweet, refreshing, portable, and of course healthy! Here are a few other things we LOVE about GRAPES!
Meet "The Grape" family:
There are more than 8,000 grape varieties from about 60 species. The main types are American and European. Grapes have a leathery covering and a fleshy inside, similar to blueberries, which means…wait for it… they're a berry! That's one big happy family!
Talk about history:
Grapes are said to be the oldest cultivated fruit! They date back to around 7000 years ago and remnants of them have been found in Egyptian tombs. Pyramids and grapes… who knew??
Grapes to wine:
21 and over please… Did you know it takes 600 grapes to make one bottle of wine and on average one acre of grapes can produce around 15,000 glasses of wine?! That's about 3700 bottles! Good thing 71 percent of grapes grown in the world are dedicated to wine making!
Good for the ticker:
Grapes help minimize the risk of heart attacks because they increase the levels of nitric acid in the blood which prevents blood clots. A few grapes a day keeps the blood clots at bay!
Ringing in the New Year:
In Spain, it is tradition to celebrate the New Year by eating 12 grapes at midnight on December 31, one at each clock chime. Fun!
Oh so healthy!
SO MANY BENEFITS! Some of them include their ability to treat constipation, indigestion, fatigue, kidney disorders, macular degeneration and the prevention of cataracts. They are a rich source of vitamins A, C, B6 and folate in addition to essential minerals like potassium, calcium, iron, phosphorus, magnesium and selenium!
Also grapes contain flavonoids that are very powerful antioxidants, which can reduce the damage caused by free radicals and slow down aging.
For a full list of their Health Benefits head on over to our A-Z Guide and see the pages on GRAPES, and also visit our friends at SUN - WORLD for their great varieties of grapes, bursting with juicy flavor and sweet, summer deliciousness!
---