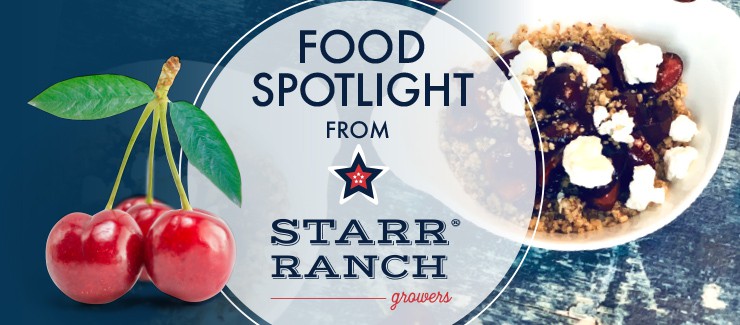 The sweetest summertime snack may be small, but it carries a fierce punch of flavor. Starr Ranch Growers are proudly serving several varieties of Pacific Northwest-grown cherries, unrivaled in flavor and quality. From tart to sweet, these powerful clusters can energize your summer and transform any dessert.
Starr Ranch Growers is notorious for having cherries that are juicy and bursting with incredible flavor. Explosively juicy, sweet, and firm, their dark sweet varieties include Chelons, the exceptionally large Tietons, and the ever-popular Bings. These shiny, deep red all purpose cherries make a delicious snack straight from the bag or can be used for baking, juicing and freezing. Their Rainier cherries, are ultra-sweet and truly tastes like nature's candy. These cherries are yellow with a bright red blush and make fantastic additions to yogurt, oatmeal, and just about any dessert recipe.
When you eat cherries, you're eating more than just a bite-size of decadence. Cherries are a low-calorie fruit that's rich in nutrients, vitamins, and minerals. Equally sweet and tart, cherries are packed with numerous health-benefiting compounds that are essential for wellness. Not only the perfect on-the-go snack food, but they're also wonderful additions to recipes. Better yet, cherries can and freeze well, meaning you can enjoy a scrumptious homemade cherry pie in the middle of winter.
Prime orchard real estate in the lush Pacific Northwest grants Starr Ranch Growers a long cherry season. As one of the premier growers and shippers of sweet Northwest cherries, they move an impressive 2.5 million cartons of cherries each year. So if you're needing the right cherry for your cherry pie, choose the company with humble roots, growing the best fruit.

---