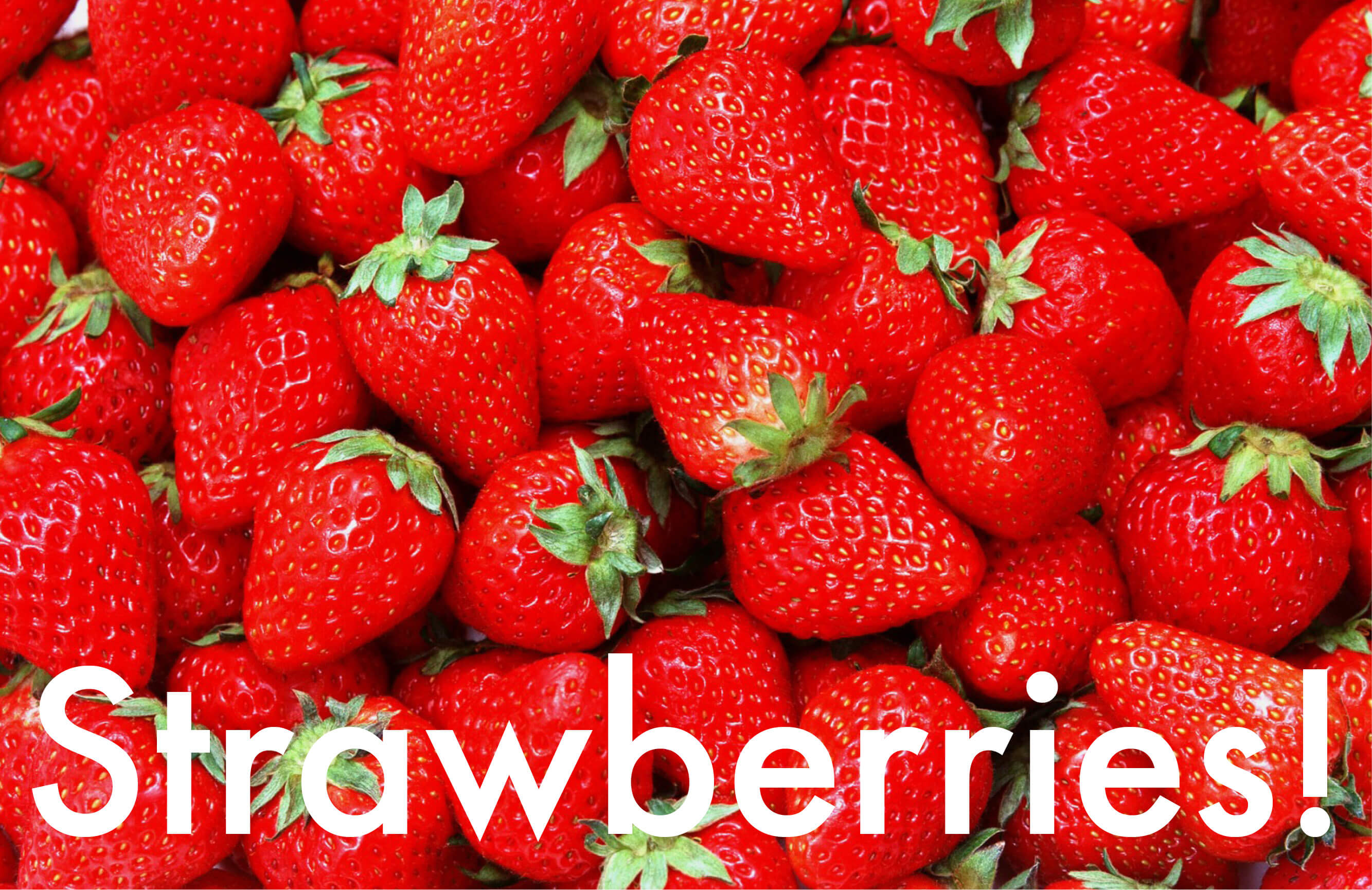 They're seedy (in a good way). A true berry has its seeds on the inside but the strawberry wears its seeds (more than 200 of them) on the outside. And, each seed is considered to be its own separate fruit. Who knew? Now you do!
America's fruit. Americans eat an average of 4.85 pounds of fresh and frozen strawberries a year. Ninety-four percent of households eat strawberries.
Kid's choice. Most kids (more than 53 percent) pick strawberries as their favorite fruit. Nature's candy!
Shhh - don't tell them they're healthy. Eight strawberries will provide 140 percent of the recommended daily intake of Vitamin C for kids.
Same time, next year. The strawberry is a perennial, meaning it comes back next year and the following and the year after that. It may not bear fruit immediately, but once it does, count on five years of berries.
Going global. Strawberries are grown in every state in the country and every province of Canada, but mostly in California, which produces 80%. They grow about 2 billion pounds of the heart-shaped fruits per year. If all the strawberries produced in California in just one year were laid berry to berry, they would circle the earth 15 times.
Strawberries are very popular everywhere. There's even a museum dedicated to them in Belgium. Le Musee de la Fraise sells everything from strawberry jam to strawberry beer.
Super good for you. Strawberries are believed to help reduce the risk of heart disease and certain cancers. They are low in calories (55 per cup) and high in vitamins C, B6, K, fiber, folic acid, potassium and amino acids. Strawberries contain high levels of nitrate which has been shown to increase blood and oxygen flow to the muscles. Research suggests that people who load up on strawberries before exercising have greater endurance and burn more calories.
Roman RX - Even back in ancient Rome, strawberries were thought to have medicinal powers. They used them to treat everything from depression to fainting to fever, kidney stones, bad breath and sore throats.
Love berries. And they've also been prized for their powers in the ways of love. The French serve them to newlyweds as a creamy, sweet soup at traditional wedding breakfasts.
Nothing new in the New World. Long before European settlers arrived, Native Americans were enjoying them right off the vine or cooked into cornbread.
Good to know. To store fresh strawberries, wash them and cut the stem away. However, if you plan to keep them in the fridge for a few days, wait until before you eat them to clean them. Rinsing them speeds up spoiling. Strawberries can also be pickled, especially when picked green or unripe. If your berries are overripe, make jam.
Switch things up. Much as we love strawberries in desserts or by themselves, they're great with lots of other foods. Try substituting strawberries for tomatoes. Consider a strawberry salsa with seafood dishes, or a Caprese salad made with fresh mozzarella and strawberries. To create fresh twists on classic dressings, use purйed strawberries to stand in for some or all of the vinegar. Try making strawberry salsa or chutney for pork, duck, baked ham, chicken and salmon dishes. Or glaze them with sauces made by simmering strawberries with wine or fruit juice. And finally, strawberries alway make a fresh and colorful garnish.
RECIPE OF THE MONTH with our FEATURED FRUIT STRAWBERRY!
Besides having awesome fresh fruit and veggies, warm weather signals another great American tradition - outdoor cooking. Everything tastes better when it's grilled so get fired up and try out this tasty, colorful and healthy Spicy Tuna and Fruit Kebob.
Ingredients:
Kebabs:
8 bamboo or metal skewers 1 pound tuna fillets, cut into thick chunks 1/2 cup adobo or chipotle sauce 1-2 cups green bell pepper, cut into chunks 2 cups whole California strawberries, stems removed 1 medium red onion, cut into chunks
Fruit Salsa:
2 cups California strawberries, diced 1 cup jicama, peeled and diced 1/4 cup fresh cilantro, chopped Juice of one half lime 1 teaspoon olive oil (optional)
Preparation
If using bamboo skewers, immerse in water for 20 to 30 minutes before grilling (this will keep skewers from burning).
Rub adobo sauce over fish and marinate in baking pan or platter. Marinate in refrigerator for at least 10 minutes or overnight.
Assemble kebabs on skewer by alternating tuna chunks with peppers, whole strawberries and onion; divide among 8 skewers.
In a medium bowl, combine diced strawberries, jicama, cilantro, lime juice and optional olive oil. Set aside.
Place kebabs on a broiling pan and broil on top oven rack for 5 to 8 minutes per side, until tuna is completely cooked. Serve with fruit salsa.
For more tasty tidbits visit the Strawberry Commission Recipe blog at:
www.californiastrawberries.com/in_the_kitchen/
---