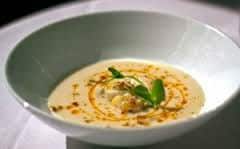 Winter's here and that brings some wonderful unique vegetables that chefs are excited about! Meet Jay Swift, owner and chef of 4th & Swift in Atlanta's Old Fourth Ward is excited about sunchokes (yes, sunchokes!) being in season.
What's a sunchoke? Read on ...
Well, it's sometimes called a Jerusalem artichoke although Jay says, "that's strange because it's not from Jerusalem and is nothing like an artichoke."
Rather, it's a tuber that looks alot like ginger but it's from a type of sunflower. Its mild, buttery, nutty flavor makes a great soup and by adding bacon and clams, you have a great chowder.
Jay uses sunchokes like potatoes for roasting or he slices them and uses them raw in salads. He gets them from the Turnip Truck, a local aggregate that sources from farms like Serenbe and Moonbeam Farms. You can pick some up at Whole Foods and farmers markets.
Wanna try them out? Jay's Sunchoke soup is easy, quick and will disappear in no time! Check out these pics of the Farm Star Living team trying its hand at making this soup on our FaceBook page.
Sunchoke Soup
3 lbs peeled sun chokes
2 sweet onion bulbs, chopped
3 celery stalks
1 small leek
water or vegetable stock to cover
bay leaf
thyme sprig
1/2 cup heavy cream
salt and pepper to taste;
pinch of lemon zest or 2 drops lemon Agrumata Oil.
Bacon Lardons for garnish (optional)
1. Sweat (low heat sautй) onions, leeks and celery in a sauce pan until translucent. Do not brown.
2. Add sunchokes and cover with stock.
3. Simmer until soft and breaking apart
4. Warm up cream on the stove
5. Puree cooked sunchokes in blender, add cream, s&P and lemon to taste
6. Strain through a fine sieve. Serve hot.
---