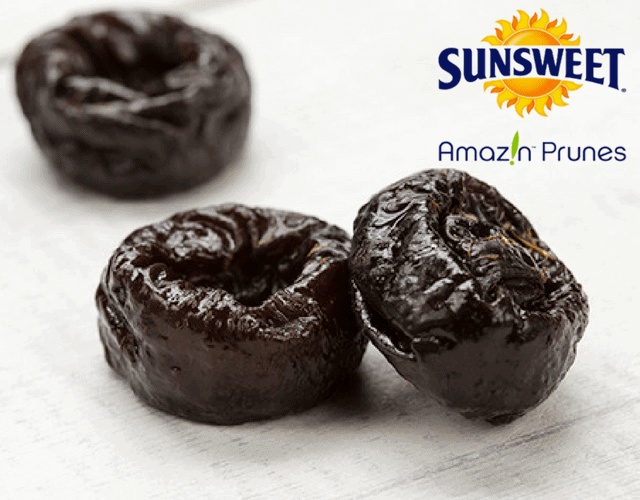 Sunsweet Prunes – The Feel Good Fruit
Prunes: purple and chewy dried plums, which, due to their keen ability to relieve digestive problems, often get a bad rap. This unappealing, albeit natural, capability can leave people feeling adversely about them, or worse, steering clear completely. We're here to turn those negative thoughts into positive ones, though, because these wrinkly fruits are actually quite delicious and have a ton of health benefits.
In addition to prunes being great for digestive health (as mentioned above), they also help lower cholesterol, they're low in calories, they help prevent obesity and Type 2 Diabetes, and they help protect against chronic illnesses. Prunes are also a great source of fiber, they reduce the risk of osteoporosis, they're low in sodium and high in iron, and they help reduce plaque buildup and regulate food intake. Whew! Have we made you think differently about them yet? Because that's a lot of pluses!
You heard it here first – prunes are making a comeback!
Some of our favorite prunes come from Sunsweet Growers Inc., located in Yuba City, Ca. Sunsweet is actually the world's largest handler of dried fruits. They're a grower-owned cooperative, representing one-third of the prune market worldwide, and they process nearly 70,000 tons of prunes a year!
Founded in 1917 as the California Prune and Apricot Growers Association, they changed their name to Sunsweet Growers Inc. in 1958. In 1965, the company introduced its first pitted prune, taking California, and eventually the world, by storm. Sunsweet is committed to a "green" future and keeping the environment healthy. They hold some of the highest product quality standards around and are even nurturing 24,000 acres of trees in California!
They refer to prunes as "The Feel Good Fruit," and we couldn't agree more. Here are some of our favorite Sunsweet prunes products (say that three times fast!):
Amaz!nTM Diced Prunes
Be careful with these – they are crazy delicious. But don't worry; they're crazy good for you, too! Grab a handful for nutritious snacking, or add some to Greek yogurt for an extra fiber boost. Available in 7-ounce pouches, these diced prunes are a great addition to any meal!
Pitted Amaz!nTM Prunes
These super tasty, pitted prunes are Sunsweet's signature fruit. Eat a few every day to round out the nutritional value of your snacks and meals. Available in 8-ounce resealable bags and 16-ounce canisters, these delicious prunes will help keep you feeling full longer – they're a great source of fiber and only 100 calories!
PlumSweetsTM Greek
These delicious Amaz!n prunes covered in Greek yogurt are truly a treat! Available in 6-ounce bags, this snack is the perfect way to indulge without feeling any of the guilt. Keep a bag close at hand for those times when you need some rich nutritional goodness!
Amaz!nTM Prune Light
This fruit juice is an easy and different way to enjoy Sunsweet's yummy prunes. Available in 64-ounce bottles, Amaz!n Prune Light is only 100 calories per serving and a great way to get the daily fiber and nutrition you need. Even add some to a smoothie to put a different spin on the same delicious taste!
OnesTM Individually Wrapped Prunes
Individually wrapped and delicious, Ones are moist, juicy and full of nutrition. Throw a few into your car or purse for a rich-in-fiber, on-the-go snack. Available in 6-ounce canisters and 12-ounce value packs, these prunes are a good source of energy for any and every day.
Which of these products do you like best? Follow us on Facebook, Instagram, Twitter and Pinterest, and share your favorites with us!
---