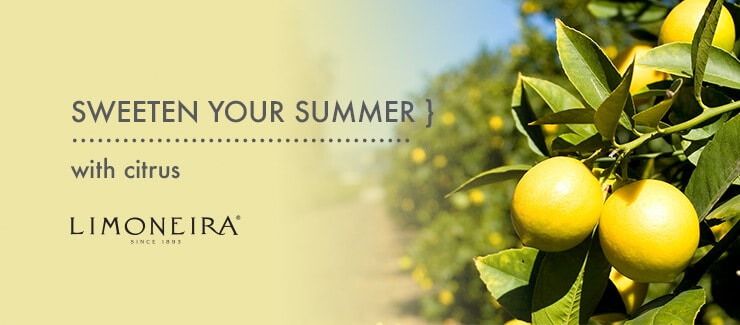 Every chef and home cook can agree that one of the best ways to make any dish come alive is to add some citrus! Whether it's a squeeze of lemon over grilled fish and veggies, a wedge of lime in your seltzer, or fresh orange juice for breakfast, including citrus in your beverages and meals just adds something special.
This summer, we're all about using citrus from our friends at Limoneira®. They've been growing delicious citrus for more than 130 years! Limoneira grows many varieties of citrus including lemons, Meyer lemons, pink lemons, oranges, clementines, mandarins, and navel oranges. These fruits are grown in California and all over the world, thanks to Limoneira's grower-partners! With their One World of Citrus™ initiative, we can have delicious, healthy citrus now all year long!
Have you ever made a recipe and just feel like it's missing something? This is likely because there's a lack of balance in the dish – maybe there's not enough fat or salt or heat or acid – this is where citrus fruit can help! Adding a squeeze of fresh lemon juice or lime juice adds that acidity and brings the recipe flavors back into balance. During the summer time, there's a lot of grilling and barbecuing going on and yes, citrus belongs on the grill, too! Add a squeeze of fresh citrus juice before or after grilling meats, veggies, or seafood. It'll take it up a few notches and, like we mentioned, bring those recipe flavors into balance. And if you're really feeling flavorful, make a delicious marinade or ceviche using citrus for a bright and tasty entree.
But, citrus fruit isn't just for eating and garnishing. Avoid the harsh chemicals and toxic ingredients in your home and create a cleaner, safer space using citrus. You can use citrus to remove stains from cutting boards, make a toxic–free air freshener, use citrus in your laundry, or make your own non-toxic wood polish! You can get more ideas about cleaning with citrus from Limoneira here.
You're also boosting your health when you eat and drink fresh citrus fruits and their juices! Everyone knows about the lemon water "health hack" first thing in the morning, but this is just one of the many ways that citrus can improve your health! Looking to reduce inflammation? Try fresh orange juice! Want to improve your mental health? Consume more Vitamin C through citrus! Want to keep your brain healthy? Eat more fresh vegetables and citrus!
Take a look at these awesome recipes from Limoneira and get inspired to use citrus this summer! Don't forget to keep your eyes peeled on the Limoneira Instagram every day until August 12, 2022 to Catch the Citrus Wave and for your chance to WIN sweet summer swag from Limoneira. Happy citrus-ing friends!
---