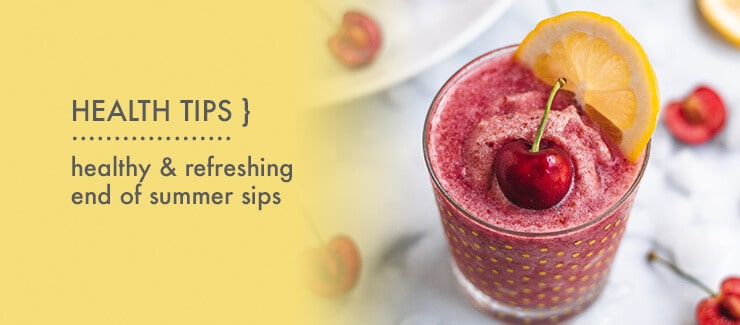 Smoothies are one of our favorite ways to make sure we're getting in enough servings of fruits and vegetables. And they're so customizable, too! Whether you're looking for more ways to eat farm fresh foods, need a quick and healthy breakfast, or just want to knock the dust off your blender, here are three healthy and delicious smoothie recipes to sip on through the end of the summer!
Hot, long summer days demand a relaxed mindset, good vibes, and serious hydration! Which is exactly why we've created this tasty and healthy Watermelon Hydrating Smoothie with a big helping of hydrating ingredients. It's the perfect recipe to sip poolside or lakeside and, along with amazing health benefits, it tastes great and will cool you down on those hot days. Because of its water and fiber content, watermelon helps to prevent constipation and promote regularity. Read all about the benefits of watermelon here!
We are ready to celebrate summertime fun and farm-fresh fruits with this Fresh Cherry Frozen Lemonade! For this recipe, we opted for their Dark Sweet Cherries – which are explosively juicy, sweet, and firm. These Dark Sweet Cherries are known as the all-purpose cherry, which means they're either perfect for snacking right out of the bag or can be used for baking, juicing, and freezing. If you can't find fresh cherries at the store, frozen cherries work perfectly well! Read all about the benefits of cherries here!
Chocolate Covered Strawberry Smoothie
This recipe may look too good to be true, but this recipe is anything but a sugar-bomb. No, this isn't a milkshake, even though it's good enough to be eaten for dessert! Full of antioxidants and perfectly sweet, this recipe is one of our favorites when we're craving something decadent! Read all about the benefits of strawberries here!
---