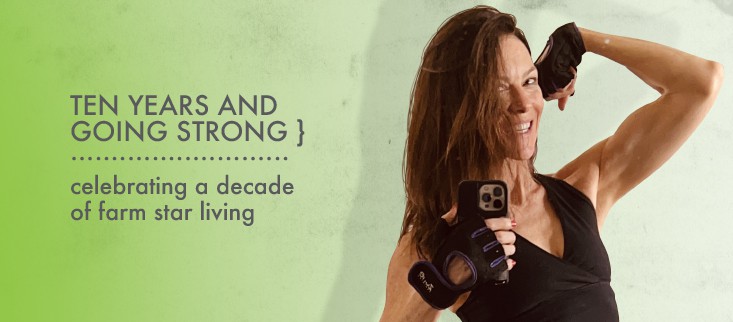 Ten years ago, I had a hope and vision to elevate our appreciation of farmers and showcase their world in a whole new way. I wanted to first and foremost celebrate farmers in a way that no one had quite yet – recognizing them in mainstream America as today's celebrities, or as I called them Farm Stars. Just as we'd celebrated so many chefs as 'stars,' I wanted to look at farmers anew and give them recognition that would allow them to feel seen and appreciated. Since celebrity has seemed to be the common currency of success, I felt being known as Farm Stars™ might just give them some well-deserved kudos and acknowledgment for all that they do for us. Thus Farm Star Living – the first 'farm to table' lifestyle website was born.
Since inception, we've taken people behind the scenes of amazing farm-fresh food companies and brands, shared the 'dirt' on what it takes to grow countless foods, created delicious and healthy recipes, made hundreds of videos, promoted health tips, and created both editorial and video content to educate and entertain anyone interested in healthy eating and a farm-fresh approach to life and one's health. We have shared stories of amazing, inspiring people like the founder of Black Farmers Network, Wholesome Wave, even celebrities like Carla Goodwin, Lukas Nelson (Nelson & The Reals), and countless farmers, chefs, community leaders and more. All of this has helped others understand what it is behind the world of farms, fresh food and what it's like to be a farmer.
We also have created first of its kind resources and directories: AZ FARM FRESH FOODS & their HEALTH BENEFITS Directory, a FARM TO TABLE RESTAURANT directory (first ever), as well as the first AGRITOURISM Directory that allowed someone to search for activities like petting zoos, berry picking, farm tours, hayrides, and more – coast to coast. I'll never forget the day I was talking about Farm Star Living at the USDA offices in Washington, DC, and how they said they'd never seen anything as exciting and unique as our agritourism directory. Boy, that was a great day!
Today, as we enter our tenth year, we're embarking on even newer grounds. My passion for health and wellness has grown over time, so much so that last year I became a certified integrative health and wellness coach last year (graduated from Integrative Institute of Nutrition in AUGUST, 2020). This means that I can coach those interested in taking their health and wellness to new levels – not only through the foods that they eat, but through the way they live their lives. A holistic approach to life and health & wellness is what makes me so passionate these days. At the center of this? You know it – farm-fresh food. But it's not food alone that can make us our most healthy versions of ourselves. It is also self-care. Once we understand that our self-care is at the core of everything that we do, we will become even more healthy – and happy – overall. Without self-care, we are susceptible to burn-out, overwhelm, depression, and simply become undernourished – and that is in mind, body and spirit!
I call this integration of food and overall wellness 'farm to wellness,' and as a result, it's a way to become more grounded, more centered, and to practice better self-care. My motto that I follow is to Live Grounded.™
Here at Farm Star Living, we still cherish the farm-fresh focus when it comes to foods and healthy eating, of course paying tribute to our beloved Farm Stars™ and growers dedicated to making this food a reality for us, but also to understanding that it is through our own self-care that we can become our best, most healthiest versions of ourselves. Through feeding our bodies with healthy fresh foods, incorporating centering practices, healthy self-care regimes, being active and connecting to nature, we can all grow and become more healthy and vibrant in our lives.
I practice what I preach, and I plan to keep growing myself, as well as take Farm Star Living to new heights. I think that support is key in all of this, and I think that together, here at Farm Star Living, we all can achieve greater health, more energy, more clarity, more happiness and joy. It is our healthy attitude, our focus on our health & self-care, our direction and intention to become our best versions of our selves, and all working together that will take us there. I hope you'll visit me here at Farm Star Living and together let's grow. And, let's #livegrounded. Cheers to another year ahead and to TEN YEARS and getting stronger every one!

---