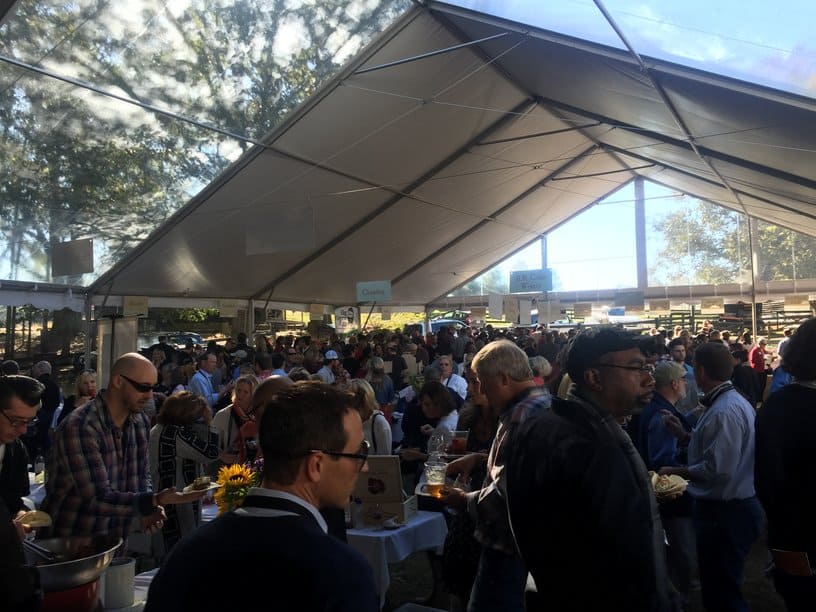 On a beautiful Sunday afternoon in November, Atlanta Les Dames d'Escoffier (LDEI) hosted "An Afternoon in the Country" at Serenbe Farms in Palmetto, GA. Chefs from Atlanta's top restaurants, paired with some of Georgia's best farms as well as top mixologists, wined and dined guests with a tasting set up housed under big beautiful tents! Some of this year's chefs hailed from restaurants like 4th & Swift, JCT Kitchen, Wrecking Bar, Miller Union, Canoe, One Flew South, Restaurant Eugene, No. 246, St. Cecelia, and MANY more! Along with the fabulous food and drink guests enjoyed live music from DriveTrain as well as a silent auction with wonderful prizes ranging from travel packages, food and wine, and original art. One of my top highlights of the day, hands down, was the one-of-a-kind cake raffle! With some of the most beautiful cakes I had ever seen from some of Atlanta's top pastry chefs, I was sure hoping to win them all!
Now let me slow down a minute to tell you a little bit more about Les Dames d'Escoffier and what their mission is. LDEI is a worldwide invitational organization of women whose mission is to promote the achievement of women in culinary professions through educational and charitable activities. Founded by food reporter Carol Brock in 1976, LDEI has grown to 1,400 members in 28 chapters! Their goals include the following:
To promote the understanding, appreciation, and knowledge of food, wine and other beverages, nutrition, the arts of the table and other fields as they relate to these disciplines.
To promote the highest standards in the preparation, supply, and service of food, wine and other beverages.
To work cooperatively with members by providing advice and assistance in all matters pertaining to the chosen disciplines.
To promote the education and advancement of and to offer advice and assistance to women in careers in the chosen disciplines.
I am so thrilled and proud to have had the privilege of getting to know this amazing organization and so many of the Atlanta members. Their annual "Afternoon in the Country" event is their biggest fundraiser of the year with proceeds going to Georgia Organics, Wholesome Wave, Global Growers Network, The Giving Kitchen, The Wylde Center, The Atlanta Community Food Bank and Atlanta Les Dames d'Escoffier International's scholarship fund for women in the culinary, beverage and hospitality arts. We were honored to have had the opportunity to attend and sponsor this beautiful event and highly recommend you sign up for their mailing list so that you can get your tickets early next year, they sell out quick! To find out more about
Les Dames d'Escoffier
or "An Afternoon in the Country" feel free to visit their website.
Some of our photos from the 2014 "An Afternoon in the Country"!
---