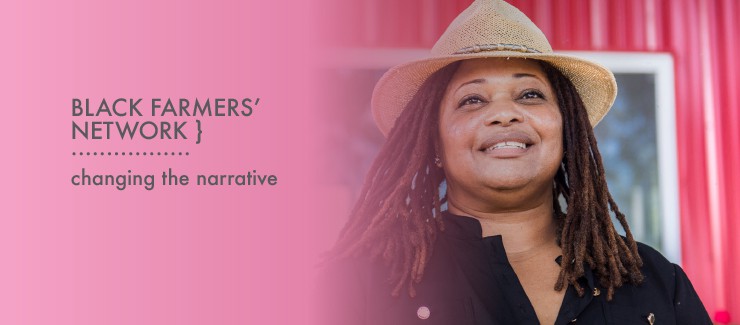 Dr. Veronica Womack
has a contagious passion that is sorely needed. She is changing the perspective and the narrative of the black farmers of the South through her
Black Farmers' Network
, launched in 2018. Womack's extensive work has earned recent features in The Wall Street Journal, The Nation, The New York Times, The Atlanta Journal-Constitution and on NPR, and she has gained the attention of international audiences as well. She has successfully secured research funding and support from federal agencies, national nonprofits and a working group of experts at the United Nations.
She spoke with me about her mission and purpose with the Black Farmers' Network , and I hope you'll be as inspired as I am.
"Coming from a Southern farm and a small town, I didn't realize how I grew up in such a different way than most folks. I was part of a farming family, in a tight community that leaned on each other and celebrated together, and I was used to things that I later realized that many people didn't know or experience."
The area of the South that Dr. Womack is concentrating on is called the Black Belt, a large swath of the United States in the shape of a crescent moon that goes across the deep South to Virginia.
"It is important to have a positive perspective of rural farming, and I want to attract more black farmers to it. Plus, we desperately needs younger people to come into its fold and learn from our older generations how to carry on. The average age of the black farmer is 60, which is older than US producers overall."
Farming to her is essential for independence and security, and yet she realized that so many black farmers who had at one time been prosperous through their land, later had children who were giving up their land and farms to move away to the city. These were farmers who had bought the land, generations ago, in the hopes that it would bring prosperity and wealth to their families to follow. I also come from a farming family and when speaking on this topic with Dr. Womack, I agreed that they would be disheartened knowing that the land they'd worked so hard for was no longer in the family.
Womack explains that there used to be 925,780 farms owned by black people in the 1920's, but today that number is 35,470. In 1910, there used to be 19,100,000 acres owned by black farmers, but today there are only 4,700,000 – a significant decrease that alarms her.
"Farming is a means of survival and provides the ability to feed one's self; because as my Grandfather always told me, if you have land you have a place to pitch a tent if things got rough, you can grow your own food, and you can survive. I want to help our young black people understand the value and need to get back to this way of life and these principles."
Through the Black Farmers' Network, Womack is celebrating Southern black farmers by profiling them and sharing their stories, successes – and challenges. She wants everyone to understand their work and their contribution to their communities, and she hopes the younger generations will see farming as it is: a glorious profession that is one of the most noble careers one can have. She and I have a lot in common about our perspective of farmers – and we both agree that they are typically underappreciated.
"I remember as a young girl, the smell of the fresh pies, and breads using the fruits that had just been picked. The meals being served at the community church where everyone would gather to share their food, grown by them at their own farms, and served with love along with it."
These memories have stayed with her as she has grown, matured and become a doctor, also teaching school at Georgia College and State University. To me, it feels that it is this nostalgia that has propelled her forward in creating the Black Farmers' Network.
She says, "It is critical and so important for us to get back to rural, get back to the farm." No doubt, if Womack has her way, the Black Farmers' Network will help inspire more tight-knit communities similar to the one she still cherishes – all founded on hard work, good food, and love.

---