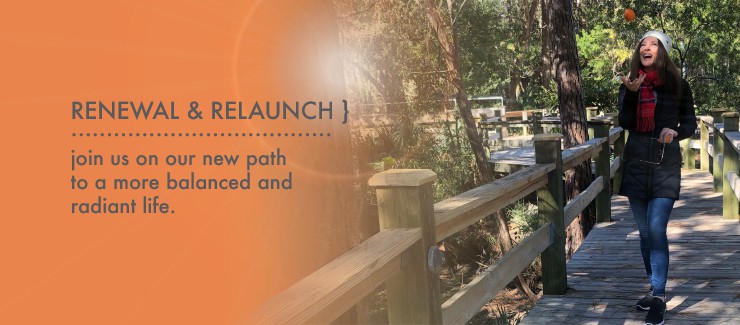 After the year we've been through - the stress, the fear, the loss, nothing is the same. And the need for an overall sense of well-being, for me, is greater than ever. The connection to our farms, our food and the appreciation of our farmers, as they are indeed our unsung heroes and the 'stars' of our time, is still as important as ever. And with the shock we felt seeing empty grocery store shelves and seeing how difficult the distribution chain issues our farmers faced this year was, our appreciation for what they do is greater than ever. Their role in our lives is definitely not taken for granted.
It doesn't stop here though. There's more.
We as a society have endured the unthinkable. Many of us have had more stress than we ever have had before in our lives - facing unimaginable challenges financially, health-wise and personally in our very own families. It's been exhausting, and we must have better days ahead, on the most visceral and personal levels. I have had a calling to contribute in the most meaningful way that I can to this effort to bring more peace, more overall wellness, and more balance into people's lives, and I want to contribute to ways to come out of this with a better quality of life, more peaceful days, and more healthy ones at that.
So, I am relaunching Farm Star Living with a new focus, and I'm hoping that you'll join me on a new path. One where we have overall health and wellness by tending to our mind, body and spirit wellness - but all with a farm-fresh twist. We'll approach our overall wellness holistically while incorporating healthy farm-fresh foods into our days, more farm-sourced products into our self-care routines. We will discuss ways to have more tools at the ready to de-stress and connect us back with the Earth, with nature, with ourselves.
In the new Farm Star Living, we will continue to showcase food and farms, and the farmers aka Farm Stars™ who make this possible, but we also explore and discuss ways we can have complete health and overall wellness - of the mind, body and spirit.
Mind - We'll discuss tips, techniques and ways that you can become more mindful, more aware of how and what you're thinking, and start to see how that affects your overall well-being. We'll be looking at ways to declutter your mind, great ways to de-stress, tips to stay positive, to relax and restore. We'll explore wonderful ways to stay positive and Find Your Zen, to see the beauty in the day, and in life that is unfolding around us. Plus - incorporating wonderful farm-fresh foods and products to help you relax, restore and feel at peace.
Body - We'll look at ways to nurture your body and skin. We love sharing ways to feed your body with farm-fresh foods, healthy recipes and snacks that give you great energy, and we'll also look at fun ways to keep your body active in order to feel and operate at your best. Plus, while taking care of your body and skin, this also includes your face. So there are amazing ways to help your skin stay healthy, fresh, and I must admit there's going to be a side bonus where you will feel your most beautiful yet. (And probably look it, too!) So, we'll be incorporating Spa & Beauty tips and farm-sourced, natural beauty products into this, too, because who couldn't also use a little pampering and TLC!
Spirit - This is subjective, but I'm referring to that inner voice within that tells you when you've gone astray, when you need to make a change, or when something doesn't feel right. And that voice - that higher self, is directly connected to something that is all-knowing, even greater than yourself. Some people call it the universe, God, supreme consciousness, and however you might may refer to that inner voice within, it helps guide us all, and centers us. We'll look at techniques and tips to connect to your inner and higher self so that you'll be able to achieve peace, greater alignment, and be able to tap into the best, most heightened version of yourself.
I hope you like where we're going, and I want to take you there with me. These are personal passions of mine, plus this combines twenty years of my own work into this all-encompassing focus. I was a spa & wellness expert for ten years with my first company
Spa-Addicts.com
, which I loved but ultimately left in order to keep my family farm. There was no one else left to run the farm other than myself, so I made the choice to keep the farm which also meant a huge loss as I couldn't also keep running my business that I loved and had built. After all, I couldn't even (and still can't) get internet at my farmhouse.
It all worked out as I found a new path, which led me to becoming a farmer, finding new passions and ultimately launching Farm Star Living. I was farming for three years prior to launching Farm Star Living, which is now entering its ninth year. With this new direction, I feel it is a life of two careers melding together into one … and one in which I can be of service to help you also have a farm-fresh lifestyle that has greater mind, body and spirit wellness.
And beauty.... because there is so much beauty around us, and within us.
Welcome to the new Farm Star Living. I hope you will join me, and as our new tagline states, Live Grounded™!
Happy NEW Year!

---