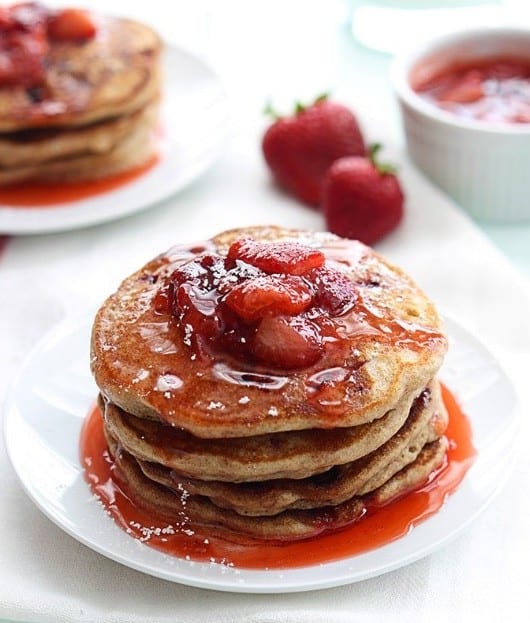 A healthy start to the New Year includes a healthy start to the day. How about breakfast in bed for yourself, family or loved ones with these easy, good for you breakfast time recipes! Everyone is sure to love the benefits of these recipes, from the potassium in mushrooms, good for muscles (including the heart!), improved blood sugar regulation from the strawberries, protein in sausage, or all the minerals in poppy seeds.
Broccoli, Mushroom, and Cheese Breakfast Strata
Recipe courtesy of Ellie Krieger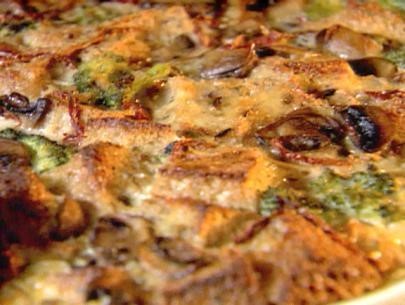 Ingredients:
4 teaspoons olive oil 1 large onion, diced (about 2 cups) 3 garlic cloves, minced 3 cups (8 ounces) sliced mushrooms Cooking spray 1 whole wheat baguette, crusts removed, cubed (about 5 cups) 8 eggs and 8 egg whites 2 cups lowfat milk 1 tablespoon dijon mustard 10 ounces broccoli, steamed, cooled and chopped (or frozen, thawed) 1 -ounce (1/3 cup) grated parmesean 4 -ounce (1 cup) part-skim mozzarella cheese 1/2 cup thinly sliced sun-dried tomatoes, reconstituted 1 tablespoon minced fresh thyme leaves 1/2 teaspoon salt 1/2 teaspoon freshly ground pepper
Directions:
Heat 2 teaspoons of the oil in a nonstick skillet over medium heat. Add the onions and saute until translucent and beginning to brown, about 4 minutes. Add the garlic and continue to cook for another 1 minute. Transfer the onion mixture to a medium bowl and allow to cool. Heat remaining 2 teaspoons of oil in the skillet and saute the mushrooms until they release all of their water, about 6 to 7 minutes. Remove from heat and cool completely. Spray an oval baking dish with cooking spray. Arrange the bread cubes in the dish. In a large bowl, beat the eggs, egg whites, milk and mustard until incorporated. Add mushrooms, onion-garlic mixture, broccoli, Parmesan and mozzarella cheeses, sun-dried tomatoes, thyme, and salt and pepper and stir to incorporate. Pour mixture over bread, making sure liquid saturates bread. Cover with plastic wrap and refrigerate overnight, or at least 8 hours. Preheat the oven to 350 degrees F. Remove the plastic wrap from strata and bake for 55 to 60 minutes, or until top forms a light brown crust.
Whole Wheat Strawberry Pancakes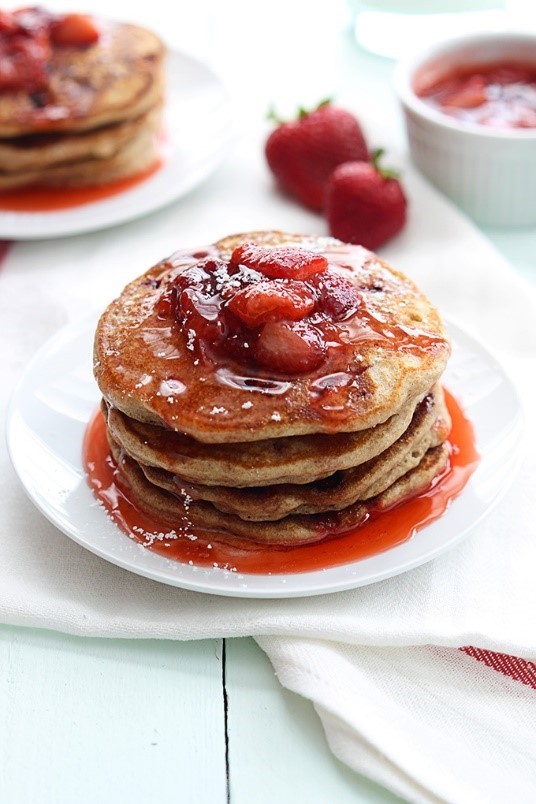 Ingredients:
1 cup buttermilk 1 cup whole wheat flour 2 teaspoons sugar 1/2 teaspoon baking powder 1/4 teaspoon baking soda 1/4 teaspoon salt 1 egg 2 tablespoons butter, melted 1/2 teaspoon vanilla 1 cup fresh Well-Pict strawberries, stems removed and diced strawberry sauce 1 cup strawberries, diced or quartered ? cup honey 1 tablespoon real maple syrup
Directions:
In a large bowl whisk together flour, sugar, baking powder, baking soda, and salt. In smaller bowl combine buttermilk, egg, melted butter, and vanilla and mix until smooth.
Add wet ingredients to dry ingredients and stir until combined. (**batter should still be a bit lumpy, just stir with a spoon or whisk, don't use a hand-mixer) Gently stir in diced strawberries.
Preheat griddle or large pan to 275 and spray with cooking spray. Pour about 1/4 -1/3 cup batter onto griddle. Cook 1-2 minutes until bubbles start to form in the batter, then flip and cook another 1-2 minutes. Repeat with remaining batter.
For the strawberry sauce, combine all ingredients in a small sauce pan and stir over medium heat. Bring to a gentle boil, then reduce to a simmer until ready to serve. Serve sauce over warm pancakes and top with powdered sugar if desired.
For other great strawberry recipes, visit our friends at Well-Pict!
Breakfast Sausage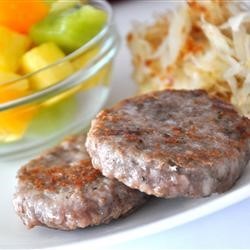 Ingredients:
2 teaspoons dried sage 2 teaspoons salt 1 teaspoon ground black pepper 1/4 teaspoon dried marjoram 1 tablespoon brown sugar 1/8 teaspoon crushed red pepper flakes 1 pinch ground cloves 2 pounds ground pork
Directions:
In a small, bowl, combine the sage, salt, ground black pepper, marjoram, brown sugar, crushed red pepper and cloves. Mix well.
Place the pork in a large bowl and add the mixed spices to it. Mix well with your hands and form into patties.
Saute the patties in a large skillet over medium high heat for 5 minutes per side, or until internal pork temperature reaches 160 degrees F (73 degrees C).
Poppy Seed Muffins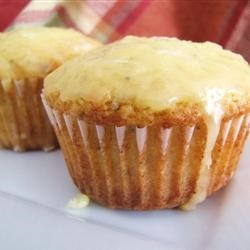 Ingredients:
3 eggs 2 1/2 cups white sugar 1 1/8 cups vegetable oil 1 1/2 cups milk 1 1/2 teaspoons salt 1 1/2 teaspoons baking powder 1 1/2 tablespoons poppy seeds 1 1/2 teaspoons vanilla extract 1 1/2 teaspoons almond extract 3 cups all-purpose flour 3/4 cup white sugar 1/4 cup orange juice 1/2 teaspoon vanilla extract 1/2 teaspoon almond extract 2 teaspoons butter, melted
Directions:
Beat together the eggs, 2 1/2 cups white sugar and vegetable oil. Add in milk, salt, baking powder, poppy seeds, vanilla, almond flavoring, and flour. Mix well.
Bake in paper lined muffin cups (filled 3/4 full or 3 small greased loaf pans) at 350 degrees F (175 degrees C) for 15-20 minutes for muffins and 50-60 minutes for loaves. The tops should be browned and a toothpick inserted in the center should come out clean.
Remove muffins as soon as you can while still warm/hot and dunk tops into glaze. Turn right side up and cool on a cookie rack. With loaves just pour the glaze evenly over the three loaves while still in pans. Let cool to a warm temperature and remove from pans. Yes, it is a little messy but it is really good.
To Make Glaze: In a saucepan over low heat, combine 3/4 cup sugar, orange juice, 1/2 teaspoon vanilla, 1/2 teaspoon almond flavoring and 2 teaspoons melted butter. Warm in pan until the sugar is dissolved. Pour over loaf pans or dunk muffin tops into glaze when cooled to room temperature. (Omit the glaze altogether if you don't like the mess.)
Sure hope your year is off to a great start! And maybe a little breakfast in bed will keep your year going strong.
---