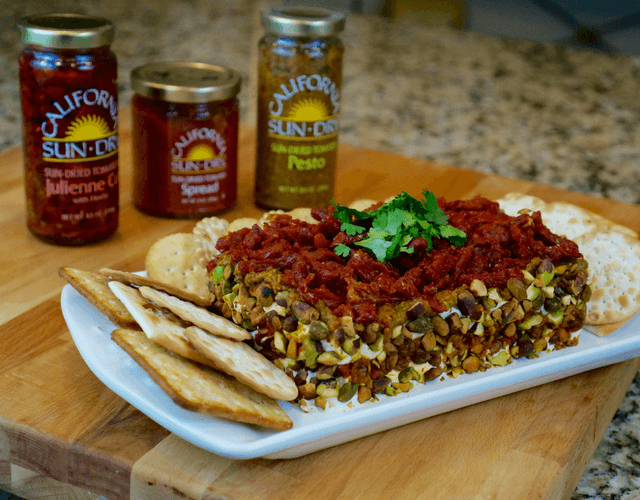 Holiday time is the right time to start celebrating! And here are two recipes that you are going to love! Festive and delicious, this Holiday Torte appetizer will wow your guests, and then the main entree will impress and more than inspire.
First, I started with a chicken that was free-range and free of the pumped-up saline as I like the most natural chicken possible. Once we picked out our chicken, then the fun began!
Plus, your meal is only as good as the ingredients that you use. So, we turned to the California Sun-Dried Tomato products,which are delicious and freshly packed in jars or cello bags, and include julienne cut, halved tomatoes, as well as garlic and sauces, too. I typically find them in the produce section at your local stores. Also, we hadn't realized that they had a delicious pesto sauce as well, which we also just used and made the most incredible appetizer with it as well as their other sun-dried products - the holiday torte! Make sure you check that out, too!
But I digress, so on to the main appetizer and delicious entree for your HOLIDAY celebration!
Sun-Dried Tomato Holiday Torte
INGREDIENTS:
2 (8 oz) blocks of cream cheese
1 (8.5 oz) jar CA SUN DRY® Pesto
1 (8.5 oz) jar CA SUN DRY® Julienne Cut Tomatoes, drained
1/2 (9 oz) jar CA SUN DRY® Spread
1 C salted, roasted pistachios nuts, chopped
Assorted crackers
Parsley
DIRECTIONS:
Between two sheets of plastic wrap, roll out one of the cream cheese blocks into a rectangle, no more than 1/4" thick.
Wrap in plastic & repeat with remaining block of cream cheese. Refrigerate until thoroughly chilled.
Drain jar of Julienne Cut Tomatoes
Place 1 layer of cream cheese on a serving plate. Spread 1/2 jar or more of CSDF® Spread evenly on top to the edges and 1/2 of CSDF® Pestoover the Spread.
Place 2nd layer of cream cheese on top. Spoon remaining half of CSDF® Pesto over the cheese.
Top with drained CSDF® Julienne Cut Tomatoes.
Loosely press nuts around the sides.
Dress with fresh parsley or basil and serve with crackers.
NOW THE ENTREE ....
Champagne Chicken
2 whole boneless, skinless chicken breasts
1 C flour
White pepper to taste
4 T olive oil
1 T butter
1 1/2 C champagne or white wine
1 C heavy cream
1/2 C CAL SUN DRY® Tomatoes, Julienne Cut, in oil, drained, or Smoked Julienne Cut, cello pack
DIRECTIONS:
Split both breasts to make 4.
Combine flour & white pepper.
Roll chicken breasts in mixture until coated.
Heat 4T oil & 1T butter in skillet over medium high heat.
Add chicken & brown on one side.
Turn chicken, brown 2 minutes, add champagne, raise heat, bring quickly to boil & spoon liquid over chicken
Reduce heat to simmer.
Poach only 4 minutes more & remove chicken to platter, cover & keep warm.
Raise heat & cook liquid until wine is reduced by 1/2.
Add heavy cream to skillet & cook until mixture thickens.
Add Tomatoes, either from jar or cello pack, stir well, pour over chicken & serve.
Serves 4.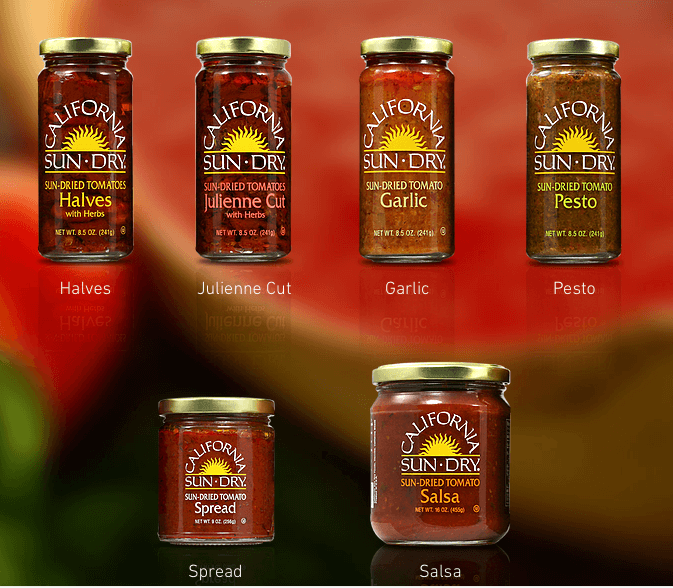 ---