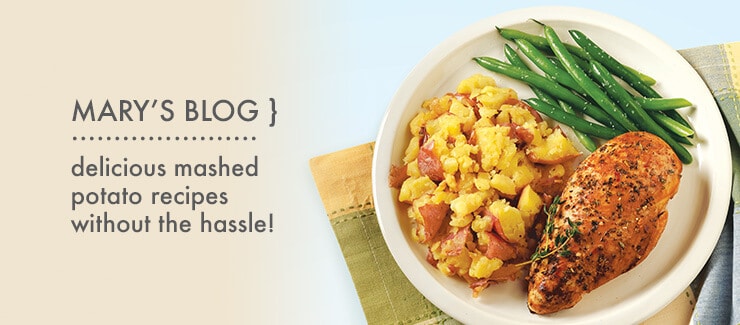 As the holidays are upon us, there's one thing that we can all use a bit more of – and that is TIME! That's why we love these following recipes using Minute Mashers from Green Giant™ Fresh. These real potatoes, real seasonings and even real butter are all right in the bag, so you don't have to pull out all of your pots and pans and make a mess with your ingredients everywhere! Not at all, because you just simply microwave this one bag for 7 minutes, and then you mash 'n smash until you've reached your desired texture. Talk about easy – and delicious!
So, we thought you might like these perfectly fabulous recipes that would typically require so much extra work and effort due, but because of Minute Mashers™, these dishes are hassle-free!
Thanks to Minute Mashers, you can make mashed potatoes a part of weeknight dinners again with this new Cheesy Chipotle Mashed Potato Bowl recipe.
You only need four ingredients to make this mushroom and mashed potato magic happen thanks to Minute Mashers with Gravy from Green Giant™ Fresh!
Easy, tasty, and made-in-minutes
is the name of the game with this delicious recipe! And if you've been searching for a new dinner recipe that only take a few minutes, this recipe is your answer.
A quick waffle breakfast to get you going and out the door in minutes thanks to Minute Mashers™!
Do something today that your future self with thank you for! That's why we love this Minute Mashers™ Mashed Potato Muffins recipe...it's a quick and easy side-dish, and it keeps well in the freezer for those times when you're wishing you had something delicious and ready to eat –
now!
This will hit the spot!
We're all craving something fast, easy, and efficient when it comes to what we cook at home. That's just one of the many reasons we're often reaching for Minute Mashers™ mashed potatoes from our friends at Green Giant™ Fresh. Enjoy!
---