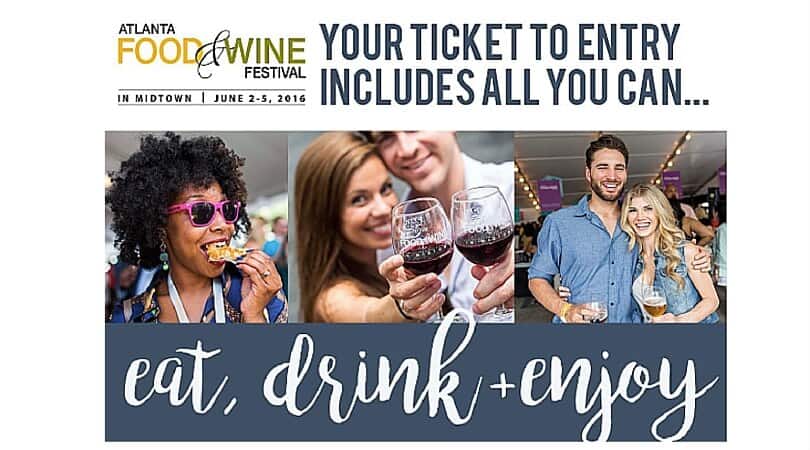 Ok, so who likes fantastic, gourmet Southern cuisine? Raise your hands! If you could see me, I'd be raising both of them! Good news is that since I live in Atlanta, I'm able to go to the Atlanta Food & Wine Festival where the best chefs from the Southeast gather to delight us in their favorite dishes. The better news??! You can go, too!
Whether for a few hours at one of their events or for a full weekend, the Atlanta Food & Wine Festival has something for every food and beverage lover from the novice to the connoisseur! On June 1-5, in Midtown, Atlanta, Talented chefs offer their special dishes, and even teach classes or provide demonstrations on some of their most signature dishes. Cocktails and wine, of course, too! Was to die for!
Save your spot and buy your tickets to the Atlanta Food & Wine Festival!
LEARNING: The Festival's Learning Experiences were created by their esteemed Advisory Council to educate and entertain guests. Learning experiences range in size from 40 – 150 people and include cooking and cocktail demonstrations, technique laboratories, pairing sessions, tasting seminars and panel discussions.
TASTING The Atlanta Food & Wine Festival Tasting Tents are designed to take guests on an epicurean journey through the South! The all-you-can-indulge layout allow you to have the opportunity to eat, drink and explore the region's top food and drink products and chef creations while also celebrating international influences that have shaped our region. This year's Tasting Tents will be in the Greensward area of Piedmont Park, a newer and secluded area in the park that includes flat green space and a gorgeous fountain.
The Festival experience continues into the evening with special chef dinners and signature parties at private homes, restaurants and special unique venues around the city.
CONNOISSEUR EXPERIENCE & DINNER SERIES:
The Atlanta Food & Wine Festival Connoisseur Experience is for the serious food and beverage lover who wants the very best the Festival can offer, including:
access to an exclusive Connoisseur Lounge, created by award-winning Atlanta designer, William Peace, for socializing, eating, drinking and participating in private food and beverage classes
a beverage program featuring unique products, including wines from Broadbent Selections
a full kitchen for up-close demonstrations with nationally-recognized chefs
breakfast served daily by award-winning chefs
reserve seating for general Festival classes and VIP access to the Tasting Tents
a dedicated Concierge to help with all Festival needs
What are you waiting for? See you there!!
Visit and follow our friends at Atlanta Food & Wine on their Facebook, Twitter, & Instagram! And Post your pics on our Facebook page, Instagram or our Twitter!
---