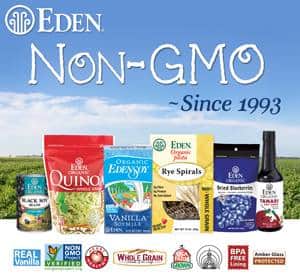 Can you imagine? A bunch of friends getting together in the late 1960's to try to find some natural food, and it simply wasn't available. Well, that was enough motivation for them, and they thus started a co-op called Eden Foods and the rest was history.
Eden Foods today has become a huge success due to their commitment and dedication to providing foods that are not nutrient depleted and grown without toxic chemical alteration. Eden Foods has been a success ever since it began in 1968, which is no surprise as many people share the founders' passion.
In fact, not only is Eden Foods one of the oldest natural and organic food companies in North America, but it is also the largest independent manufacturer of dry grocery organic foods. If you haven't purchased EDEN brand foods yet, we're sure you've at least seen it as it is sold in natural food stores, co-ops, and supermarkets via traditional natural and grocery distribution channels.

Eden Foods buys their food from family farms directly; and as a result, this is great for our farmers, or as we call them - our Farm Stars! Why? Because the farmers get more cash! And this is a slow food process, too. Most food is grown just a few miles to a few hundred miles from their home base. For example, in the Midwest, they source wild rice, beans, spelt, soybeans, cabbage, apples, tart cherries, strawberries, pastry wheat, and tomatoes.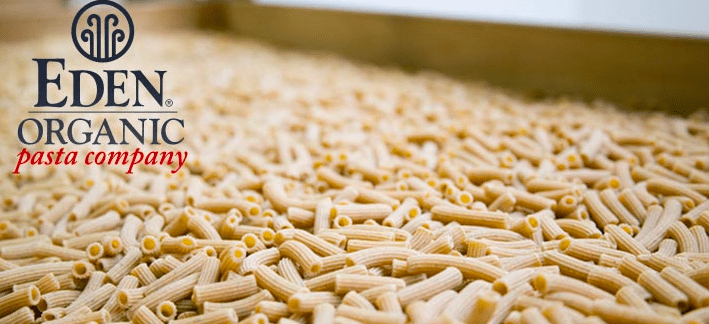 They also have amazing pasta, and you can taste the difference! Eden Organic Pasta Company (EOPC) has been producing pasta daily since 1923, and they are especially well known for their 100% whole grain pasta! EDEN's pastas include 60% and 100% whole grain varieties, fun shapes and colors, as well as organic vegetables & herbs. What's really fun to see is their traditional old world methods, with a skilled and dedicated crew making the pasta in their historic factory!
Check out their 24 delicious Pasta recipes that are also featured on the boxes of EDEN Organic Pasta
Eden Foods is actually quite a large company, making so many different types of organic foods, and another one to note is their Eden Foods' beans, which are very popular and delicious as well! All of their beans are soaked overnight, which is very rare for most bean companies! Then, packed in their custom made BPA, BPS, and PVC-free lined steel cans - cool! They have different varieties of canned beans and also dry beans – including organic beans, organic refried beans, organic Rice & Beans, organic seasoned beans, and more!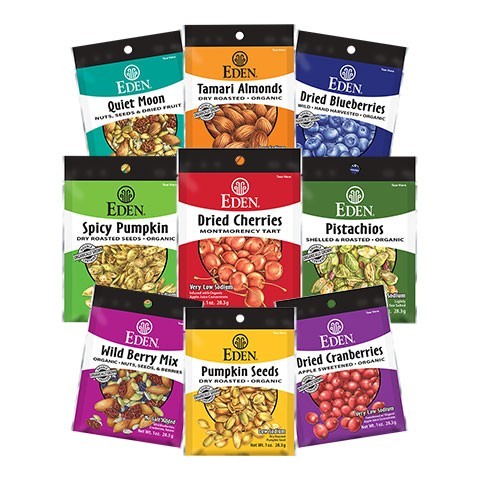 Eden Foods' Pocket Snacks are some of the finest nuts, seeds, and dried fruits that can be found! There are 9 varieties that can easily accompany you wherever you need to go. Keep them in the pantry for delicious, healthy snacking, and also note that they don't contain any refined sugars, sulfites, or chemical additives. Even more? Yep, they are all gluten-free! Even kosher!
Here are a few of our favorites: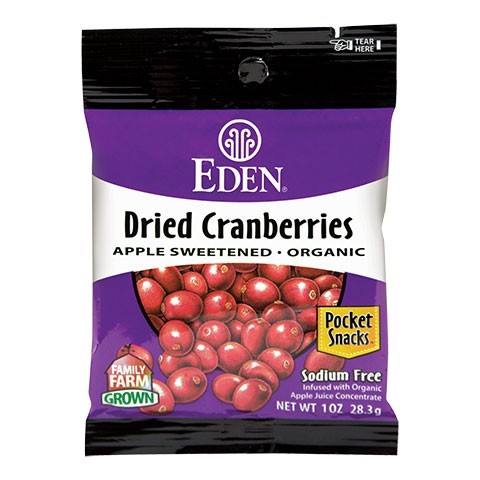 Organic Eden Foods' Dried Cranberry Pocket Snacks - These Organic Dried Cranberry Pocket Snacks are unsalted and very low sodium. Unlike most commercial dried fruit, Organic EDEN Dried Cranberries contain no refined sugar or high fructose corn syrup, sulfites, chemical preservatives or additives of any kind!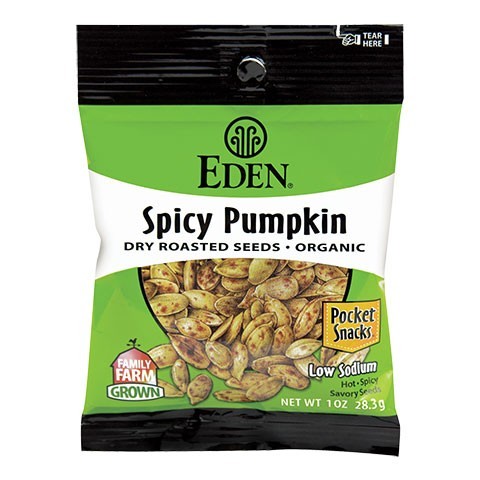 Eden Foods' Spicy Pumpkin Seed Pocket Snacks – After roasting the seeds, they are mixed with a delicious blend of organic cayenne pepper, organic garlic powder, and organic tamari soy sauce - hot, spicy, rich, and mildly salty. They are not only for snacking, but they're also great for sprinkling on soups, salads, stir-fries, and pasta for an appealing crunch.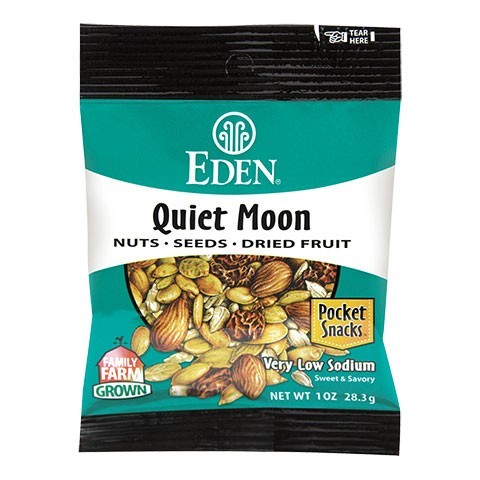 Eden Food - Quiet Moon Pockets Snacks – This delicious snack mix contains roasted organic pumpkin seeds, raw organic sunflower seeds, roasted organic tamari almonds, and dried fruit! This crunchy, chewy, rich, nutty, sweet, tart, mildly salty, delicious snack mix provides a great source of magnesium, and a good source of protein, complex carbs, and fiber!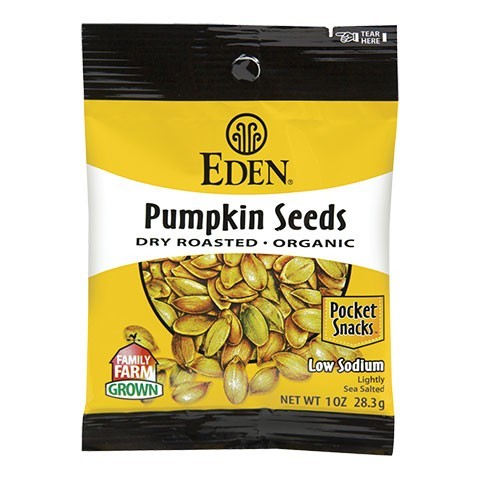 Organic Eden Foods' Pumpkin Seed Pocket Snacks –Eden Foods' pumpkin seeds are dry roasted and lightly sea salted. They're great for snacking and even using as a garnish on soups, salads, stir-fries, and pasta to add a delightful crunch. Men's Health magazine awarded Eden Foods' Pumpkin Seeds "Best Food for Men" stating that they were a high protein snack equally suited to the ballpark and the office.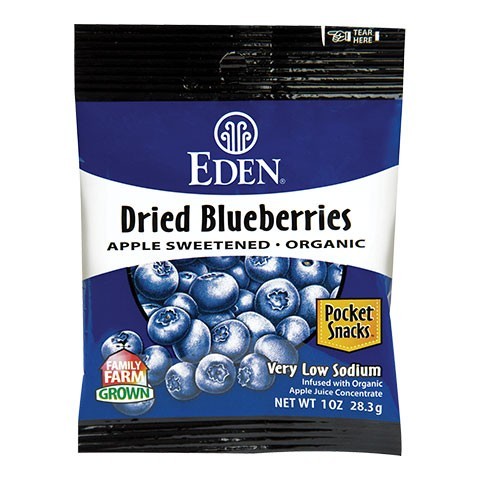 Organic Eden Foods' Wild Blueberries Pocket Snacks – These are really special as well! The blueberries are handpicked, washed, sorted, and quick frozen. Then, when ready for drying, they are thawed and infused with organic Eden Foods' apple juice concentrate to add just the right amount of sweetness. These delightful blueberries are low fat, cholesterol free, very low sodium, offer 300 mg of potassium per serving, and are an excellent source of fiber. Healthy and yummy.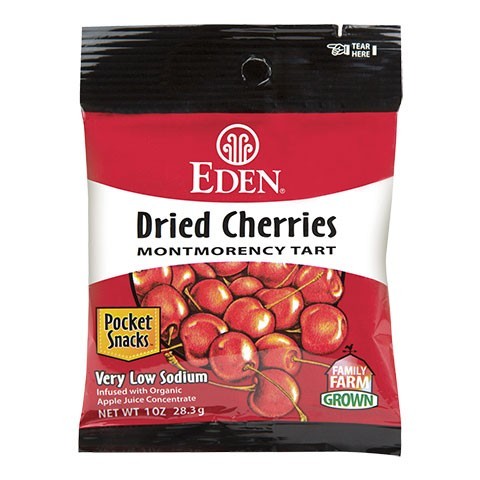 Organic Eden Foods' Dried Cherries Pocket Snacks – The Montmorency tart cherries are organic and transitional-to-organic - in the process of becoming certified organic while using chemical free organic methods. These Pocket Snacks are very low sodium, fat free, and are a good source of potassium, fiber, and beta carotene vitamin A! Also, the cherries' red color comes from the powerful antioxidant compounds, anthocyanins.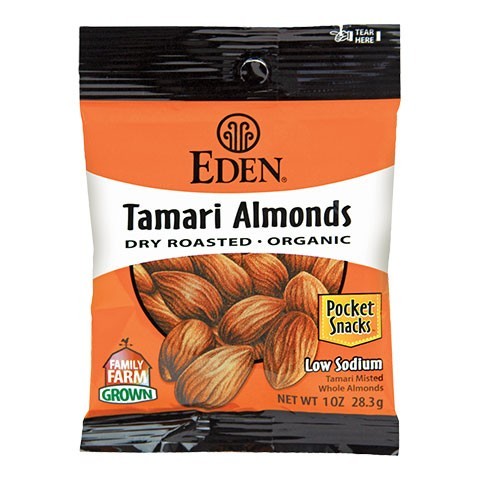 Organic Eden Foods' Tamari Almond Pocket Snacks – Grown on an Organic California family farm, these whole, unprocessed almonds have the skins still on, and are dry roasted and lightly misted with EDEN imported organic tamari soy sauce. These delicious almonds are very low sodium, an excellent source of magnesium, and are a good source of protein and fiber.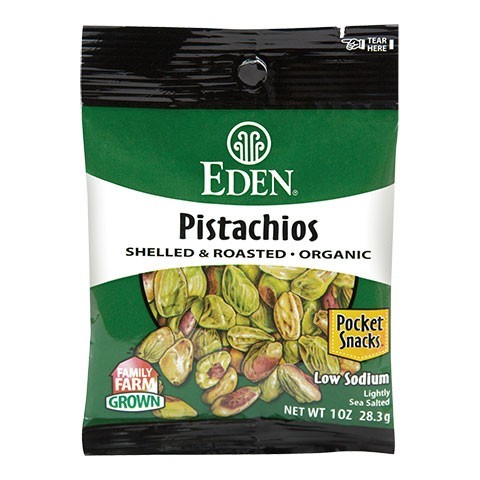 Organic EDEN Pistachio Pocket Snacks – EDEN's pistachios are famous for outstanding flavor, and are family farm organically grown in the Central Valley of California. EDEN Organic Pistachio Pocket Snacks are a delicious, mildly sweet, and lightly salted snack that's good for you and offers benefits from healthy monounsaturated fatty acids are a good source of protein, fiber, thiamin B1, and manganese.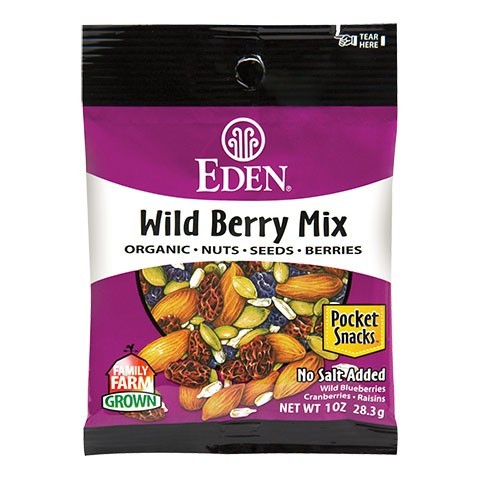 Organic Eden Foods Wild Berry Mix Pocket Snacks - Have it all! Organic almonds and organic pumpkin seeds are separately dry roasted and mixed with raw organic sunflower seeds, California organic raisins, Eden Foods' dried lowbush wild blueberries, and organic dried cranberries. This mix has a little bit of all the delicious goodness!
The list goes on and on, and we thank the founders' for their passion, dedication and foresight to what kind of healthy snacks and healthy foods we all would love and be craving! Thanks, Eden Foods! Keep up the amazing work.
---