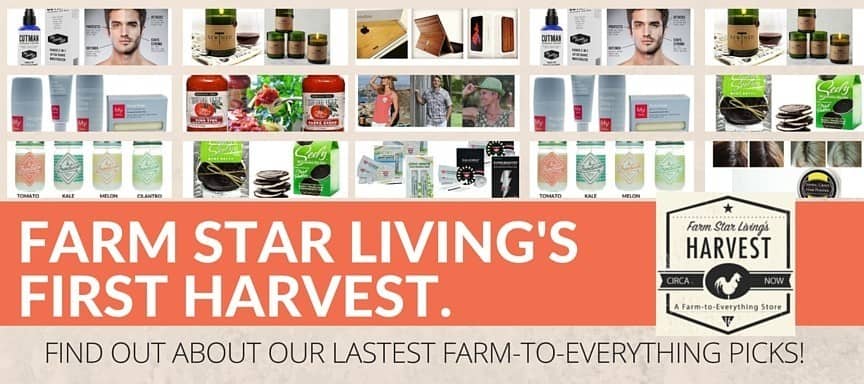 We couldn't have opened our New Store -- Harvest, without all of our handpicked companies that we feel meet the Farm-to-Everything lifestyle! In honor of these amazingly great companies, we've chosen a few to showcase and spotlight one of their many awesome products!
Check out the MUST-HAVE products that you're missing in your life!
It's all in the name! Toast has created products that will protect your gadgets from getting "toasted". Each product is made with 100% real wood, genuine leather, and renewable energy that not only gives back to our environment, but also gives back to non-profits helping to protect the planet as well! There's Toast made for every device.
My Prime Skin Care | Make My Yours
My Prime delivers highly effective skin care products for women that are safe and effective. Their premium anti-aging products are essential and they empower women by enhancing their beauty, vitality and confidence. This socially responsible company has an amazing product for everyone!
This company will have you smiling all the time! Unlike the usual teeth whitening kits, all of Whitening Lightening products are cruelty free, gluten free, and made with hydrogen peroxide which offers faster results without sensitivity. They even have products for those who have ultra-sensitive teeth! Whether you have 20 minutes to spare or need something to help touch up and on-the-go, they have products for everyone!
Rewined Candles
Rewined Candles make handcrafted candles into repurposed wine bottles! And they didn't stop there! Each candles' fragrance is carefully blended to mimic the flavors and aromas found in your favorite wine.
Cutman Skincare for Men
Cutman's goal is to help a man look and feel better in every situation that life throws at them. Their products are made with natural and organic ingredients that are specially designed for men and their active lifestyles. From cleansing to shaving, they have something for every man at affordable prices!
Saving Grace Hair Powder
Saving Grace Hair Powder is a total game changer in your hair routine! Not only will you be saving time and money, but you also feel great about yourself! Saving Grace absorbs the oil in your hair and takes away the "dirty" or "matted down" feeling you might get between shampoos. Instead of spending time on washing and styling your hair, you will have more time to spend with your families, sleep in, or doing something you love to do.
Aventura Clothing
Aventura & Ecoths are family-owned and operated, and their collections are designed from the ground up with quality and comfort in mind. They use organic and sustainable fibers so there is low environmental impact. Make their fashionable men and women clothing that not only feel good, but they also make you feel good while looking great!
Beekman 1802 food items are nearly all produced in small batches using fresh ingredients from Beekman 1802 Farm and other great farms. All of their items are delicious and fresh! As featured in Country Living & Wine Enthusiast...Beekman 1802 "Mortgage Lifter" sauces contains real heirloom tomatoes, and wholesome fresh ingredients! There is a great story behind the name "Mortgage Lifter", and it inspired them to develop a line of products that would help struggling small farms pay off their debts!
Produce Candles
These clean, fresh Produce Candles bring the best of the farm stand into your home. Sweet, earthy, spicy, crisp... each element will be seasonally represented in hand-cultivated candles made with natural soy wax and premium cotton wicks. a Each candle has an approximate burn time of 50-70 hours!
If you like mint, chocolate, or the combination of the two, you will LOVE Seely Mint's Mint Patties! These peppermint fondant patties are cloaked in rich, dark Belgian chocolate, and are made with real mint oil! By using pure peppermint essential oils grown in their own backyard, each patty is filled with fresh and intense flavor! Aside from being a tasty treat, it is also a very healthy one. All of Seely Mint's products are NON GMO, gluten free, and made with all natural ingredients including real sugar and agave!
Stay tuned for more incredible products & companies in our 2nd Harvest!
---