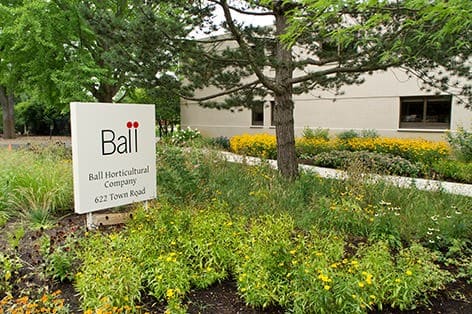 If you're like me, you love the sense of positivity and joy that a beautiful vase of fresh flowers brings to a room. I just love to see fresh flowers in my bedroom, or on my living room table, or even on my desk. It just brightens up the room, the environment – and definitely my mood!
When I was at a conference last year, I met one company in particular that truly impressed me. They have been innovators in flowers, developing beautiful varieties that are completely gorgeous and grown on their farms. When we discussed the whole farm-to-table movement, this company lit up because they deliver farm-fresh flowers to flower enthusiasts all across the USA! So, a new partnership was formed – and a colorful one at that!
Who is this farm-fresh flower company? Ball Horticultural Company, a family-owned company and a world leader in new plant innovation. The Ball team proudly takes part in creating annual and perennial flowers that help gardeners color their world! Their mission is to be the world leader in the research, breeding, production and marketing of flower varieties.
From their beginning as a wholesale cut-flower operation started by George J. Ball in 1905, Ball Horticultural Company has grown into a leader in all types of horticulture. Their global family of breeders, research and development teams, seed and vegetative producers, and distribution companies have a strong presence on six continents in 18 countries!
FLOWER GLOSSARY!-
Annuals - Plants that perform their entire life cycle from seed to flower to seed within a single growing season.
Perennials - A perennial plant or simply perennial is a plant that lives for more than two years.
Filler Flowers - Filler flowers are flowers that are mainly used to fill up gaps in an arrangement. Usually, they are bushy in form and always exist in clusters.
Focal Flowers - Attract attention of viewers and takes a very important role in the arrangement. They are always placed in the center of designs which area is the most visible location.
Flower Flushing - The period when all of the blossoms are open.
Vernalization - The induction of a plant's flowering process by exposure to the prolonged cold of winter, or by an artificial equivalent.
Here are just a few of their flowers, and I challenge you to try to find just one new favorite!
GO BLUE - with Delphinium Waltz Series
The new series Delphinium Waltz is an excellent choice not only for its strong, tall stems, but for its simple and well scattered flowers on the stem. They have a true blue color and add an elegance to each bouquet!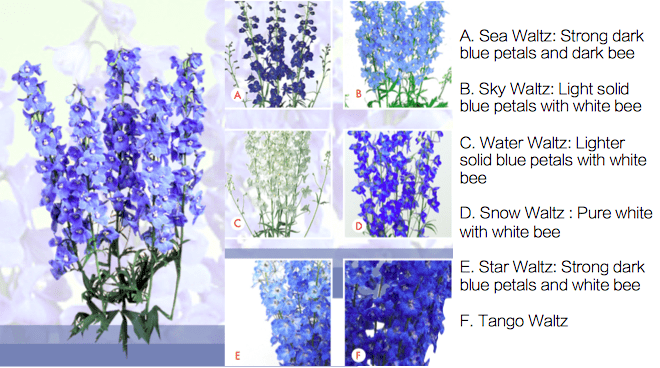 Unique, solid, true blue color
No shattering
Rich and colorful - Dianthus Amazon
This very versatile flower can be produced all year round in cool climate conditions. It performs as an exceptional filler in bouquets and, due to its strong quality stems and flower, it makes a great solid bunch. The Dianthus Amazon is a high priority flower in the bouquet-making industry because of its bright, vivid petals.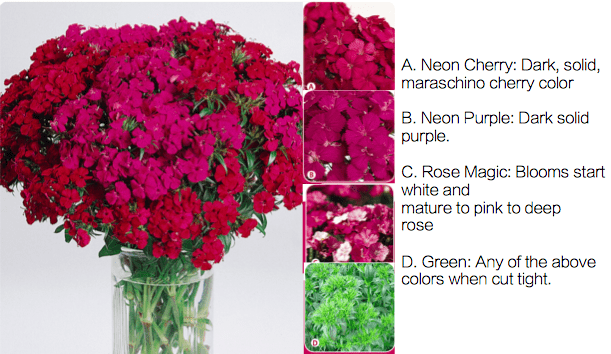 Perfect filler for bouquets and an exceptional solid bunch
No vernalization required for flowering
SWEET NOT SAPPY - Dianthus Sweet
UNIQUE AND DYNAMIC - Dianthus Green Ball
Aren't these fabulous? These flowers are new, different, green, and perfect for all seasons. Dianthus Green Balls have dark long leaves on a strong stems that make it great for solid bunches. The perfectly round green head provides bouquets with a never-before-seen texture and look.
DELICATE YET STRONG - Limonium Sinensis Ever Snow
The Ever Series is a new Japanese-bred Limonium Sinensis that is suitable for bouquets and solid bunches. This series is selected for its absence of fragrance, high-quality strong stems, and bright flower colors. They are also an essential fresh and fantastic filler for bouquets, corsages and other flower arrangements.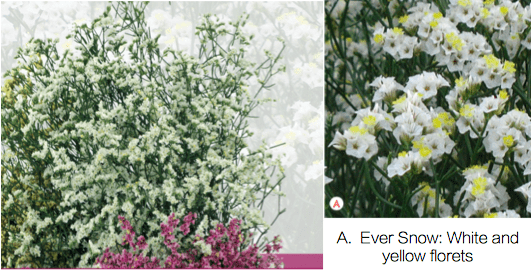 Essential filler for bouquets, corsages and other flower arrangements
Perennial
Perfect for tinting
MIXES IT UP - Limonium Sinuatum TC Series
Japanese-bred Limonium sinuata are suitable for bouquets and solid bunches. They have high-quality strong stems, bright flower colors and many flushes. This series is an essential and fantastic filler for bouquets, corsages and other flower arrangements.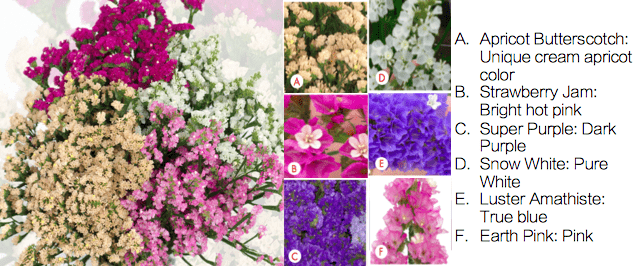 New colors for the classic essential bouquets fillers, corsages and other flower arrangements
I personally love these and so many of their other varieties. We will be providing more in-depth information on other varieties as the seasons evolve, but in the interim, please visit their site to get to know the varieties that inspire you! Also, check out our videos that demonstrated these and others! Let us see your bouquets and see your creativity in action, too, and visit our Facebook page and feel free to post about yours!
And, hope to see you on a flower farm! :)
---