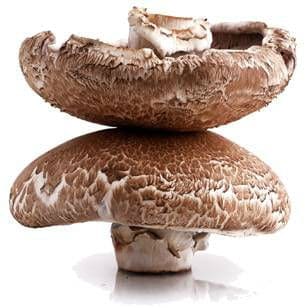 I sat down with the To-Jo brothers as I was curious to hear how they view their mushrooms, their farm and each other as business partners! But, most importantly, how do they eat their mushrooms?!
FSL: How does the relationship of being brothers and being business partners affect the business?
TO-JO: It has really brought us together - we are best friends, and have the same vision for the company. We use each of our strengths to make sure everything is running right on a daily basis. Joe's laid back attitude interacts well with our team of workers at the Farm level, while Tony's attention to detail is attune for working with our customers and running the sales and marketing end of the business.
FSL: Have you always been on the same page with the company vision?
TO-JO: Yes, we have. In fact, we have instituted a new Culture Team that reflects both of our visions of "One Team, One Family", we try and foster employees who are passionate about our customers, are open and honest, have positive attitudes, that treat everyone with respect, are open to change, and always deliver their best. Vision: "Our People, Our Place or Partners" Our Mission: "Driving your Success with the spirit of yes."
FSL: Sounds very positive, and I think that's been an attitude for quite some time! This farm has been around since your great-grandfather, and I understand that your Dad wanted to leave it in a better place for you than it was left for him. Tell me about this evolution and how it has changed from generation to generation.
TO-JO: We've been growing it - and each generation before us has done an amazing job, too. The Farm has continued to expand its production capabilities and, since the days of our grandfather, it has become a vertically integrated Grower/Shipper/Packer. By controlling all of the steps in the process from composting, to packaging, to getting the product out to our customers on refrigerated trucks, we have really come a long way since the 1970's.
FSL: That's fantastic. Congrats. I know it's tough work! What types of Mushrooms are grown at your farm?
TO-JO: To-Jo grows a full line of White, Cremini, Portabella, Shiitake and Oyster Mushrooms. We also offer a variety of dried and specialty mushrooms to our customers depending on seasonal availability.
FSL: What major improvements or advancements have happened between the generations?
TO-JO: A better understanding of how to manipulate the controlled growing environment where the mushrooms are produced has allowed us to grow additional lbs. of product in the same amount of growing space. Where we used to be able produce say 45,000 - 50,000 lbs. per grow house or " Double" we are now producing closer to 75,000 lbs. without sacrificing the quality of the mushrooms.
FSL: That's great, and does it stay fresh for a long time?
TO-JO: Well, Vacuum Cooling of the product is another relatively new innovation and this helps them stay fresh longer, whereby we lower the internal temperature of the mushrooms to 35 degrees just after packaging to increase the shelf life of the product by 3-4 days reducing overall shrink, giving our customers a fresher product on a daily basis
GROWING & TO THE GROCERY:
FSL: How long is the cycle from growing to grocery, or should we say farm to grocery?
TO-JO: Yes, farm to grocery is a good one! The mushroom growth cycle is approx. 12 weeks, we have a constant rotation of Doubles producing product every week. Product arrives at our packaging facility every day from the farms and is them packed or processed for various Retail or Foodservice applications; we deliver product within 24 hours of harvest out to our customers, keeping things very busy. A mushroom can double in size every 24 hours so picking them in a timely manner is critical.
FSL: Are there any unique words that describe the process, rather than 'planting'?
TO-JO: Yes, there is. The mushroom has spores that are microscopic and need to have a carrier in order to be added to the compost. This is referred to as "Spawning"; the process of adding an inoculated seed into the compost bed in the grow houses following the pasteurization process.
FSL: Ah, gotcha. How does the operation now compare with the time when it was under your Dad's, Grandfather's or Great-grandfathers supervision?
TO-JO: We have really grown up; from producing 500,000 lbs. in the 60's – 70's with 10 - 15 employees, to tens of millions of lbs. with over 300 employees in 5 Divisions today.
FSL: That's a big increase! Are these considered long-term careers for the workers at To-Jo?
TO-JO: Yes, many of our employees are multi-generational and have been at To-Jo for decades. We have many families that have brothers/sisters, aunts/uncles and cousins working together. They really enjoy the family friendly environment that To-Jo provides.
FSL: Speaking of family, tell me about the rest of yours!
TO-JO: Our Mom, while only a small part of the business today, still has a big influence on our lives and keeps the family together with regular dinners and helps out a lot while we are traveling. The memories of our Dad's infectious personality and caring attitude will always be a part of who we are and how we shape the company.
FSL: Ok, I have to ask. Do you have mushrooms on your family dinner tables all the time?
TO-JO: Not as many as you may think, we love them dearly but it's not a daily occurrence, I would say a few times a week on average at home.
FSL: How do you like to eat them?
TO-JO: We both love grilled Portabellas with Mozzarella and tomato; the perfect slider when we have friends over. Joe loves to stuff white mushrooms with Crab or Sausage as an appetizer. Tony has been blending mushrooms with everything but loves the blended Turkey Taco's that he serves on a regular basis. My Mom's mushroom soup is amazing in the Winter.
FSL: Sounds great to me! I'm excited to cook them at home myself! Lastly, what's the most fun part of doing what you do?
TO-JO: The people, the customers we serve, and all of our co-workers inspire us to be better leaders every day. We love coming to work knowing that the products we grow and package are being sold all over the country and Canada; living beyond these walls on a plate in a restaurant in California , or being served in a home in Florida. It's pretty amazing how far we have come.
FSL: Yes, you have. And we are excited for you! Keep up the great work, it's inspiring!
---