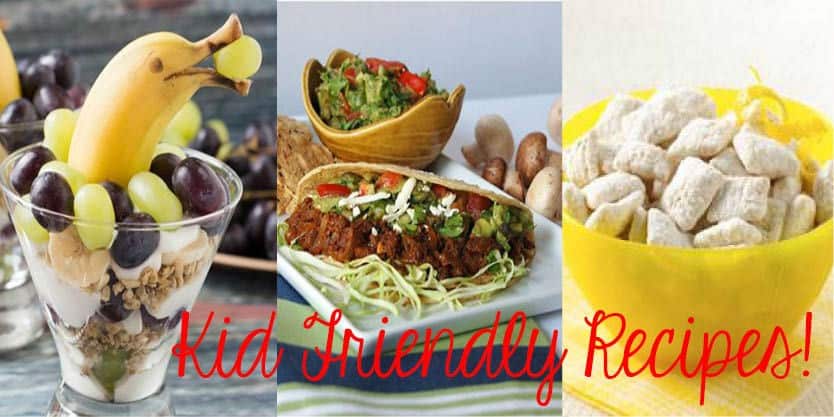 Summer may be over, but that doesn't mean the fun is! I have three super easy, fun, and healthy kid friendly recipes that are sure to impress even the pickiest of palettes!
Meals for the kids do not have to consist of cereal and sandwiches anymore. We have a simple breakfast that is chock full of grapes, a taco dinner that has some sneaky, healthful mushrooms blended in, and a sweet and tangy lemon dessert that will have the kids lining up to do the dishes if you give them seconds!
Many thanks to our wonderful food partners Sunworld for their grapes, To-Jo for their mushrooms, and Limoneria for their lemons, and for helping me find these great recipes.
Also, a special thanks to Well Pict for our back-to-school Food Spotlight on raspberries! Don't miss that yummy recipe for raspberry yogurt popsicles that my nephew and I made in the Farm Star Living Demo Kitchen!
Breakfast: Grape and Banana Dolphin Parfait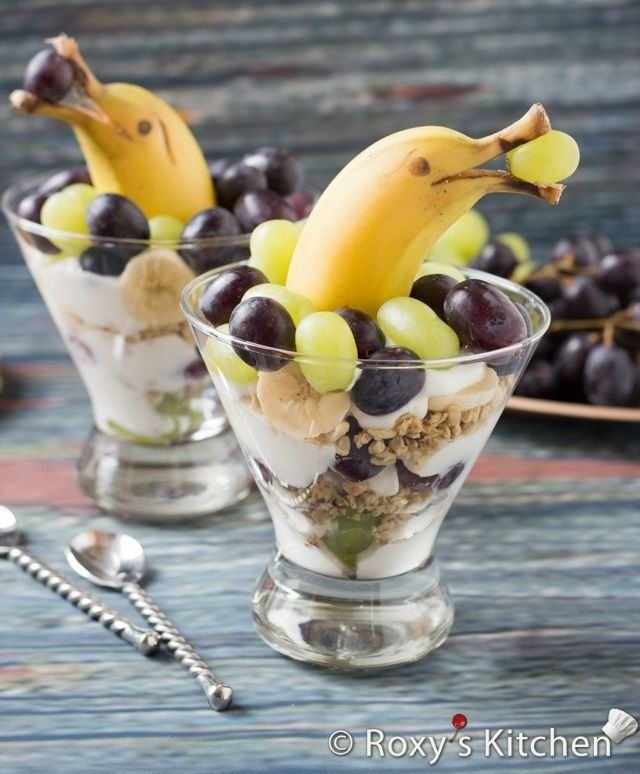 Could these be any cuter?! Imagine the Monday morning excitement when the kids find these waiting for them! Or even better, let them help assemble! With only 4 ingredients, even the littlest one can join in on the fun. :)
Ingredients
2 bananas
1.5 cups grapes
1 cup granola
1 cup Greek yogurt
Directions:
To make the banana dolphin, use a sharp knife and cut the stem all the way to the banana and a little past to make a smile. Place a grape into the opening. Cut off the bottom half of each banana, peel and slice it. I used an edible marker to draw the eyes but you can use some melted chocolate, cloves or tiny chocolate chips stuck in.
Wash the grapes and dry them with paper towels.
Layer yogurt, grapes, granola and banana slices in two dessert cups or parfait glasses, finishing off with yogurt.
Place the banana dolphin on top and add grapes around the dolphin to keep it standing. If you don't serve them right away take some lemon juice and brush onto the opening so it doesn't turn too brown.
Dinner: Blended Mushroom Tacos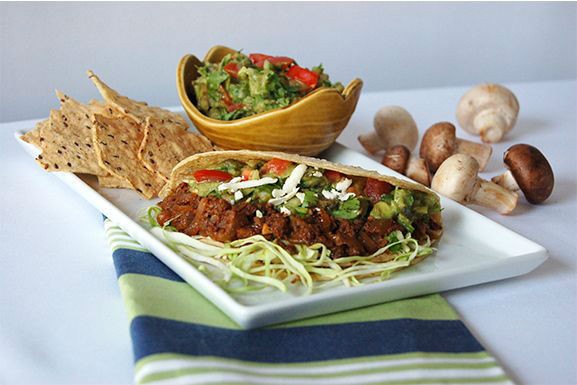 TACO NIGHT! What's more fun than taco night!? It's easy, it's delicious, it's nutritious and it's FUN! This recipe is a great way to get the benefits of mushrooms into your kids diets without them even knowing. :) Blending mushrooms works great in burgers and spaghetti sauce as well, but taco night is just so much fun so I wanted to share that recipe with you!
Ingredients: Tacos
2 Tbsp. Olive Oil
1/4 lb. 85% lean ground beef
3/4 lb. To-Jo white button mushrooms
3/4 lb. To-Jo crimini mushrooms
2 cups julienne of sweet onions
1 Tbsp. minced garlic
4 Tbsp. ground chili pepper
Salt and pepper if necessary
Lime juice to taste
8 Corn Tortillas
1 cup shredded green cabbage or lettuce
2 Tbsp. chopped cilantro (optional is you're not a fan)
4 Tbsp. Cotija Cheese, grated
Avocado Salsa Verde
1 large, ripe avocado, peeled, pitted and cut in 1/2-inch dice
1/3 cup diced tomato
2 Tbsp. finely chopped onion
1/2 tsp. seeded and minced Serrano chile
1/2 tsp. minced garlic
1 Tbsp. lemon or lime juice
2 Tbsp. chopped cilantro
1/4 tsp. sugar
Directions: Heat a sautй pan over medium-high heat. Place ground beef in pan and cook; season with salt and pepper. Sautй for 3 to 5 minutes until golden brown. Chop mushrooms to approximately the size and texture of ground beef and sautй in a separate pan with 2 tablespoons olive oil for 3 to 5 minutes. Combine mushrooms and meat and set aside.
Heat sautй pan used for ground beef over medium-high heat. Add onions and sautй until golden brown. Add garlic and cook until fragrant. Add the mushroom/beef mixture and ground chili pepper. Sautй 2 to 3 minutes, stirring. Adjust seasoning with salt, pepper and lime juice.
To serve, toss shredded cabbage with salt, pepper, lime juice and cilantro. Place 2 tablespoons of shredded cabbage on a tortilla, and top with 2 tablespoons of mushroom and beef mixture. Top with a generous tablespoon of avocado salsa, and sprinkle with Cotija cheese to taste.
To make Avocado Salsa Verde: Combine all salsa ingredients and refrigerate for at least an hour.
Dessert: Lemon Buddies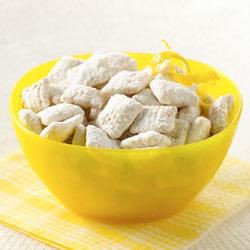 Because this blog is dedicated to the little helpers, we wanted to give you a dessert that would not only appeal to their mini palettes, but that would keep them busy as well.
One of my greatest memory as a kids was getting in the kitchen with mom on a Sunday afternoon to make these delectable lemon treats! We would make a big batch and then divide them into little baggies so that I could take them to school during the week. I remember be SO excited because I knew I would be the envy of all the other kids. :) Lucky for them Mom not only taught me how to make this yummy dessert, but she taught me to share as well so we always made sure to make enough so that I could share with the class.
Ingredients:
8 cups of Rice Chex® cereal
1 1/4 cups white vanilla baking chips
1/4 cup fat free butter or margarine
4 tsp grated lemon peel using Limoneira® lemons
2 tsp juice from Limoneira® lemons
2 cups of powdered sugar
Directions:
Measure cereal and set aside in a large bowl. In 1 qt microwavable bowl, microwave vanilla baking chips, butter, lemon peel and Limoneira® lemon juice uncovered on high for 1 minute. Microwave about 25 seconds longer or until mixture can be stirred smooth. Pour mixture over cereal, stirring until evenly coated. Pour into large re-sealable food- storage plastic bag. Add powdered sugar. Seal bag; gently shake until well coated. Spread on waxed paper or foil to cool. Store in airtight container to guarantee freshness.
I hope you and your mini chefs enjoy these fun and healthy recipes as much as I do! Don't forget to share you pictures and experiences with us on Facebook or Twitter
Get in the kitchen with your kiddos and start making some memories!
---