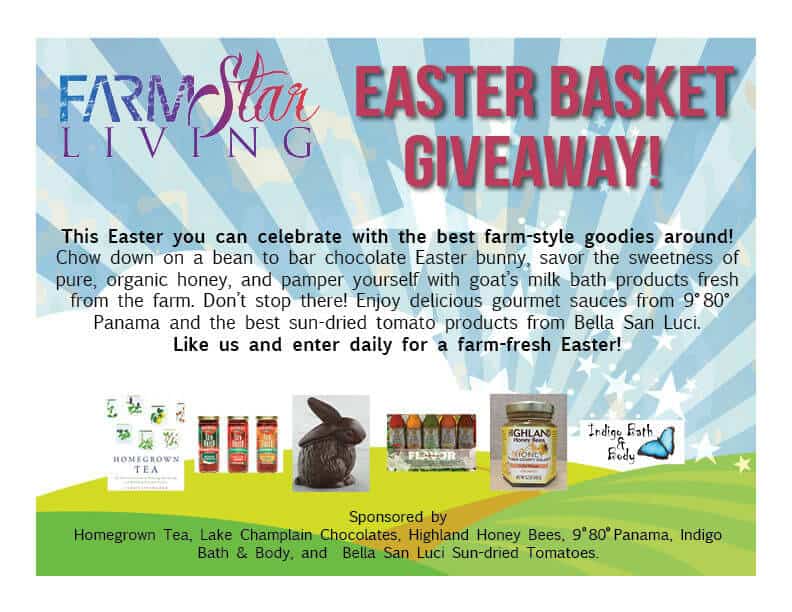 The spring time just makes me happy …. and I'm way too festive for the holidays. Wait, can you really be too festive? That's debatable.
So it's no surprise that we're giving away an Easter basket, farm-style, of course, and you can WIN your own Easter basket filled with amazing farm-fresh products! From bean-to-bar chocolate from Lake Champlain Chocolates, delectable sauce from 9? 80? Gourmet Sauce, and soap products straight from the farm, this Easter basket has it all! We've sampled all of these amazing products, and we have gotten to know the companies behind them. They're worth entering for, for real.
And all you have to do is like us on Facebook to for a chance to win! Read on to learn why this is truly an opportunity you don't want to miss!
Because they're sharing the love, we're gonna share the love, too. Read a bit about them so you know why we picked them for hopefully YOUR Easter Basket from Farm Star Living.
My team and I drizzled the Pineapple Coconut over some chicken and we couldn't believe it. These sauces are seriously something else. The best part? 9? 80? Sauce is completely farm-to-bottle! These all-natural and gluten free sauces are handcrafted with the finest, freshest ingredients, which are all grown in Panamб. (You can't grow some of the ingredients in the USA climate - we asked). So, we'll be giving away either Picante Panamб, Wild Cilantro, Garlic Mustard Habanero, or Smoky Chipotle. Tweet @farmstarliving if you've an opinion on which ones we should include in the basket. :)
Lake Champlain Chocolates: Organic Milk Sea Salt & Almond Bunny
Anyone who knows me knows I've a serious chocolate sweet tooth. (SERIOUS sweet tooth!) So, it took a whole lot of self-control not to eat the bunny's ears, face, body, etc, but I managed to not embarrass myself too badly and save some for the team. It had almonds and sea salt and I'm telling you, it's special. Lake Champlain Chocolates crafts their chocolate with care, and gives plenty of love to their farmers by using local ingredients whenever possible, a practice which has been core to the company for the last 30 years. They even keep their own bees so they can produce their very own honey to use in their chocolate! Right in line with our theme of bee farms in our Farm Fun section!
Indigo Bath & Body has a wide variety of products which are made with farm-fresh ingredients grown in our hometown – good ol' Atlanta! Jennifer and Melissa are two spectacular women who grow ingredients on their own farm to make soaps which are great for you and the world around you! What they don't grow themselves they source from local farmers, making these products as farm-fresh as they could possibly be. We'll be giving away the Lav-a-Mint Dead Sea Mud Facial Soap and the Himalayan Pink Salt Spa Bar with Bulgarian Lavender. Sound amazing? They are! The Dead Sea salt makes the Lav-a-Mint facial soap ultra-nutritious for your skin, and the mint makes it cool and refreshing, and the lavender soothes the skin and your skin smell like spring! The Himalayan Pink Salt Spa Bar is too good to be true. It's soap, body scrub, and lotion all combined into one! And lemme tell ya, it smells SO good!
Sun-dried tomatoes from Bella Sun Luci are a little more than delicious, a little more than unique, a little more than farm-fresh: they're a part of an American family farming tradition started in 1987 which values freshly homegrown produce. We tasted the Tomato Pesto Sauce with Whole Pine Nuts on crackers - was delicious. Then we sprinkled the Tomato Halves with Italian Herbs over salad and it gave a sass to our salads. Grown and produced by Mooney Farms in California, we can sure taste that farm-fresh difference. Which products will the lucky winner get? Bruschetta with Italian Basil Sun Dried Tomato and Extra Virgin Olive Oil, and Julienne Cut Sun Dried Tomatoes in Olive Oil with Italian Herbs.
Homegrown Tea: An Illustrated Guide to Planting, Harvesting, and Blending Teas and Tisanes
Did you know that you can grow your tea right from your windowsill? Oh, yes. And you will learn a lot more from this spectacular book by Cassie Liversidge, perfect for tea lovers and aspiring farm stars! It has detailed instructions on how to grow dozens of different and unique teas. It doesn't stop there, though. You'll learn exactly how you should brew your tea, too. We love the illustrations and how easy Cassie makes everything herself. Smarty pants! Each tea has its own section on growing, harvesting, and brewing, and will answer all of your questions on each part of the process. Is it tea time, yet?
After spending the day enjoying these products and using them ourselves, we have to say: they ALL get the Farm Star Living stamp of approval! They're delicious, indulgent, and all stay true to the spirit of farming. We hope you're as excited about them as we are - so enter today and keep coming back to increase your chances.
Hippity hoppity!
---