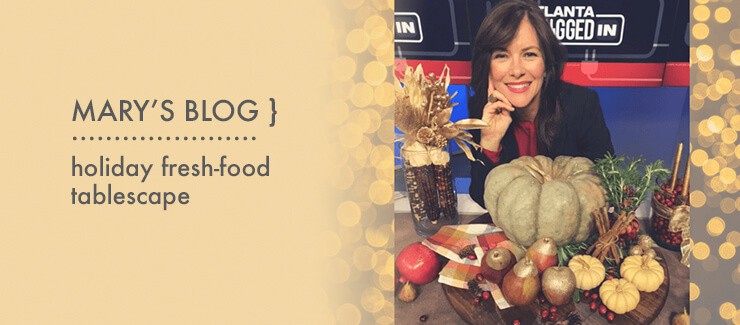 When I think of Thanksgiving, I think of FOOD - and because we're from Farm Star living, we think of FRESH FOOD. So, we thought what better idea for Thanksgiving than to have an inspired tablescape using fresh food? Plus, we are keeping it simple – and by using just a few things from your local craft store, getting great produce from the grocery store and integrating some Earth elements, you can do this yourself easily and beautifully.
You can use these ideas to create a fabulous centerpiece for the table or buffet stations.
It all starts with these three things:
Fresh Food - from the grocery store, farms near you, or farmer's market

Figs, Pears, Pomegranates, Apples, Fresh herbs - rosemary, sage and dill, Grapes, Cranberries

Earth elements -

Wooden trays or a 'lazy susan", Flowers, Pinecones, Pecans

Metallic / sparkles - from the craft store

Gold glitter spray, skewers, toothpicks, and a wooden twine ball, anything fun and festive like bows, feathers, your preference!
Keeping these 3 things in mind, here's a way that you can create a beautiful tablescape for your dining table, and decorative elements for your buffet station, dessert table, or coffee area. So, let me walk you through this.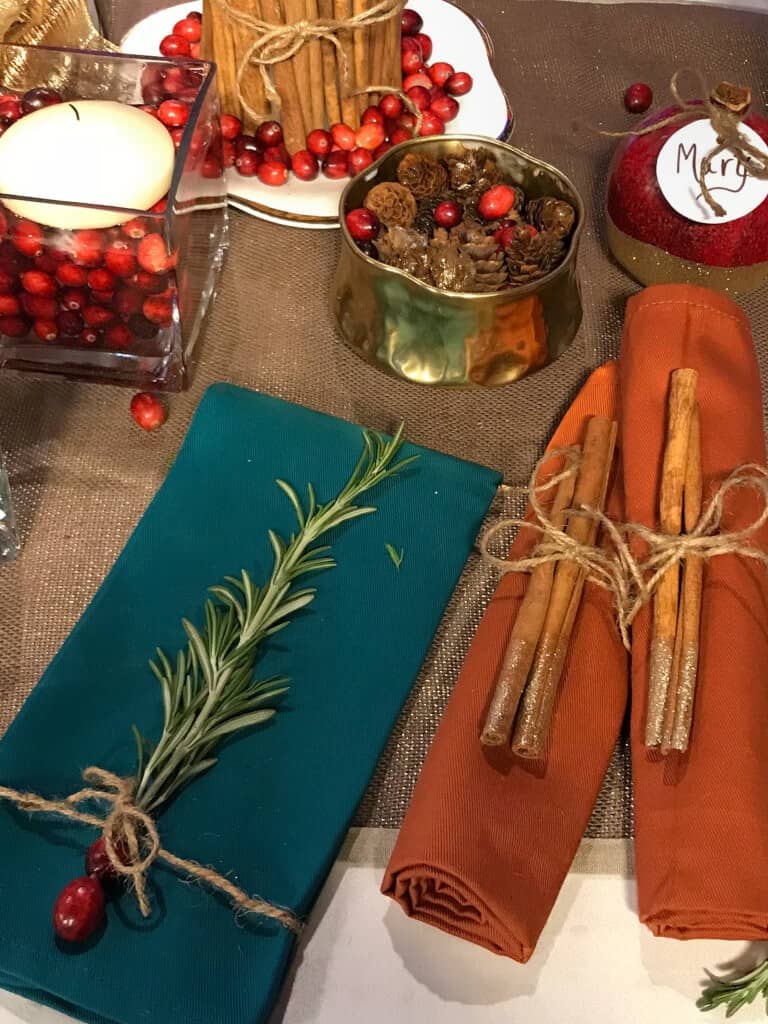 NAPKINS / PLACESETTINGS
First, let's start with the place settings. and dinner napkins. We thought a great way to start would be with
Harvest Sensations
fresh herbs – especially the sturdy and aromatic rosemary, along with the beautiful spray that dill provides, and the leafy sage items, too.
Here are 2 different versions:
1. We placed the rosemary sprig with a couple of cranberries (just stuck right on it), and then tied some twine around it and the napkin. Simple beauty!
2. Then, we have a rolled napkin with cinnamon stiiks, sprayed with gold glitter that we got from a craft store. A beautiful, earthy and lightly scented way to freshen it up!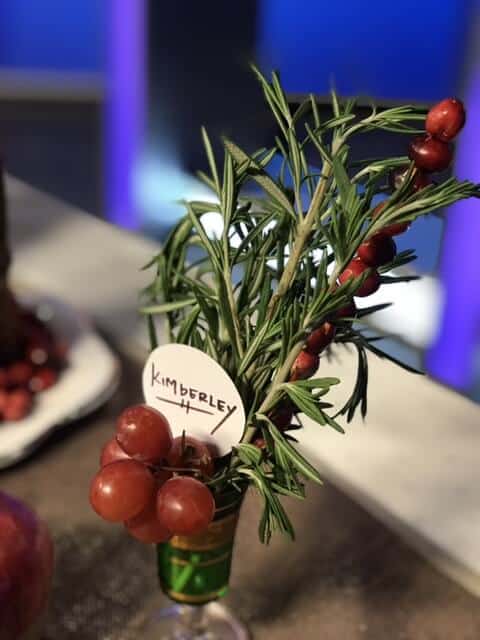 Then, here's a place card holder that can be a beautiful and interesting way to hold a place card. We used a cordial or shot glass with a variety of fresh herbs along with a few cranberries on a skewer. Then add a few grapes, also on a toothpick.
Or use pomegranates! Just dip it in gold or spray with glitter and then tie twine and add a place card. Colorful and fun!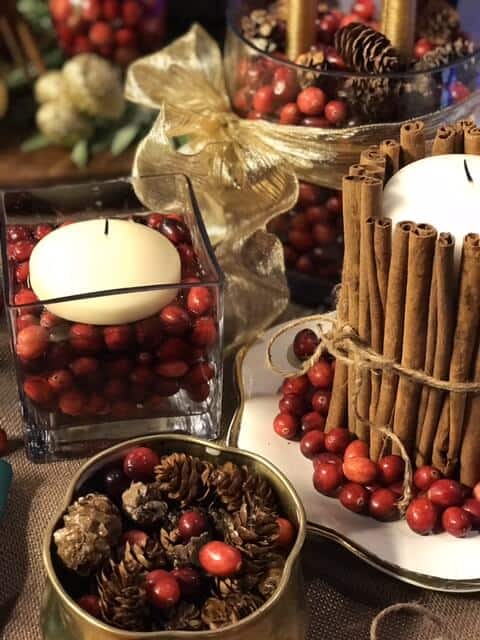 AMBIANCE - CANDLES:
Candles are always fantastic for ambiance.
Here are 3 ways to use them:
1. Don't have a fancy candelabra? No problem! Simply place tapered candles in a vessel filled with cranberries - pretty and rich. We used them from
Decas
, as they were hearty and beautiful and available at our local Kroger.
2. Another version is using a floating candle in water with cranberries, and fresh herbs. Simple and casting a beautiful glow.
3. Just take cinnamon sticks and wrap them around a pillar candle, tied with twine. Beautiful, earthy!
Also, use a candle base from your home. I had a gold one that I loved and just filled it with gold-sprayed mini-pinecones.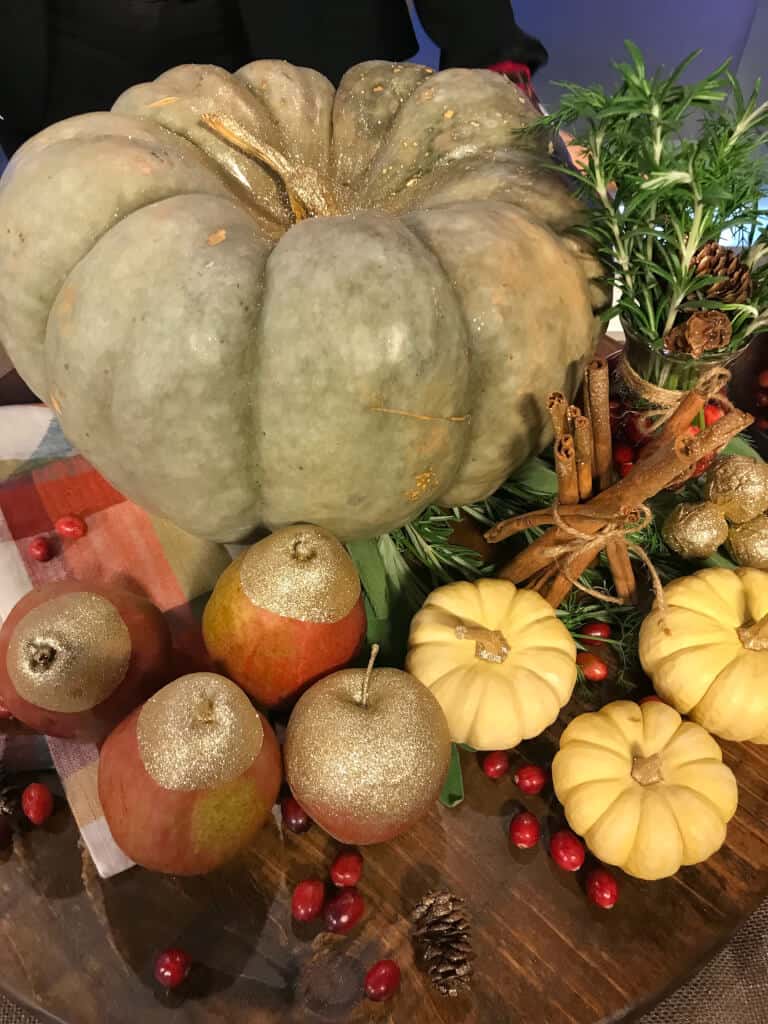 CENTERPIECE:
We love a wooden lazy susan, which you can easily use for your centerpiece with any decorations you choose! I decorated it with a colorful plaid napkin, which inspired more of the colors that I selected. Here we used a light blue pumpkin, inspired by these colorful napkins, and then we took our gold glitter and sprayed the stem. We surrounded it with more fresh herbs from Harvest Sensations to give it greenery, richness and aroma. Then, I placed a few cinnamon sticks and mini pumpkins around that until I created the look that I wanted. Always beautiful and festive!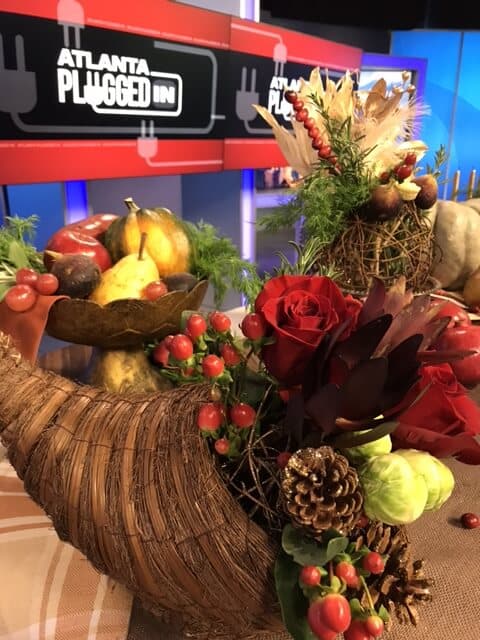 Here are some other ideas to decorate with food:
STILL LIFE - PAINTING:
Using all fresh fruits and veggies, decorate a bowl with a stem so that you have some height. Use rich grapes with a beautiful color, tuck in pears, figs, and then layer dill for the green effect, which will spray so beautifully. It's elegant and artistic. And you can eat it!
INDIAN CORN:
Spray the tips with gold. Always can get a fun filler from the craft store, too.
PEARS:
Spray with gold glitter and jazz up this beautiful fruit! I taped a paper towel around three of them and sprayed the top. Beautiful! Place them together, or decorate with it in the center of a platter.
APPLES:
Again, dip it in gold! Or spray it, that is. Just secure the paper towel with tape and spray away! Go heavy or light, but the shine brings the pizzaz into the apple.
CORNOCOPIAS:
Find a wooden twine ball and fill a portion of it with roses – color palette of your choice. Then, skewer brussels sprouts, cut in half. Or figs. Or both! Pop a feather in it, tuck in fresh herbs, and then skewer some pinecones with gold. Put that into the cornucopia. Voila! Stunning.
INDIAN CORN:
Put them in a vessel or vase, so that you simply have the husk popping out at the top! Spray with gold glitter and tuck in a gold filler, add a bow!
Hope you have an awesome holiday. Enjoy in good health – and good food!

---