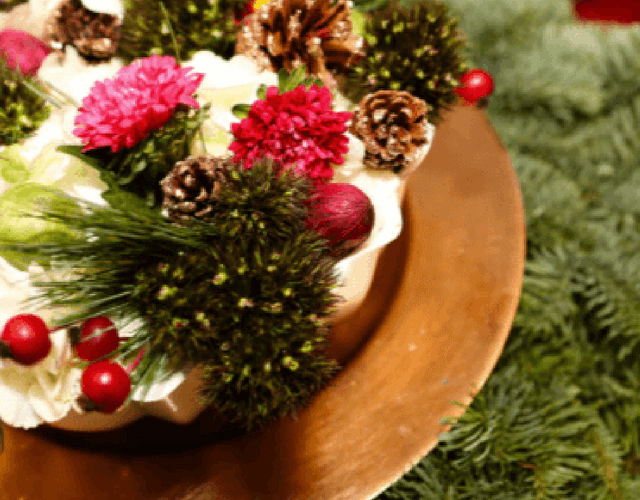 Recently we had the most amazing floral display I had seen! Ball Horticultural Company, headquartered in Chicago and family-owned, sent us thousands of flowers for guests to enjoy and take home with them. But what did we do with all of those flowers, you might ask?? Oh, so much!
We had Lourdes Reyes, Director of Marketing, fly in from her home in Bogata, Colombia, to create this beautiful holiday scape along with her go-to stylist Pieter Landman, from Holland. However, he's just not a regular go-to stylist – he's the rockstar guru floral trendsetter that I am fortunate enough to know!
Both he and Lourdes have taught me a thing or two, and my confidence level with flowers has now increased dramatically! From not being intimidated and just taking flowers and using them as artfully as you want to putting them in containers you have on-hand! Like, believe it or not, a measuring cup! A tea pot! A whisk firmly held in a measuring cup by colorful marbles or rocks! All you need is your imagination – and water!
Lourdes has explained to me that flowers make people happy. And I have no doubt! Statistics show that in office situations, people are more relaxed and interactive. In homes, people have better moods. So, just a little touch of life and color through a beautiful flower can add so much.
We recently had a ball, no pun intended, with Ball Horticultural Co., and hope you'll enjoy this 'behind-the-scenes' video of it! Happy Holidays!
---