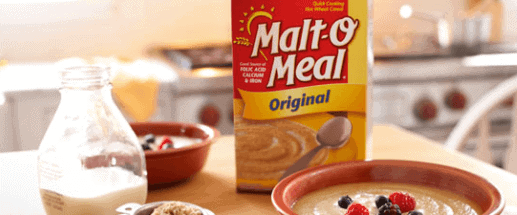 With fall comes delicious spices and flavors – and the best dishes of the season are served hot. That's right, it's time for soups, chilis, spiced ciders, and our favorite, hot cereals. This brings us to Malt-O-Meal, a producer of cereals based in Minnesota, and a favorite from yesteryear that is becoming on-trend as the new go-to for a hot breakfast cereal!
Did you know that eating wheat cereal in the morning can provide you with the nutrients and energy you need to get through the day? Better believe it, because it's true! Malt-O-Meal's hot cereals are packed with nutritional and hearty goodness. And with tons of delicious flavors, and a "Taste Guarantee" to boot, Malt-O-Meal is the perfect option for a healthy breakfast.
In fact, MALT-O-MEAL® CEREALS have earned a seal of approval from the WHOLE GRAIN COUNCIL, because of its using whole grains, but this isn't your grandmother's breakfast, folks. Hot cereal is making a comeback!
ChefsBest® is the independent judging organization dedicated to recognizing and honoring the best food and food-related products in America, and ChefsBest® even voted Malt-O-Meal's Original Hot Wheat Cereal as the best tasting hot cereal in the country! With award-winning products, Malt-O-Meal is committed to producing great and tasty cereals to provide you with quality breakfast options!
Malt-O-Meal's hot cereals go so much further than just breakfast, too – they can be eaten so many different ways. You can use them as an ingredient in muffins, add them to some epanadas, use them to make a spinach quiche or even eat them plain with some berries on top. The sky is truly the limit! Check out their recipes here.
So, cozy up and get ready for something warm and delicious – no matter which way you eat it. With so many recipes and meal options, you won't be disappointed!
How do you like to eat your hot cereal? Follow us on Facebook, Instagram, Pinterest and Twitter and share your recipes with us! (links at top of site).
See you on the farm!
---