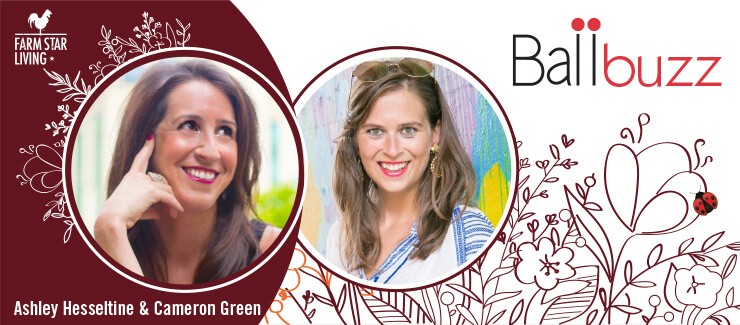 As much as we love fall, it feels as if nighttime has arrived just a bit too early! Many of us are still at the office, or just leaving it and stuck in traffic, or perhaps trying to put dinner on the table – and yet it feels like midnight!
One way surely to brighten up your surroundings and keep the energy flowing – whether it be in your home, dinner table, or the office – is by incorporating flowers into your life. These little rays of sunshine can lift any mood, brighten any day – or evening, and help make any beautiful space, well, more beautiful! That's why we love the Ball Horticultural Co., a family owned company (for 100+ years!) that has been providing flower seeds to flower farms all over the USA and around the globe.
We spoke to two trend-setting ladies – one a stand-up comic in NYC and another a social media guru in Atlanta. We had them create two easy yet beautiful flower arrangements simply by selecting a variety of some flowers, a bit of a green filler, and a vase! They then shared with us how flowers are truly a bright spot in their lives – and how their careers are, too!
Meet Cameron Greene, Social Media Consultant, ATLANTA
What inspired you to start doing social media as a career?
Well, I lived in Alabama after college and wasn't really near my friends. So I started getting more into social media and growing my audiences. Soon after, I started having companies to ask me how much is a post. I realized that I could turn my newfound passion into a business! I could help people and other companies, and now it's involved to my even helping bloggers and influencers.
How is it going? Everything is going great. Kind of falling into place where it's supposed to be – am blogging now and doing social media work with some select companies. I've been learning more about different writing styles that mirror companies, and using other's people's lingo, which I'm now picking up personally, I might add!
It's rewarding. Plus, working hard and helping other people really helps me become a better person, too. One of my clients just got published in Elle Dйcor, and I was happy to be a part of contributing to that success.
How do flowers make you feel?
Flowers make me happy. I just light up! They can change someone's mood. If you're having a good – or bad day, I buy myself flowers sometimes to make my day become better. If having a bad day, they lighten the mood. People always say 'stop to smell' the roses. I agree. Life is beautiful. You should take in those small moments.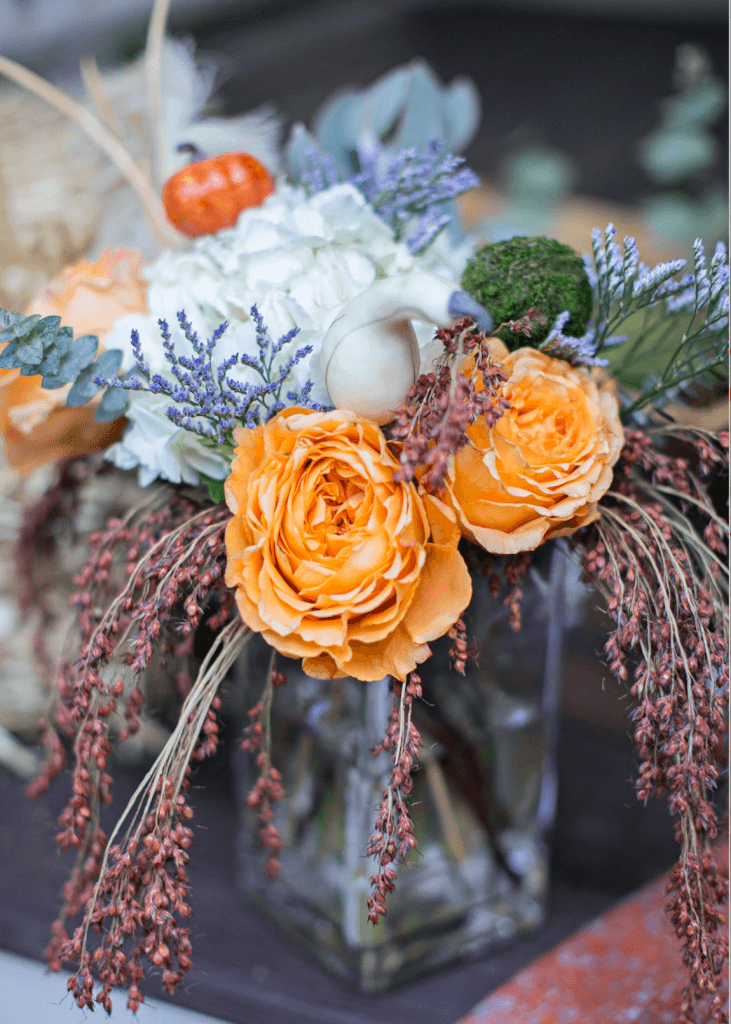 What room is a must for your flowers? The kitchen. That's where I spend a lot of time. I could put the flowers on my desk, but I worry that my cat might knock them down! From making breakfast, lunch, dinner, the kitchen is my focus point so I like seeing the flowers when I walk in.
A special time you received flowers or gave them? My favorite moment for receiving flowers was unexpected. A good friend sent me flowers a day late for my birthday, and it just was so exciting to see that I got flowers. Not to mention, I couldn't imagine who it was from! Was it the new guy I was seeing? Hmmm. No one ever sends me flowers! So, it was just so fun trying to figure out who had just sent me flowers! I ended up being relieved that it wasn't from the guy, and a good friend!
Do you have a favorite? An orchid. So exotic and the color just really pops. It's unique. I'd describe myself as unique, and I feel like this is a reflection. I feel that you can tell someone you love them forever with an orchid. A forever flower … See Cameron's beautiful arrangement in her video!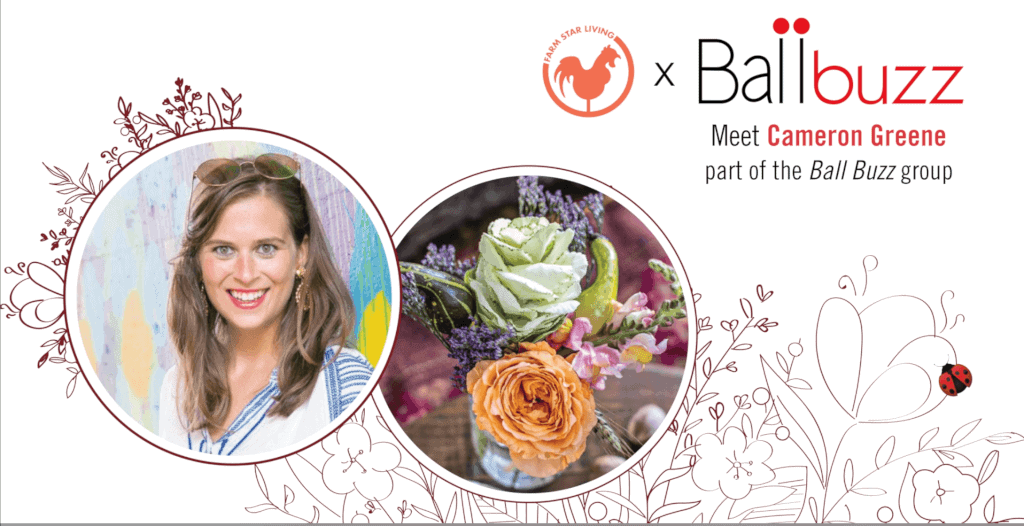 ---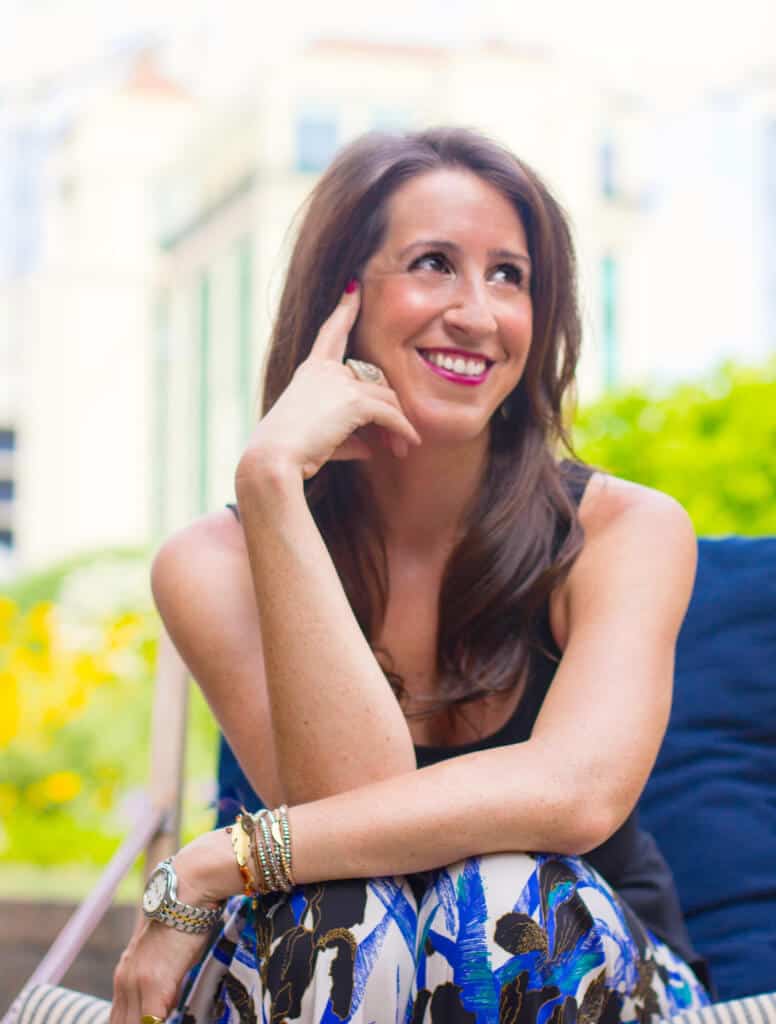 Meet Ashley Hesseltine, Stand-Up Comic & Writer, NYC
What inspired you to start doing stand-up?
Well, writing and comedy are my two passions. One of my main goals is to have a book; and I just felt that to be successful in any comedic arena, then I would need to do stand-up. I made a promise to myself to do this before I turned 30 – and it was great!
It's terrifying, but the best feeling is when you have a great show. I was doing this a lot in Atlanta, where I was living, but then I moved to NYC in February to try it there. NYC is totally different than Atlanta, and I did that to be more challenged, and get out of familiar surroundings.
What was it like doing stand-up in NYC? It was a bit rocky to start. The open mic scene is different. I felt like a big fish in a small pond in Atlanta, but moving to NYC was almost like starting all over. But I've been doing more shows, including clubs like Caroline's and Greenwich Comedy Club, and things are going well. There's nothing like the NYC comedy scene.
When I first started doing comedy, I would get so nervous before shows, I'd want to fake sick and leave. (For the record, I never actually did.) I still have nerves, but I've figured out how to channel them into excitement instead.
And writing? I still write and do social media accounts. I don't want to give it up. I still really love it.
How do flowers make you feel?
For one, I grew up around flowers and plants. My mom is really into flowers, plants, and we had rooms full of them. Everywhere. I love having flowers around, love getting them.
My last boyfriend used to bring me flowers, totally unprompted. He'd show up with flowers and a bottle of wine, and I just loved having them. When I didn't have them, or him, I'd go and have them myself.
Are you still buying them? Yes! In NYC there are so many markets, you can pick them up yourself almost anywhere. They really do make me feel great! Who doesn't love flowers? I'll send them to friends as well, as congratulations or if someone's in mourning.
Do you have a favorite? I love the way a hydrangea looks … in a ball. The flowers are like purple balls!
The Language of Flowers is one of my favorite books. It almost seems like it might be cheesy, but I've recommended it to every one I know. It's about what flowers mean, but it intertwines with colors, flowers. I highly recommend it.
We love the suggestion! And we love your flower arrangement, Ashley! Check out her video and see her gorgeous result.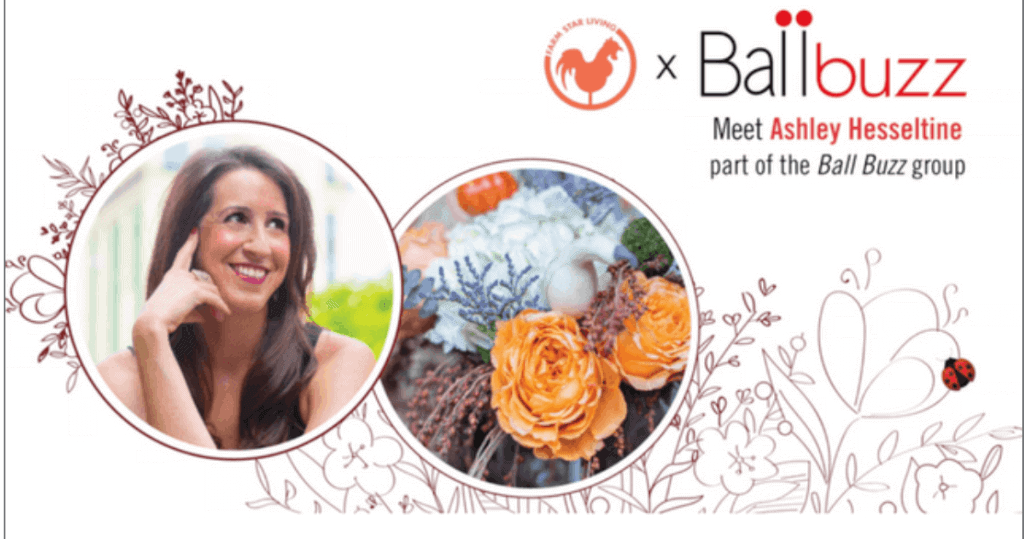 ---