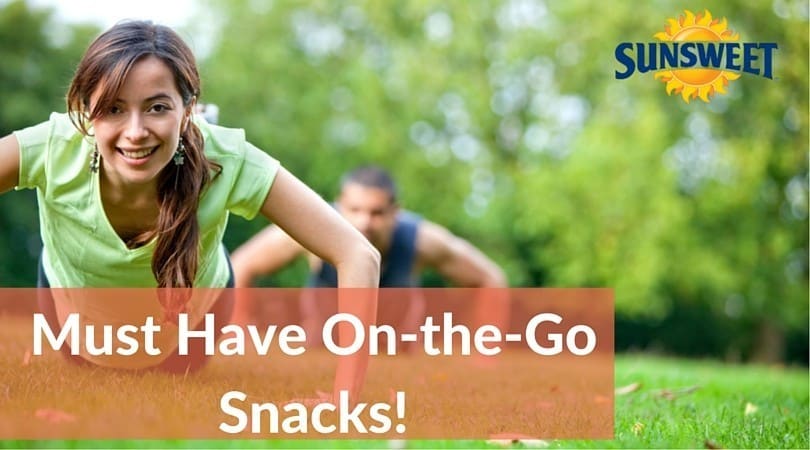 Spring is in the air! The flowers are in bloom, temperatures are rising, and all you want to do is GO OUTSIDE! Maybe you like to take to the trails for a hike, take a dive in your local pool or perhaps you are an avid cyclist that craves the open road - the outdoors has something for everyone! Now what do all these outdoor activities have in common? They make you HUNGRY!
When you burn calories you need to replace calories so that you can have the energy to run and jump and everything in between from sun-up to sun-down. Well you are in luck my friends, because we have the perfect on-the-go snacks for you - from SUNSWEET!
Sunsweet has a wide range of healthy, convenient and of course delicious snacks for all ages and tastebuds. Here are a few of our favorites:
Philippine Green Mango
These mouthwatering mangos are picked straight from the lush islands of the Philippines as they are ripening. Deliciously tangy, they're packed with a sweet satisfying tartness that will leave you craving your next bite. Available in 5oz re-sealable bags.
Philippine Pineapple
Every bite is like a tropical treat for your taste buds. Ripened by the warm sun on the lush islands of the Philippines, Sunsweet pineapple is hand-picked, dried and incredibly delicious. Available in 6oz re-sealable bags.
Amaz!n™ Berry Blend
A snackable taste explosion of cranberries, cherries, blueberries and Amaz!n™ Prunes. The addition of Amaz!n Prunes creates a fruity blend with less sugar than other leading dried fruit mixes. It's also the perfect addition to cereal, yogurt, or salads. Available in 5oz pouches.
Ones™ Individually Wrapped Prunes
Individually wrapped and delicious, Ones Amaz!n™ Prunes are moist, juicy and full of nutritious goodness. Pop a few into your car, purse, or lunch – your taste buds and body will thank you. Available in 6oz canisters and 12oz value packs.
Check out other fabulous Sunsweet products and make sure you like them on Facebook to stay up to date with all their latest and greatest!
---