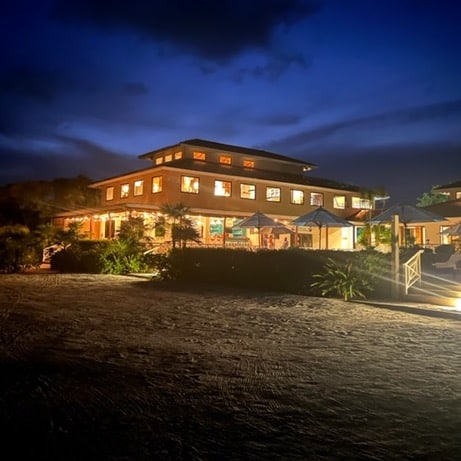 The moment I spied the scenic location of Naia Resort and Spa in Belize, I was left entranced. It was obvious to me that this mindfully curated space was made for recharging and resetting. Not only does it offer opportunities for wellness and self-care, but also some well-needed avenues for adventure. The intrigue of this Caribbean land, its enriched culture, as well as natural beauty, make Naia Resort and Spa the perfect destination for renewing mind, body, and spirit.
Once I arrived The Naia Resort shuttle picked me up, and the driver Wilson offered me a warm hospitable smile, a hot towel, and cold drinking water. My travel buzz calmed and I could feel relaxation peaking. We pulled up to Naia Resort and Spa, which encompasses 19 acres of secluded, private beachfront, and leafy landscapes within the private 200-acre Cocoplum Community on Belize's Placencia Peninsula. The property extends along nearly a mile of palm-studded beach, where 37 beautifully-appointed Beach Houses envelop guests in casual, residential-style luxury.
Naia is an intimate, natural playground nestled within a private 200-acre reserve on the Placencia Peninsula. Upon arrival, a refreshing cocktail presented by a kind-hearted staff member set the tone for further decompression. The resort opens up into a small but stunning and stylish pool courtyard, with the open-air cafe's music offering a festive vibe.
The location is like a postcard and it seems that every angle offers a view better than the next. One of the main attributes of this resort is that you're not sharing a hotel with others but you have your own private home, complete with a lounge room, a kitchen, a bathroom where you can plunge into a bath with jungle views, a private outdoor shower, and some even have their own plunge pool. You are just steps to the ocean, with vibrant trees boasting gorgeous, colorful flowers while hummingbirds and other handsome birds provide soothing sounds.
For me, a trip to the spa was one of my top priorities. Walking across one inviting white-fenced bridge at a time, I was led through a deep oasis of lagoons filled with lily pads and framed by flowers, music, and a feeling of bliss and rest. I was met with friendly faces and more displays of tender, loving, care once I entered the spa. I found myself still a bit high energy and overcharged in comparison, but that would soon melt away once I met the aesthetician, who explained to me how the service would follow and steered me into the private spa bungalow.
The treatment I had, the Mystic Light, offered a 'smudging' experience of burning copal, a native plant that is used to help cleanse the environment and your spirit. The therapist circled me with the aromatic smoke, in an effort to release any negative energies. (For more on this experience, see the full article titled "Mystic Light").
The open-air cafй sits beside the pool area and offers views of the ocean. Fresh local fare and fresh-caught fish were on my agenda, and the red snapper on top of a salad with local veggies, including some from their own garden, was the perfect healthy meal for me.
Seeking adventure, I embarked on an excursion to the organic cacao farm, led by a local Mayan farmer who provided thorough background on the delectable seed.
In the evenings, the restaurant 1981 offers cuisine made by a passionate chef who said he simply loves to learn new dishes that are inspired by local flavors and ingredients. He expressed his enjoyment at seeing his patrons satisfied and enthusiastic over what the kitchen prepared. The ceviche I had was probably one of the best I've ever had, and it was presented beautifully. Not to mention, the red snapper was spiced just right, and as fresh as fish can be.
Mornings start early, with the sun rising around 5:30 am. So, I made sure to be up before the sun, sitting under a canopy of stars while waiting for the ocean to share the first rays of light. It's the perfect spot to meditate and set any intentions for yourself.
I sat on the beach as the sun rose every morning, becoming inspired by the beauty but needing exercise, so I started jogging for the first time since I was 35 years old, which was 20 years ago. But if jogging isn't your thing, a gym is well-equipped with perfect equipment, offering a beautiful view of the jungle trees. Yoga is offered as well!
The beauty of this place is that it has anything and everything that you might need for your own journey of wellness. I needed self-care and me-time, but I also needed to have something new and different to expand my mind and spirit. Naia Resort & Spa was the right place for me to find and recharge myself again.
One thing I took away from this Eden is the collective personality of the residents. Everyone is approachable, genuine, eager to please, and dedicated to making sure guests are comfortable. Here, hospitality is an extension of kindness, and I left wanting to pay that forward.
---