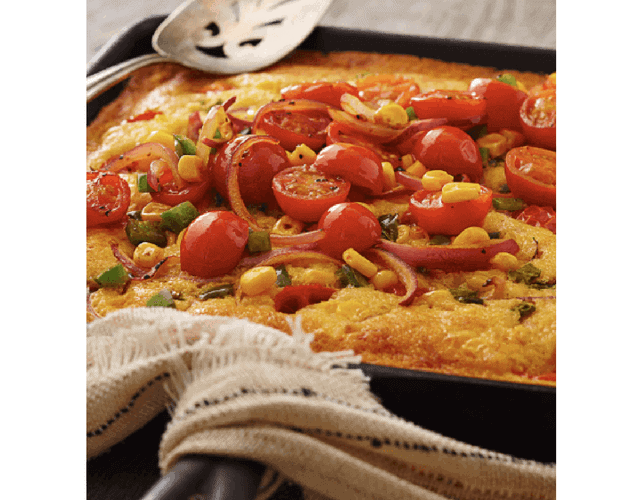 FA LA LA LA, Farm Star Living and NatureSweet® have joined forces to give you a stocking full of recipes for your holiday meals! I love creating delicious, festive dishes and NatureSweet® tomatoes are always the perfect – and colorful – addition to any holiday recipe.
Add some comfort to your meal with these wonderful recipes by NatureSweet® including a delicious cornbread recipe and our yummy tarts, which have their own step by step video. (See to the right!)
There are so many delicious varieties of tomatoes to choose from. You'll find the Glorys®, delicious for cooking as they have a slight sweet taste but a tad thicker skin which will hold when heating and sautйing – so perfect for anything hot. Of course, you can go to the classic Cherubs®, perfect for snacking and salads. Also, right now the Constellations™, which are colorful and delicious, is the perfect variety for the holidays and wintery months, plus the popular and grocery store favorite SunBursts®.
All of these are non-GMO, grown in greenhouses with the utmost care by a passionate staff, and carefully hand-picked at just the right moment to ensure full flavor and taste. I guess that's why these are #tomatoesraisedright!
On to the deliciousness .... and this cornbread will be perfect for all of your hot meals on a cold night. Enjoy!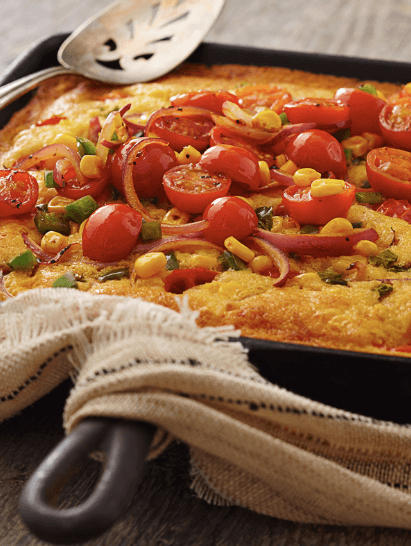 NatureSweet® GLORYS® Tomato Cornbread
Ingredients:
1 10.5-oz. container NatureSweet® Glorys® tomatoes, halved
1 bag frozen corn, cooked and cooled
1/2 cup sweet orange bell pepper, diced
1/4 cup thin-sliced red onion
1/2 cup tiny cubes or crumbles of feta cheese
1-1/5 cup grated cheddar cheese
1/2 cup other sharp melting cheese such as Gouda or aged jack cheese
5 tbsp. unsalted butter
1 pkg. cornbread mix (follow package instructions)
Directions:
Position rack in center of the oven and preheat to 375° F.
Prepare vegetables and cheese; have them ready.
Place the butter in a 10-inch oven-proof skillet and set in the oven to melt, about 5 minutes.
In a large bowl, prepare the cornbread mix according to package.
Remove the pan from the oven, swirl to coat the sides with butter, then pour butter in the cornbread batter along with the corn and half of the grated cheeses, stirring quickly and gently to combine.
Scrape batter into the butter-coated skillet, top with tomatoes, peppers, the rest of the grated cheeses, feta and onions.
Bake the cornbread until golden on top and a toothpick inserted comes out clean, about 35-35 minutes.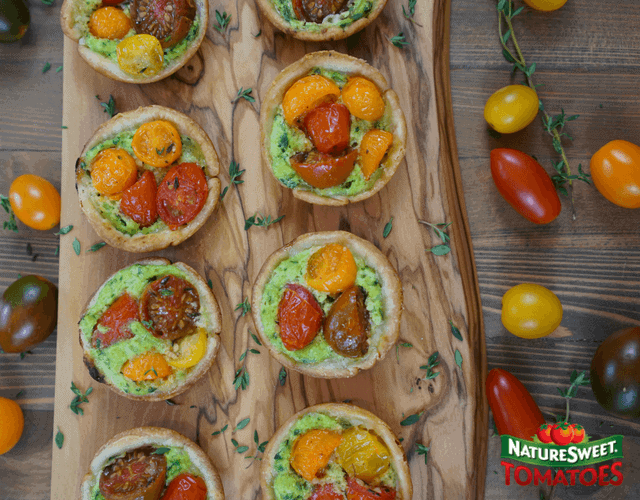 TIP: Make a large pie tart or use a cookie cutter to create mini-tarts in a muffin pan!
Ingredients:
1 pkg. refrigerated pie crust, prepared according to one crust pie directions.
For the topping:
2 cups NatureSweet Constellation tomatoes; halved
2tbs extra virgin olive oil
1 tbs. fresh thyme; minced
2 cloves garlic; minced
Salt and pepper to taste
For the filling
:
1 cup part skim ricotta cheese
2 eggs, beaten lightly
1/4 cup mozzarella, grated
1/2 cup salted butter; chilled
1 cup baby spinach, tightly packed
1/2 cup panko bread crumbs
Directions:
Make refrigerated crust according to package directions, set aside to cool.
In a medium sized bowl, mix halved tomatoes, olive oil, thyme, garlic, salt and pepper. Set aside.
In a food processor, add ricotta, eggs, butter, mozzarella and spinach. Pulse till blended, 1-2 times. Add panko bread crumbs, pulse till completely blended.
Spread ricotta mixture over tart shell to desired level leaving room for tomatoes. (About two cups)
Top tart with tomato mix, press down lightly. Bake on baking sheet at 365 degree oven for 25 - 35 minutes till bubbly and golden. Remove, let tart cool on baking sheet for at least 10 minutes up to 2 hours before serving. Makes one 9 inch tart. Serves 6-8.
---