Whether you're coupled up or single, there are ways to celebrate this Valentine's Day in style – and in good health – from your home! Trust me, if you're alone, there's nothing wrong with celebrating like this, too! In fact, one of my best Valentine's Days I ever had was when I was alone and treated myself to a fabulous dinner, mocktail, dessert, and a good movie!
Here's my checklist for the 'romantic' night:
Candles
Craft Cocktail
Charcuterie Board
Wine
Entree
Vegetable
Chocolate

CANDLES
I love to set the ambiance with low-light and candles, so I plan to have some beautiful lightly scented rose candles in red votives, placed across the room. Nothing too overpowering, just enough to add the glow of light, the scent of something floral, and an air of romance. This, with a fire, is as close to perfection as one can get!
CRAFT COCKTAIL
Then, I'd like to start with a special crafted cocktail in a beautiful glass, with a fresh herb, or delicious syrup and just enough of the liquor to make it "adult." I'm not much of a drinker but if I'm going to have a cocktail it is going to be a good one! I was recently introduced to
Simple Goodness Sisters' syrups, and they are fabulous! I have been using their Blueberry Lavender Syrup
(see details below) over my yogurt and also on ice cream, but I am going to mix that with some seltzer and a splash of liquor to make a signature cocktail, and serve with a fresh herb. Or, perhaps just put a splash of that in a bubbly sparkly water for a more healthy but special twist, too! The sisters - yes, they are real sisters! - suggest adding it to prosecco, cider, vodka, gin, whiskey, and even tequila. Combine it with any and all citrus, apple, vanilla, rhubarb, and other berries including cranberry. Mildly sweeter that some of the other flavors, it makes a perfect lemonade, iced tea, or cocktail mixer. One thing that I am a big fan of is making it special by making it both pretty, delicious and unique, and this syrup does the trick!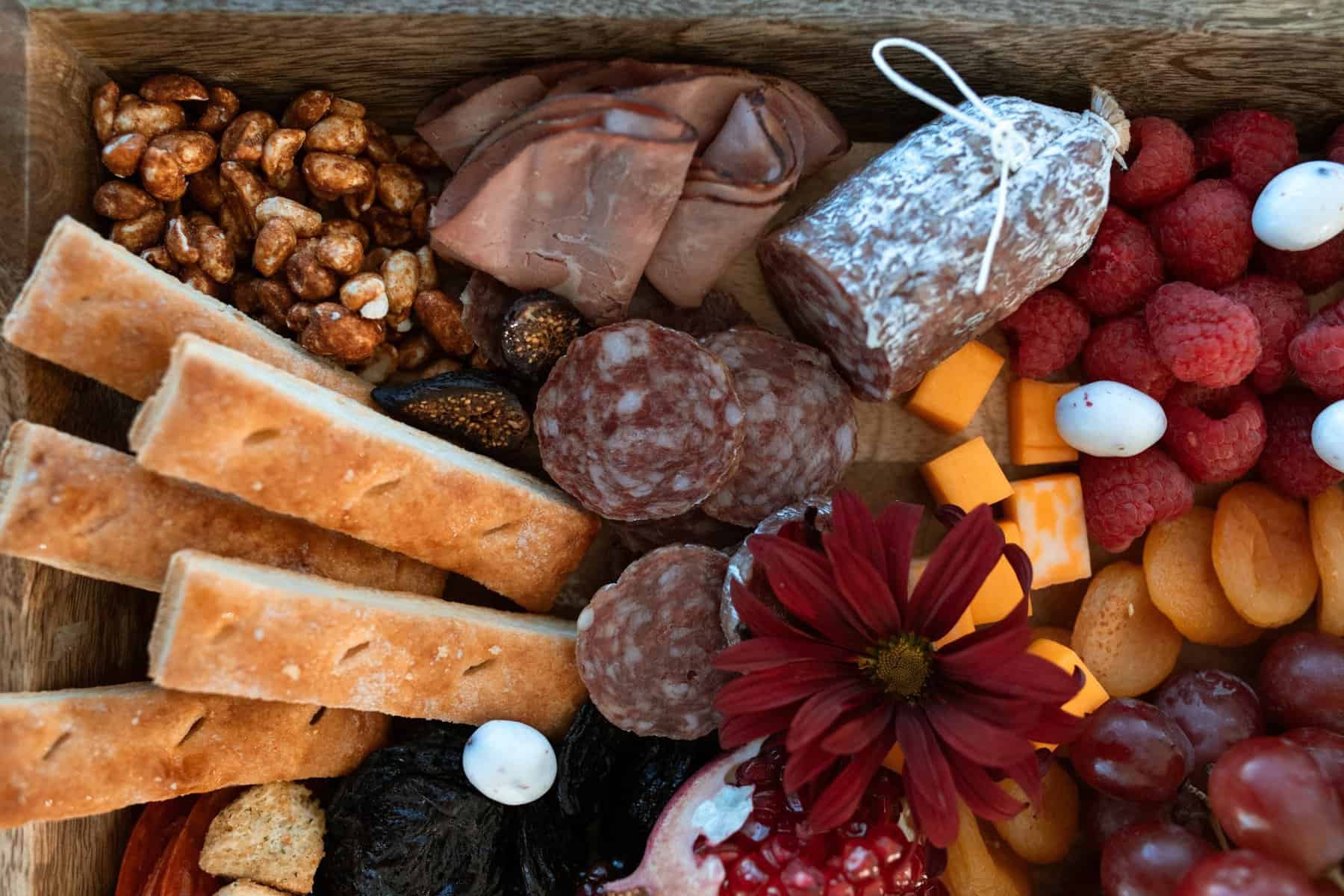 CHARCUTERIE
Now, there's nothing like a delicious charcuterie board for quality munching and tantalizing the tastebuds. I love a charcuterie board with a good, smoky cheese and a couple of meats and sausages, some grapes, almonds, and a great jam or chutney. If you're like me, I am very mindful about what I eat so I am always on the look-out for meat options that are a bit more healthy, and I have found one that has knocked my socks off.
Seemore Sausages are a unique blend of herbs, vegetables and humanely raised meats. They're less fat and lower in calories, in sodium and check all of the boxes that make me feel good about eating .... sausage! The founder is about as inspiring as they get, too. She's a fourth-generation butcher who is helping all of us who typically shy away from sausage feel great about it! So, this is definitely going on the charcuterie board, and in my future dinner recipes, for sure!
Flavors like Chicken Soup, Loaded Baked Potato, Broccoli Melt and Beet-A-Sausage just make me even more excited about sausage, and this radiant trend-setter and cool 'meat' person (as she calls herself and others who like MEAT!) makes me just want to tell everyone about these.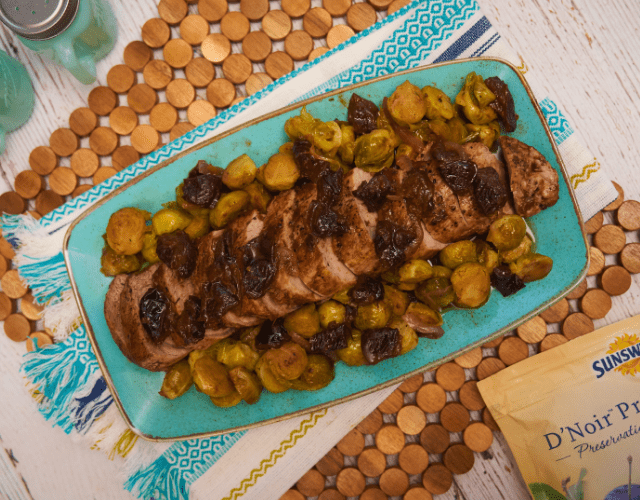 DINNER & WINE
After the board, then I plan to have a great dinner to serve. One that I loved is the
Pork Tenderloin with the Prune / Plum Sauce
, baked in the cast iron skillet where the roast is first seared. Brussels sprouts are piled in there, too, and then a delicious prune sauce is poured over it all, seasoned just right, and then all baked together. Add some hot French Bread, maybe a glass of wine, and some nice music will do the trick.
CHOCOLATE
Then, I must have chocolate, so I plan to have a plate of chocolate covered strawberries ready to serve – from Florida, of course! I love the Ghiradelli dark chocolate melting wafers and I simply coat my
Florida strawberries
generously a couple of times, refrigerate, and it's all good to go. Put them on a pretty plate, and dessert is served!
I think that is about as romantic, decadent a night that I can plan at the moment! Of course, I could let my date do all of this ..... hmmm, that's not a bad idea! I think I might start having Valentine's Day a few more times in the year. After writing about all of this, I can't wait!

FARM-FRESH FOOD TO INCLUDE:
Delicious flavors that you will love! I tried them all but my favorite was Bubbe's Chicken Soup! You'll find the La Dolce Beet-A, Broccoli Melt, and Loaded Baked Potato delicious, too. These flavor-packed sausages are made with humanely raised meat, fresh veggies and delicious herbs. If you have always liked sausages, you'll love these! If you didn't like sausages so much, I bet you will think again! I did and am a convert!
These two glowing sisters have been bringing the garden to the glass since 2018. Not only that, but they tend a 10 acre cocktail farm in Buckley, WA and grow their customers what they call a "Happier Hour," with delicious hand crafted, garden to glass simple syrups, shrubs, floral rimmers, and other Simply Good drink accompaniments.
---