October marks Breast Cancer Awareness month, and once again Peri & Sons is making it possible for you to make a difference, too! They are sharing their love and passion for helping fight breast cancer by two awesome efforts.
First, they are announcing on their special pink onion packages a charitable effort that will give a donation to the charity of your choice.
Second, they've teamed up with a leading nutritionist to help you get smarter with cancer prevention, as research shows that a healthful diet is key factor in fighting cancer.
"In our own little way, we wanted to heighten awareness for the wonderful research being done to find a cure for breast cancer, but we also wanted our message to be one of prevention through healthy eating habits. That theme – cooking and eating healthy food – is consistent throughout our marketing communications, whether to our customers or to our consumers," said Teri Gibson, director of marketing for Peri & Sons Farms.
So exciting – and so appreciated, right?
Let's get back to pink. As mentioned, Peri & Sons Farms' PINK Breast Cancer Awareness donation effort is being touted on their special pink onion packages – and for the sixth year! On these beautiful pink packages, you'll see that there's a charitable effort that you, too, can participate in! How? It's simple!
Just vote online for the charity of your choice to receive Peri & Son's annual donation! Yes, that's right - and there are so many great ones to choose from! Some of the past charities to receive their donation have been National Breast Cancer Foundation; Breast Cancer Research Foundation and Susan G. Komen / Northern Nevada.

Today there are many highly-rated organizations doing wonderful work in the areas of breast cancer research and education. Please help them decide which organization will receive their donation this year!
And as a thank you, Peri & Sons will send you this FREE inspirational magnet!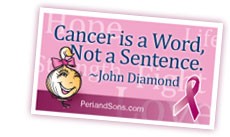 "If you can't find time to eat healthy, there's a very good chance you will eventually have to find time to treat illness."
And, let's discuss prevention. Did you know that you can reduce the risk of cancer by improving your diet? That's right. Research shows that a substantial percentage of all cancer deaths are linked to diet and physical activity, so Peri & Sons Farms promotes that eating well is the best form of healthcare, and they promote this in everything they do. Now they have teamed up with Health and Nutrition Expert Rebecca Katz, and they now have so many delicious and healthful recipes to help maintain your wellness. And, we all can use a lot more of that!
These pink packs, filled with either sweet or other onion varieties, will be available between now and December at grocery stores across the nation. To find out where you can buy these products, please visit the Peri & Sons' website www.periandsons.com for more information. Also, follow them on Facebook and social media. They're doing good, and that makes me feel good about them!
---