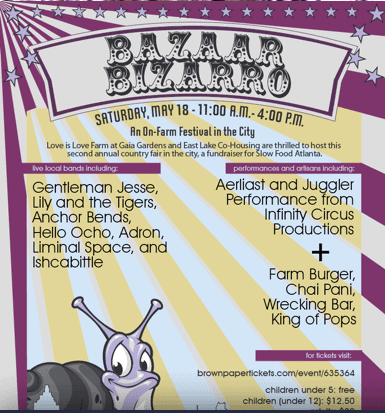 Our mission here at Farm Star Living is to encourage our readers to get smarter and more aware of where their food is coming from, and part of buying locally means you're buying into the Slow Food movement. Buying food around you, from where you live, is part of the focus of Slow Food International .
Slow Food is a movement for a "better, cleaner and fairer world." All of that begins with what we put on our dinner plates, and Slow Food believes that food should be good, clean, and affordable. Most of all, it should be accessible to everyone! Each culture has different dishes and traditions; what better way to celebrate diversity than with food? With those ideas in mind, Slow Food shares local foods and food cultures, bringing new food ideas and experiences into farms, markets, restaurants, and homes across the country.
Slow Food Atlanta is the local chapter near our headquarters. They want to counteract all of the effects that fast food and fast lives have had on us - they want to get us more interested in the food we are eating! Where does it come from? How does it taste? So how do they do that, exactly? Well, they are teaming up with Gaia Gardens to bring some of that wonderful food to the Atlanta area!
On Sunday, May 18, Slow Food Atlanta members, farmers, and foodies alike are invited to gather at Gaia Gardens for Bizaar Bizzaro - a fundraiser to benefit Slow Food Atlanta. From 11:00AM - 4:00PM, you can enjoy some delicious food from places like Farm Burger, Wrecking Bar Brewpub, King of Pops, and Chai Pani. As if the yummy food wasn't enough, there will also be music by local bands, fair games, face painting, cupcake walks, psychic readings - you name it. Even live acrobat and aerialist performances! All you have to do to enjoy this fun-filled afternoon is buy a ticket. Tickets are only $15 for adults, $10 for kids, and children under 5 get in for free (yes!). The best part is, all the proceeds benefit Slow Food Atlanta! Which means they can put on even more fun, festive, family-friendly afternoon events in the future.
I hope you guys are all as excited about this as I am! Get your tickets, or if you can't make it, follow Farm Star Living on Facebook and Twitter to see pictures of the fun, food-filled day. I'll see you there!
---