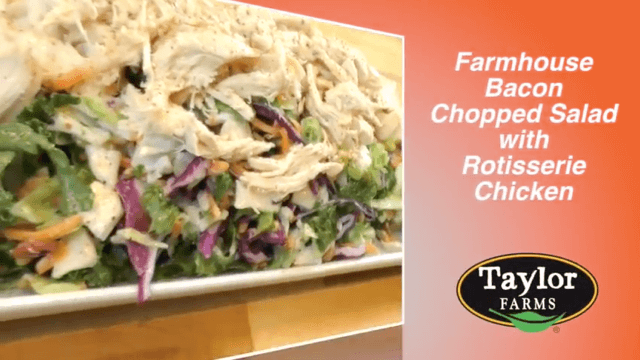 Something about the summer just makes us crave salads. Most of us are starting to spend more time outdoors and poolside, which certainly contributes to why we want to eat something light and healthy, yet we sure don't want to feel deprived so we also still crave something substantial and delicious, of course! Perhaps these are the reasons that Taylor Farms is our summer salad go-to, and now that they have even more delicious varieties to choose from, we are diving in to these pack-filled salad meals sometimes daily!
They just came out with one that we Southerners started clamoring for - the
Farmhouse Bacon Chopped Salad
. Everything comes right in the bag, and we thought we'd add in some extra protein, so we opted on free-range R
otisserie Chicken. Absolutely delicious! Just look at all of the ingredients that come in the bag - fresh and all done in a snap! Check out our video that shows how easy it is, and it makes the perfect summer meal.
With fresh romaine, kale, sunflower seeds, and bacon tossed with a sweet onion dressing, the Taylor Farms Farmhouse Bacon Chopped Salad puts a new spin on healthy comfort food!
Ingredients "in-the-bag":
Green cabbage
Kale
Romaine lettuce
Carrots
Roasted, all-natural sunflower seeds
Green onions
Bacon
Dressing: Onion Slaw
Does summer mean Mediterranean to you? Oh, then just you wait! This is another new variety that will make you feel like you just dined out at a Greek local hot spot! This one comes with everything for your senses to set sail, even the olives, feta cheese and flatbread croutons.
Greek Chopped Salad with Greek Green Olives
The new Taylor Farms Greek Chopped Salad is a handcrafted blend, featuring farm-fresh romaine lettuce tossed with Mediterranean-inspired ingredients like green olives, tomatoes and pita-style chips, and topped with our unique herb vinaigrette.
Ingredients "in-the-bag":
Cabbage
Tomatoes
Romaine lettuce
Broccoli
Green olives
Green onions
Parsley
Celery
Flat bread chips
Dressing: Greek Vinaigrette
Or for another Mediterranean must-have salad, try this soon to become classic:
Mediterranean Crunch Chopped Salad
This new Taylor Farms Mediterranean Crunch Chopped Salad shows-off their handcrafted basil balsamic vinaigrette, radicchio, escarole and endive tossed with broccoli, feta cheese and pita-style chips.
Ingredients "in-the-bag":
Escarole
Endive
Broccoli stalk
Cauliflower
Feta cheese
Herb seasoned bread strips
Radicchio
Carrot
Red cabbage
Check out this video!
[embed]https://www.youtube.com/watch?v=43mqYy45Cnk[/embed]
---